Catfish Fishing In Oklahoma
Guide to fishing for flathead, blue and channel catfish in OK.
Oklahoma is renowned for its excellent catfish fishing opportunities, with three prominent species that attract anglers from far and wide: channel catfish, flathead catfish, and blue catfish. With its abundance of lakes, reservoirs, and rivers, the state offers a diverse range of fishing locations for catfish enthusiasts. The purpose of this page is to share basic information about catfish fishing and catfish waters in the state.
Catfish Fishing Video
Channel catfish are the most common and widely distributed catfish species in Oklahoma. They can be found in lakes, rivers, and reservoirs throughout the state, making them accessible to anglers of all skill levels. Channel catfish are known for their strong fight and their willingness to bite a variety of baits, from stinkbaits to live bait such as worms or cut bait. Many lakes and rivers in Oklahoma have healthy populations of channel catfish, providing ample opportunities for anglers to enjoy a productive day on the water.
For those seeking a larger and more challenging catch, flathead catfish are a popular target. Flatheads are known for their size and their preference for live bait. Anglers often use live baitfish, such as sunfish or shad, to entice these powerful fish. Flathead catfish prefer deep, slow-moving waters and are commonly found in reservoirs and larger rivers. Oklahoma's lakes, including Lake Texoma and Lake Eufaula, are well-known for their flathead catfish populations and offer excellent opportunities for anglers seeking a trophy-sized catch.
Blue catfish, the largest of the three species, are another highly sought-after catch in Oklahoma. Known for their impressive size and strength, blue catfish can exceed 100 pounds, providing a thrilling challenge for anglers. Lakes and reservoirs such as Keystone Lake and Grand Lake O' the Cherokees are renowned for their blue catfish populations. Anglers targeting blue catfish often use cut bait, such as shad or skipjack, and employ heavy tackle to handle these behemoths. Patience and persistence are key when pursuing blue catfish, as they tend to inhabit deeper waters and require a strategic approach.
When planning a catfish fishing trip to Oklahoma, it's important to familiarize yourself with the state's fishing regulations and obtain the necessary licenses. The Oklahoma Department of Wildlife Conservation provides detailed information on fishing seasons, bag limits, and any special regulations that may apply to specific bodies of water. Respecting the environment, practicing ethical fishing practices, and releasing larger fish to maintain healthy populations are essential to sustain the catfish fisheries in Oklahoma.
Whether you prefer the thrill of reeling in a massive blue catfish, the challenge of targeting flatheads, or the steady action of catching channel catfish, Oklahoma offers a catfish angling experience that won't disappoint. With its diverse fishing locations and abundant catfish populations, the state provides anglers with an opportunity to enjoy memorable fishing adventures and create lasting memories. So grab your fishing gear, head to the waters of Oklahoma, and prepare for an exciting catfish fishing experience.
Fishing Spots For Catfish In Oklahoma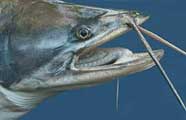 Major lakes with healthy populations of catfish include Broken Bow Reservoir, Fort Cobb Reservoir, Fort Gibson Lake, Foss Lake, Grand Lake of the Cherokees, Great Salt Plains Lake, Hugo Lake, Hulah Lake, Kaw Lake, Keystone Lake, Lake Altus-Lugert, Lake Carl Blackwell, Lake Ellsworth, Lake Eufaula, Lake Hudson, Lake Konawa, Lake Lawtonka, Lake Murray, Lake of the Arbuckles, Lake Overholser, Lake Texoma, Lake Thunderbird, Lake Wister, McGee Creek Reservoir, Oologah Lake, Pine Creek Lake, Robert S Kerr Reservoir, Sardis Lake, Skiatook Reservoir, Sooner Lake, Tenkiller Lake, Tom Steed Reservoir, Waurika Lake and Webber Falls Reservoir. You can find catfish in most rivers as well as many of the smaller lakes and ponds across Oklahoma.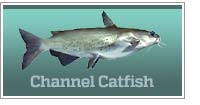 World record: 58 lbs 0 oz
State Record: 35 lbs 15 oz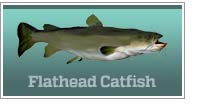 World record: 123 lbs 9 oz
State Record: 78 lbs 8 oz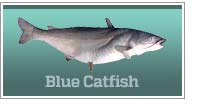 World record: 143 lbs 0 oz
State Record: 98 lbs 0 oz
Click the images and links above for species details.
What's the best bait for catfish in Oklahoma?
Choose from the top 5 all-time catfish baits and try them on local waters. Appealing to the keen sense of smell and taste could turn a so-so day into a memorable event.
OK State Record Catfish
The state record channel catfish was taken from Taft Lake.
The state record flathead catfish was caught from El Reno Lake.
The state record blue catfish was caught out of Lake Texoma.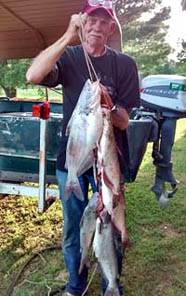 Ken Wood caught these blue catfish off the Arkansas river, near Sallisaw.
There are many species of catfish and even more ways to catch them. Adults range in size from less than a pound to hundreds of pounds. Catfish are found in all types of water including ponds, streams, lakes and rivers throughout Oklahoma. There are even species which spend a limited amount of time on dry land. Big giant catfish put up a very noble fight once hooked.
Additional catfishing information resources.
U.S. Catfish Anglers Tournaments
Most catfish are considered bottom feeders to one extent or another. They will generally eat anything that can get in their mouth. Their strongest sense is smell which they use to locate potential food sources. Capitalizing on this sense is the primary weapon in your search for these creatures. Aggressive catfish have been caught on most types of fast moving bass lures so don't under estimate their ability to catch live bait.
Information for states with catfish.
OKLAHOMA