Guide To Great Trout Fishing Locations In Alaska
All about fishing for rainbow, steelhead, cutthroat, brook and lake trout in AK lakes and streams.
Trout Waters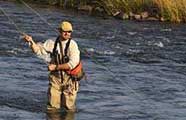 Find excellent trout fishing all across Alaska including Aleknagik Lake, Becharof Lake, Lake Clark, Iliamna Lake and many other lakes plus plenty of streams and rivers which hold nice populations of trout. Other waters with trout fishing opportunities include Atigun River, Bear Creek, Byers Creek, Chatanika River, Chena River, Clearwater Creek, Copper River, Delta Clearwater River, Dietrich River, Donnelly Creek, Galbraith Lake, Gulkana River, Jim River, Klutina River, Kobuk River, Kwethluk River, Koyukuk River, Phelan Creek, Mulchatna River, North Fork of Bonanza Creek, Oksrukuyik Creek, Piledriver Slough, Quartz Creek, Riley Creek, Sagavanirktok River, Selawik River, Summit Lake, Tanana River, Windy Creek, Yukon River and many others.
Trout Species In The State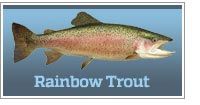 World record: 42 lbs 2 oz
State Record: 42 lbs 3 oz*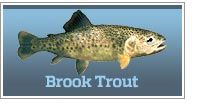 World record: 14 lbs 8 oz
State Record: 3 lbs 4 oz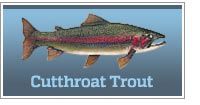 World record: 41 lbs 0 oz
State Record: 8 lbs 6 oz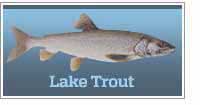 World record: 72 lbs 0 oz
State Record: 47 lbs 0 oz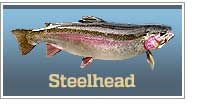 World record: 42 lbs 0 oz
State Record: 42 lbs 3 oz*
Click the images and links above for species details.
Select the best trout lures and baits
Trout spinners, crankbaits and jerkbaits work well for shallow, reasonably active fish. Salmon eggs, worms and prepared baits will work at virtually all depths.
Alaska State Record Trout
The state record rainbow/steelhead trout was caught from Bell Island.
The state record cutthroat trout was taken out of Wilson Lake.
The state record brook trout was taken out of Green Lake.
The state record lake trout was caught in Clarence Lake.
Watch trout fishing videos to see trout anglers in action.
Alaska Trout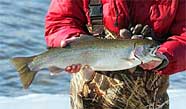 Visit the Alaska Department of Fish & Game website for information about rainbow trout and steelhead fishing in Alaska.
The 5 primary trouts are the rainbow, brook, brown, cutthroat and lake trout. Browns are considered the most difficult to catch and brookies are the easiest. Pure cold water is key to survival of the trouts. Steelhead are rainbow trout which migrate to and from the ocean to spawn.
Additional trout information
Trout Conservation
Trout Unlimited
Trout locations and info, by state.
The habits of trout.
Trout are considered some of the most difficult fish to fool. Once you locate Alaska waters with a population of trout, the challenge becomes identifying trout flies and lures that will trigger strikes. Visit the trout fishing page to learn more about the habitat each of the trouts prefer.
ALASKA