Wyoming Trout Fishing
All about fishing for rainbow, cutthroat, brook, brown, golden and lake trout in Wyoming lakes and streams.
WY Trout Fishing Waters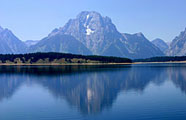 Trout swim in pretty much all waters in Wyoming. Creeks, streams, rivers, ponds, parks and lakes of all sizes are likely to offer trout fishing. The major lakes with healthy populations of trout include Alcova Lake, Bighorn Lake, Boulder Lake, Big Sandy Lake, Boysen Lake, Buffalo Bill Lake, Flaming Gorge Reservoir, Fontenelle Reservoir, Fremont Lake, Heart Lake, Jackson Lake, Jenny Lake, Lake DeSmet, Lake Hattie Reservoir, Leigh Lake, Lewis Lake, Lower Slide Lake, Pathfinder Reservoir, Phelps Lake, Seminoe Reservoir, Shoshone Lake, Wheatland Reservoir #2, Wheatland Reservoir #3, Woodruff Narrows Reservoir, Yellowstone Lake.
Visit the Wyoming Game & Fish Department website for details on trout stockings in Wyoming.
Watch trout fishing videos to see trout anglers in action.
Wyoming Record Trout
Green River Lakes produced the Wyoming state record brook trout and the state record brown trout came out of Flaming Gorge Reservoir. Native Lake yielded the WY state record cutthroat trout and Cook Lake gave up the state record golden trout. There is a tie for the state record lake trout with one coming from Flaming Gorge Reservoir and the other from Jackson Lake. The North Platte River was home to the state record ohrid trout and Burnt Lake turned out the Wyoming state record rainbow trout.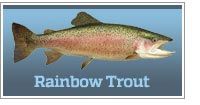 World record: 42 lbs 2 oz
WY State Record: 23 lbs 0 oz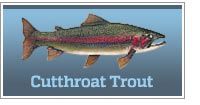 World record: 41 lbs 0 oz
WY State Record: 15 lbs 0 oz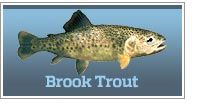 World record: 14 lbs 8 oz
WY State Record: 9 lbs 11 oz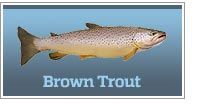 World record: 40 lbs 4 oz
WY State Record: 25 lbs 13 oz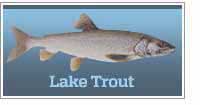 World record: 72 lbs 0 oz
WY State Record: 50 lbs 0 oz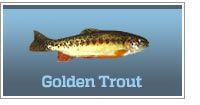 World record: 11 lbs 4 oz
WY State Record: 11 lbs 4 oz
By clicking on the images and links above, you will be taken to a page offering more information about the selected species.
Additional trout fishing information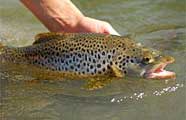 The 5 primary trouts are the rainbow, brook, brown, cutthroat and lake trout. Browns are considered the most difficult to catch and brookies are the easiest. Pure cold water is key to survival of the trouts.
Trout fishing waters and information, by state.
The habits of trout.
Trout are considered some of the most difficult fish to fool. Once you locate Wyoming waters with a population of trout, the challenge becomes identifying trout flies and lures that will trigger strikes. Visit the trout fishing page to learn more about the habitat each of the trouts prefer.
Best trout fishing in Wyoming!