Iowa Trout Fishing
All about fishing for rainbow, brook and brown trout in Iowa lakes and streams.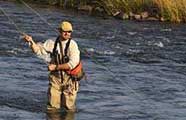 IA Trout Fishing Waters
None of the major lakes in Iowa harbor a population of trout. Urban lakes which are stocked with trout include Ada Hayden, Banner Lake (South), Big Lake, Discovery Park, Heritage Pond, Lake of the Hills, Moorland Pond, North Prairie, Ottumwa Park Pond, Petoka, Prairie Park, Sand Lake, Scharnberg Pond and Wilson Lake. Visit the Iowa Department of Natural Resources website for details regarding trout stocking in Iowa.
Watch trout fishing videos to see trout anglers in action.
Iowa Record Trout
The IA state record brook trout was caught in Fountain Springs Creek, the state record brown trout came from North Prairie Lake and French Creek boasts the Iowa state record rainbow trout.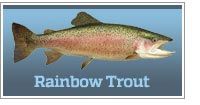 World record: 42 lbs 2 oz
IA State Record: 19 lbs 8 oz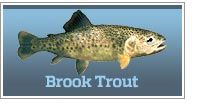 World record: 14 lbs 8 oz
IA State Record: 7 lbs 0 oz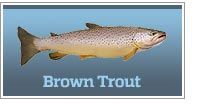 World record: 40 lbs 4 oz
IA State Record: 15 lbs 6 oz
By clicking on the images and links above, you will be taken to a page offering more information about the selected species.
Additional trout fishing information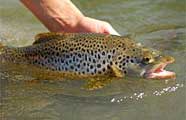 The 5 primary trouts are the rainbow, brook, brown, cutthroat and lake trout. Browns are considered the most difficult to catch and brookies are the easiest. Pure cold water is key to survival of the trouts.
Trout fishing waters and information, by state.
The habits of trout.
Trout are considered some of the most difficult fish to fool. Once you locate Iowa waters with a population of trout, the challenge becomes identifying trout flies and lures that will trigger strikes. Visit the trout fishing page to learn more about the habitat each of the trouts prefer.
Best trout fishing in Iowa!