Best Fishing Guides In Alaska
Hire a guide to take you fishing in AK.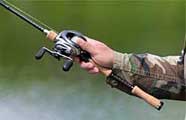 Hire a fishing guide to fish for rainbow trout, cutthroat trout, lake trout, steelhead, coho salmon, chum salmon, chinook salmon, pink salmon, sockeye salmon and northern pike in local lakes.
Alaska Fishing Guides
Other Local Guides
For the ultimate fishing experience, hire a professional guide. They know the AK fishery inside out and have determined the best techniques for catching fish at various times of the year.
Deshka Wilderness Lodge - 907 733-6915
Michael or Linda Yencha - [email protected]
Focus Species: Pacific salmon and rainbow trout. Remote fly in fishing lodge featuring wilderness river fishing for king, silver and pink salmon also rainbow trout. Our lodge offer comfortable riverfront rooms, hearty home cooked meals and experienced friendly guides.
Alaskan Adventures & Outfitters - 877-435-5269
David - Kevin
Focus Species: salmon, rainbow trout, arctic grayling, northern pike. Remote fly in adventure/fishing lodge offering gourmet meals, private cabins and sauna located on the banks of Alexander Creek.
Alaska Fishing Charters - 1-800-989-8707
3 rivers to choose from, we know where the fish are; we go where the fish are! Providing you with the best Alaska Fishing experience you can have.
Wild River Guide Company - 877 628-6796
Mark Rutherford - [email protected]
Focus Species: Sockeye, Chum, Silver, King Salmon, Rainbow Trout, Arctic Grayling, Arctic Char, Dolly Varden. Wild River Guide Co. offers unique fly fishing trips on the creeks and rivers near Bristol Bay, Alaska. Both beginners and experts can book custom tours to fly fish for Salmon, Trout, Grayling, and Char.
Weigner's Backcountry Guiding - 907 262-7840
Mark Weigner - [email protected]
Focus Species: Rainbow Trout, Arctic Char, Silver Salmon. Guided canoe trips into Alaska's Kenai wilderness. Single and multi-day adventures.
Float Experience - 907 744-7195
Carlyle Telford - [email protected]
Focus Species: Trout. Fly fishing with Float Experience. Anchorage, Alaska vacationers experience fly fishing from a float tube in trophy fly fishing waters at bargain prices. Learn Carlyle's methods on fly fishing. My website lists 170 lake. I fly fish all of them. Browse them here and give me a call or book it on line.
Alaska Fishing Guide Services
In addition to catching fish, guides teach you techniques which you will use over a lifetime of fishing. Learn tips on rods, reels, line, knots, lures, hook types, techniques and much more...all by spending the day in a boat with a local guide.
Fishing guide information for other states.
ALASKA