Taking Kids Fishing In Alaska
Ideas and locations to take kids fishing in AK.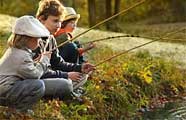 Fishing and the great outdoors offers kids an alternative to many influences they encounter in their busy lives today. A single fishing trip could be the turning point in a young life, and we encourage you to invest the time in Alaska kids. The purpose of this page is to share the basics about taking kids fishing, urban fishing locations and tips to make it fun by keeping it simple. The rewards are endless and it takes so little effort.
Kids Fishing Video
Alaska offers an exciting opportunity for kids to experience the joys of fishing. The state's diverse fish species provide ample chances for young anglers to catch their first fish and create lasting memories. One of the most common fish species targeted by kids is the rainbow trout. These beautiful fish can be found in many of Alaska's lakes, streams, and urban fishing locations, making them easily accessible to families.
Urban fishing locations in Alaska are specially designed to accommodate young anglers and their families. These locations are often stocked with rainbow trout and sometimes other fish species, ensuring a higher likelihood of success for young anglers. Some of the popular urban fishing spots include Ship Creek in Anchorage, Centennial Park Pond in Soldotna, and Cuddy Family Midtown Park Pond in Fairbanks.
In addition to rainbow trout, kids can also try their luck at catching arctic grayling, which are known for their striking colors and willingness to bite. These fish can be found in several areas across Alaska and are especially abundant in some of the state's interior regions.
Taking kids fishing in Alaska is not just about catching fish; it's also about introducing them to the wonders of the outdoors and fostering a love for nature. The state's beautiful landscapes, wildlife, and pristine waters provide the perfect setting for young anglers to connect with nature and appreciate the importance of conservation.
With a little patience, guidance, and the right gear, kids can have a fantastic time fishing in Alaska and develop a lifelong passion for the sport. Whether it's a small urban pond or a quiet stream in the wilderness, the state's fishing opportunities ensure that kids of all ages can enjoy the thrill of reeling in their very own catch in the Last Frontier.
Places in Alaska to take kids fishing
Consider these small lakes, ponds, creeks and urban fishing locations as places to take a kid fishing in the Last Frontier.
Anchorage
- Beach Lake Park
- Campbell Point Lake
- Cheney Lake Park
- Jewel Lake
- Kincaid Park
- Lower Fire Lake
- Mirror Lake
- Ship Creek in Anchorage
Fairbanks
- Birch Lake
- Chena Lake Park
Juneau
- Auke Lake
- Cowee Creek
- Fish Creek
- Montana Creek
- Peterson Lake
- Twin Lake
- Windfall Lake
Nome
- Cripple River
- Niukluk River
- Nome River
- Snake River
- Tisuk River
Top 3 tips for taking kids fishing in AK
1. Make sure that the goal is to have fun. Catching fish is a bonus.
2. Keep it simple. Simple tackle, techniques and locations.
3. Keep the focus on the kids. Be a hero by helping them enjoy the day.
Click here for additional tips to create a successful day of fishing for kids.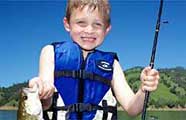 Kids, fishing and smiles naturally go together. Take a kid fishing and you just might change the course of their life. Then take pictures and send us one of them holding their prized catch. We will happily post it here.
Kids fishing locations and information, by state.
Help us identify other youth fishing spots in AK.
If you are aware of a great place to take kids fishing in your area, please let us know. We can add it to our list. Every kid that catches a fish will appreciate the fact that you made the effort.
ALASKA