Guide To Taking Kids Fishing In Kentucky
Ideas and locations to take kids fishing in KY.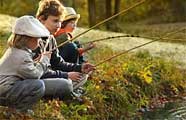 Fishing and the great outdoors offers kids an alternative to many influences they encounter in their busy lives today. A single fishing trip could be the turning point in a young life. We encourage you to invest the time in Kentucky kids. The rewards are endless and it takes so little effort.

Places in Kentucky to take kids fishing
Consider these small lakes, ponds, creeks and urban fishing locations as places to take a kid fishing in the Bluegrass State.
Adams
- Yatesville Lake
Florence
- Devou Park
- Middleton-Mills Park
Frankfort
- Lower Sportsmans Lakes
- Upper Sportsmans Lakes
Lexington
- Jacobson Park
Louisville
- Charlie Vettiner Park
- Cherokee Park
- Chickasaw Park
- Fisherman's Park
- Iroquois Park
- Long Run Park
- McNeely Lake Park
- Riverview Park
- Tom Wallace Park Lake
- Waterfront Park
- Waverly Park
Taylorsville
- Taylorsville Lake Park
Kentucky offers many opportunities for kids to fish and experience the thrill of the "tap-tap-tap". Watch the eyes of a youth light up no matter how big or small their catch may be. You have the opportunity to experience it with them and share their joy.
Top 3 tips for taking kids fishing in KY
1. Make sure that the goal is to have fun. Catching fish is a bonus.
2. Keep it simple. Simple tackle, techniques and locations.
3. Keep the focus on the kids. Be a hero by helping them enjoy the day.
Click here for additional tips to create a successful day of fishing for kids.
Kids Fishing Video
Youngsters with their prized catch
---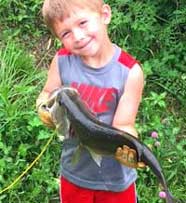 Trenton age 4, caught this 4 1/2 pound bass, using a hotdog as bait, in Culvertown Kentucky.
---
Kids, fishing and smiles naturally go together. Take a kid fishing and you just might change the course of their life. Then take pictures and send us one of them holding their prized catch. We will happily post it here.
Kids fishing locations and information, by state.
Help us identify other youth fishing spots in KY.
If you are aware of a great place to take kids fishing in your area, please let us know. We can add it to our list. Every kid that catches a fish will appreciate the fact that you made the effort.
KENTUCKY