Guide To Crappie Fishing In Kentucky
All about fishing for white and black crappie.
Kentucky provides excellent crappie fishing opportunities, with both black crappie and white crappie being popular targets for anglers. Whether you prefer the challenge of catching black crappie or the thrill of reeling in white crappie, the state's lakes and reservoirs offer ample opportunities for a successful day on the water.
Black crappie, known for their distinctive dark speckled pattern, are one of the most common crappie species in Kentucky. They can be found in lakes, reservoirs, and rivers throughout the state. Anglers often target black crappie by fishing around submerged structures such as brush piles, fallen trees, or submerged vegetation. Techniques such as jigging with small jigs or using live minnows as bait are popular methods for enticing black crappie. Popular crappie fishing destinations in Kentucky include Kentucky Lake, Lake Barkley, and Lake Cumberland.
White crappie, with their silver-white coloration and vertical bars, are another sought-after species in Kentucky. While not as prevalent as black crappie, white crappie can still be found in many of the state's lakes and reservoirs. Anglers targeting white crappie often employ similar techniques as those used for black crappie, such as jigging or using live bait. Lakes such as Cave Run Lake, Lake Malone, and Rough River Lake are known for their white crappie populations and provide excellent opportunities for anglers to land these popular panfish.
When planning a crappie fishing trip to Kentucky, it's important to be aware of the state's fishing regulations and obtain the necessary licenses. The Kentucky Department of Fish and Wildlife Resources provides up-to-date information on fishing seasons, bag limits, and any special regulations that may apply to specific bodies of water. Respecting size limits and practicing catch-and-release whenever possible helps maintain healthy crappie populations and ensures the sustainability of the fishery.
Kentucky's crappie fishing opportunities offer anglers the chance to experience the excitement and challenge of targeting these popular panfish. Whether you're casting from the shore or navigating the waters on a boat, the state's lakes and reservoirs provide a picturesque backdrop for a memorable crappie fishing adventure. So grab your fishing gear, locate the crappie hotspots, and get ready to enjoy some rewarding crappie fishing in the Bluegrass State.
Crappie Waters In KY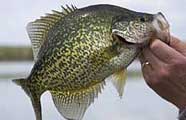 Barren River Lake, Buckhorn Lake, Cave Run Lake, Cedar Creek Lake, Dale Hollow Lake, Dewey Lake, Fishtrap Lake, Grayson Lake, Green River Lake, Herrington Lake, Kentucky Lake, Lake Barkley, Lake Beshear, Lake Cumberland, Lake Linville, Lake Malone, Laurel River Lake, Nolin River Lake, Paintsville Lake, Rough River Lake, Taylorsville Lake, Wood Creek Lake and Yatesville Lake all have schools of crappie. Other waters in KY that have populations of crappie include private ponds, small lakes and some rivers and streams.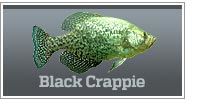 World record: 6 lbs 0 oz
State Record: 4 lbs 14 oz*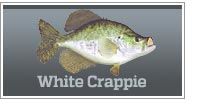 World record: 5 lbs 3 oz
State Record: 4 lbs 14 oz*
Click the images and links above for species details.
Top 5 Crappie Fishing Lures For Kentucky
Crappie jigs work well in water from 2' to 40' deep, and are the most popular artificial lure for crappie ever. When crappie are shallow, spinners, small crankbaits and underspins are the often very productive. As they move deeper, spoons are among the top producers if the crappie are active. Review details for the best crappie rig options. Understanding the seasonal movements of crappie can enhance your chances of using these lures in the ideal locations.
Kentucky State Record Crappie
The state record black crappie or white crappie? was caught from Watershed Lake.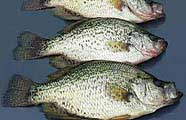 Small jigs, live minnows, small spinners and other small lures will catch crappie. Use light line (six pound or less) and work the baits slowly - especially in cold water.
Crappie are actually a member of the sunfish family and can be found in many Kentucky lakes. Crappie are known by many different local names. Paper mouth, goggleye, bridge perch, slabs and speckled perch, are just a few.
Crappie Fishing Basics Video
Check out crappie information, by state.
The life cycle of crappie.
The more you know about crappie, the easier it will be to locate and catch them in Kentucky lakes and rivers. Visit the crappie fishing page for details about their seasonal migrations.
KENTUCKY