Fishing At Richardson Lakes
AKA: Upper & Lower Richardson Lake
What to fish for...
Guide to fishing for brook trout, lake trout and landlocked salmon at Richardson Lake in Maine.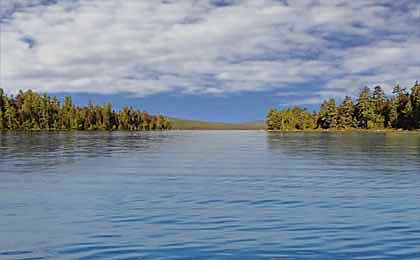 Upper and lower Richardson Lake is a 7,100-acre, cold-water impoundment, at the town of Richardsontown. Thick woods wrap the over 30 miles of shoreline, creating a picturesque setting for boating and fishing.
Richardson Lakes, located in western Maine, are a pristine and captivating destination for fishing enthusiasts and outdoor lovers. Comprising a chain of interconnected lakes, this area offers a diverse range of fishing experiences.
One of the most coveted fish species found in Richardson Lakes is the brook trout. These native trout thrive in the cold and clear waters of the lakes, making them a prized catch for anglers. The thrill of catching a wild brook trout amid the scenic backdrop of the Maine wilderness is a cherished experience for many fishermen.
Lake trout, also known as togue, are another popular species found in the deeper sections of Richardson Lakes. These fish can grow to impressive sizes, offering a rewarding challenge to those seeking a true angling adventure.
Atlantic salmon is a prized fish that anglers can encounter in the Richardson Lakes. Although their populations are managed through catch-and-release regulations to ensure their conservation, the thrill of hooking an Atlantic salmon is unrivaled.
Beyond the fantastic fishing opportunities, Richardson Lakes offer a perfect setting for boating and camping adventures. The interconnected lakes provide ample space for boaters to explore, enjoy water sports, and soak in the breathtaking scenery. Camping around the lakes' shorelines or on designated campgrounds provides visitors with a chance to immerse themselves in the beauty of the surrounding wilderness and enjoy a peaceful night under the stars.
As part of Maine's outdoor paradise, Richardson Lakes entice anglers and nature enthusiasts with their diverse fishery, stunning landscapes, and opportunities for boating and camping. Whether you're a seasoned angler looking for a trophy catch or a family seeking an unforgettable camping trip, Richardson Lakes have something to offer for everyone in search of a quintessential Maine outdoor experience.

Primary fish species residing in Richardson Lakes
Click images for fishing tips and details about each species.
Richardson Lakes Amenities
Marina: NO
Boat Rental: NO
Boat Launch Ramp: YES
Campgrounds: YES
RV Hookups: NO
Lodging: NO
Convenience Store: NO
Bait & Tackle: NO
Restaurant: NO
Today's Weather & Forecast
Public Boat Launch Ramps & Landings
Richardson Lake Boat Launch Ramp
Located in the northwest section of the lake, off Mill Brook Road, this is a two-lane, concrete ramp with a dock and gravel parking.
Click here for a Maine Fishing License.
Campgrounds & RV Parks Nearby
South Arm Campground - 207 364-5155
Richardson Lakes ME Map - Fishing & Camping Areas
Lake Video
Contact Information
Richardson Lake
South Arm Campground
62 Kennett Dr
Andover, ME 04216
207 364-5155
Fishing lakes in each state.
Richardson Lake in ME
MAINE


Fishing for trout and salmon in southwest ME.
Richardson Lakes, in Maine.