Maine Salmon Fishing
All about fishing for Atlantic, chinook, chum, coho, kokanee, pink and sockeye salmon in ME.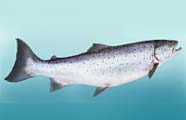 If you like salmon, you gotta like Maine. The Fish River, Mattawamkeag River, Grand Lake Stream, Moose River, Roach River and the Kennebec River (East and West Outlets) are some of the rivers with good to excellent salmon fishing. Major lakes including Aziscohos Lake, Big Lake, China Lake, Chesuncook Lake, Eagle Lake, East Grand Lake, Flagstaff Lake, Gardner Lake, Graham Lake, Grand Lake Matagamon, Great Pond, Lobster Lake, Long Lake, Mattawamkeag Lake, Meddybemps Lake, Messalonskee Lake, Millinocket Lake, Moosehead Lake, Mooselookmeguntic Lake, Munsungan Lake, Pemadumcook Lakes, Portage Lake, Rangeley Lake, Richardson Lake, Sebago Lake, Sebec Lake, Schoodic Lake, Square Lake, St Froid Lake, Thompson Lake, Webb Lake and West Grand Lake all have healthy populations of salmon.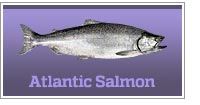 World record: 79 lbs 2 oz
ME State Record: 28 lbs 1 oz
By clicking on the images and links above, you will be taken to a page offering more information about the selected species.
The Maine state record landlocked salmon came from Sebago Lake.
About The Pacific Salmon Family
Pacific Salmon are born in and remain in freshwater streams for the early years of life. The number varies by species. Afterward they migrate to the Pacific Ocean waters where they bulk up and prepare for their once in a lifetime spawning run up the freshwater stream where they were born. They will instinctively return to their birthplace, spawn and die. They are found in the streams which empty into the ocean, and adjoining ocean waters.
The preferred method for catching salmon is fly fishing. Depending on the activity level, salmon may be caught on wet or dry flies. For more details check here for articles about fly fishing.
Salmon Organizations
Maine Salmon Fishing
The preferred method for catching salmon is fly fishing. Depending on the activity level, salmon may be caught on wet or dry flies, as well as a variety of other lures and baits.
Salmon fishing waters and information, by state.
Learn the life cycle of salmon
The more you know about the life cycle and seasonal migration of salmon, the more likely you are to be looking in the right area next time you visit Maine salmon fishing waters. Visit the salmon fishing page for more information about the life cycle of the different species of salmon.
Contribute ME Salmon Fishing Knowledge
If you have information, articles or photos relating to salmon fishing in Maine, which you would like to see published here, please submit them for consideration.
Best salmon fishing waters in Maine!