Fishing For Salmon In Maine
Guide to fishing for Atlantic salmon in ME.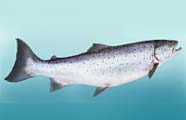 If you like salmon, you gotta like Maine. The Fish River, Mattawamkeag River, Grand Lake Stream, Moose River, Roach River and the Kennebec River (East and West Outlets) are some of the rivers with good to excellent salmon fishing.
Maine is renowned for its excellent salmon fishing, with two main species attracting anglers from all over: Atlantic salmon and landlocked salmon.
The Atlantic salmon (Salmo salar) is a prized sportfish found in Maine's coastal rivers and streams. These anadromous fish are born in freshwater, migrate to the ocean to grow and mature, and then return to their natal rivers to spawn. Atlantic salmon fishing in Maine is strictly regulated due to conservation efforts to protect the species. Catch-and-release practices are often encouraged to preserve this iconic fish population for future generations.
Landlocked salmon (Salmo salar sebago) are a freshwater variant of Atlantic salmon that live exclusively in Maine's inland lakes. They were originally introduced to these waters during the 19th century. Landlocked salmon are known for their aggressive feeding behavior and acrobatic leaps when hooked, making them a thrilling catch for anglers. Some of the popular lakes for landlocked salmon fishing in Maine include Sebago Lake, Moosehead Lake, and Rangeley Lake.
Both Atlantic and landlocked salmon fishing offer unique challenges and poterntial rewards for anglers. Their strength and fighting abilities make them a favorite target for experienced fishermen, and Maine's pristine rivers and lakes provide an idyllic setting for an unforgettable fishing experience. However, it's essential to adhere to local fishing regulations and guidelines to ensure the sustainability of these salmon populations and preserve the state's vibrant fishing heritage.
Salmon Fishing Waters in Maine
Major lakes including Aziscohos Lake, Big Lake, China Lake, Chesuncook Lake, Eagle Lake, East Grand Lake, Flagstaff Lake, Gardner Lake, Graham Lake, Grand Lake Matagamon, Great Pond, Lobster Lake, Long Lake, Mattawamkeag Lake, Meddybemps Lake, Messalonskee Lake, Millinocket Lake, Moosehead Lake, Mooselookmeguntic Lake, Munsungan Lake, Pemadumcook Lakes, Portage Lake, Rangeley Lake, Richardson Lakes, Schoodic Lake, Sebago Lake, Schoodic Lake, Square Lake, St Froid Lake, Thompson Lake, Webb Lake and West Grand Lake all have healthy populations of salmon.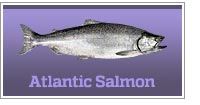 World record: 79 lbs 2 oz
State Record: 22 lbs 8 oz
Click the images and links above for species details.
Maine State Record Salmon
The state record Atlantic salmon was caught from Sebago Lake.
About The Pacific Salmon Family
Pacific Salmon are born in and remain in freshwater streams for the early years of life. The number varies by species. Afterward they migrate to the Pacific Ocean waters where they bulk up and prepare for their once in a lifetime spawning run up the freshwater stream where they were born. They will instinctively return to their birthplace, spawn and die. They are found in the streams which empty into the ocean, and adjoining ocean waters.
The preferred method for catching salmon is fly fishing. Depending on the activity level, salmon may be caught on wet or dry flies. For more details check here for articles about fly fishing.
Maine Salmon Fishing
The preferred method for catching salmon is fly fishing. Depending on the activity level, salmon may be caught on wet or dry flies, as well as a variety of other lures and baits.
Salmon Organizations
Salmon fishing waters and information, by state.
Learn the life cycle of salmon
The more you know about the life cycle and seasonal migration of salmon, the more likely you are to be looking in the right area next time you visit Maine salmon fishing waters. Visit the salmon fishing page for more information about the life cycle of the different species of salmon.
MAINE


Best salmon fishing waters in Maine!