Fishing At Sebec Lake
AKA: Sebec Reservoir
What to fish for...
Guide to fishing for smallmouth bass, lake trout, pumpkinseed sunfish, redbreast sunfish, white perch, yellow perch, landlocked salmon and chain pickerel at Sebec Lake in Maine.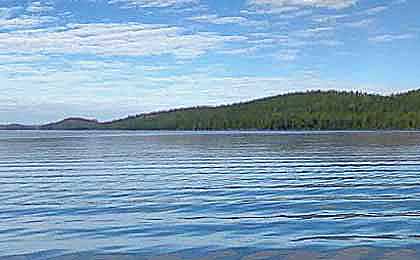 Bass, perch, salmon and chain pickerel are the prized fish species in Sebec Lake, a 6,800-acre lake, at the town of Sebec. About half of the fifty miles of scenic shoreline is developed, while the rest is surrounded by forest with rocky shores.
The purpose of this page is to deliver an overview of this lake, the fishing options, and area amenities. Our goal is to provide info to first time visitors, as well as beginner and novice anglers. We gathered details from personal experience, numerous trusted websites, and videos of fishing activity on the lake. These websites include the Maine Dept of Inland Fisheries and Wildlife, marinas at the lake, campgrounds, boat rental agencies and others. By consolidating this information to one page it allows visitors to see the entire picture, all in one place.
Lake Video
Sebec Lake is located in the northern part of Maine, known for its pristine waters and excellent fishing opportunities. This picturesque lake attracts anglers from far and wide, eager to test their skills and land some remarkable catches.
One of the sought-after fish species in Sebec Lake is the smallmouth bass. Renowned for their fierce fights and acrobatic leaps, these bass provide an exciting challenge for anglers looking to reel in some trophy-sized fish. The lake's clear waters and rocky shorelines make for ideal bass habitat, ensuring a fruitful fishing experience.
Another prized catch in Sebec Lake is the Atlantic salmon. Anglers relish the chance to hook into these magnificent fish known for their impressive size and spirited nature. Atlantic salmon fishing on Sebec Lake offers a thrilling adventure for seasoned anglers, with the possibility of encountering some truly impressive specimens.
Sebec Lake is also home to a variety of panfish species, including yellow perch, white perch, redbreast sunfish, and pumpkinseed sunfish. These panfish are abundant in the lake and provide a fantastic opportunity for families and novice anglers to enjoy a day of fishing. The lake's calm waters and scenic surroundings make it an excellent spot for a relaxing day on the water, perfect for both fishing and boating enthusiasts.
For anglers seeking a predatory challenge, Sebec Lake offers the chance to catch the elusive chain pickerel. These voracious predators are known for their aggressive strikes and provide an exciting angling experience.
Sebec Lake in northern Maine is a paradise for anglers and outdoor enthusiasts alike. With its population of smallmouth bass, Atlantic salmon, yellow perch, white perch, redbreast sunfish, pumpkinseed sunfish, and chain pickerel, the lake offers diverse fishing experiences. Paired with opportunities for boating and camping, Sebec Lake promises a memorable and enjoyable time for anyone looking to connect with nature and experience the wonders of Maine's wilderness.
There are several boat launch ramps. Greeleys Landing, which also offers rental boats, is located on the south shore of the lake, about mid lake, off highway 153. A public boat launch is located on the north shore off Bowerbank Road, at Inlet Road. Bear Point Marina, on the east end of the lake has a boat landing, restaurant, campground and cabins. Fishing from the bank is an option near the boat ramps, campgrounds and undeveloped areas of the lake.

Primary fish species residing in Sebec Lake
Click images for fishing tips and details about each species.
Sebec Lake Amenities
Marina: YES
Boat Rental: YES
Boat Launch Ramp: YES
Campgrounds: YES
RV Hookups: YES
Lodging: YES
Convenience Store: YES
Bait & Tackle: YES
Restaurant: YES
Today's Weather & Forecast
Beyond fishing, Sebec Lake is a popular destination for boating and camping. The lake's expansive waters are perfect for boaters to explore and enjoy the beautiful scenery that surrounds them. Additionally, the lake's shorelines provide ample opportunities for camping, allowing visitors to fully immerse themselves in the peacefulness of nature and indulge in the beauty of Maine's wilderness.
Fishing Boat Rentals
Boat Sebec Lake
Rentals: Fishing boats, kayaks, canoes and pontoon boats
207 564-2617
Public Boat Launch Ramps & Landings
Sebec Lake Public Boat Launch Ramp
Located in the northeast section of the lake, off Landing Road, this is a one-lane, concrete ramp with gravel parking.
Click here for a Maine Fishing License.
Campgrounds & RV Parks Nearby
Bear Point Marina Campground - 207 564-3135
Sebec Lake ME Map - Fishing & Camping Areas
Contact Information
Sebec Lake
Bear Point Marina, Cabins, Campground and Restaurant
Bear Point Rd
Bowerbank, ME 04426
207 564-3135
Fishing lakes in each state.
Sebec Lake in ME
MAINE


Fishing for bass, perch and chain pickerel in western ME.
Sebec Lake, in Maine.