Kids Fishing In Maine
Ideas and locations to take kids fishing in ME.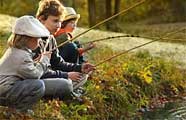 Fishing and the great outdoors offers kids an alternative to many influences they encounter in their busy lives today. A single fishing trip could be the turning point in a young life, and we encourage you to invest the time in Maine kids. The rewards are endless and it takes so little effort.
Places in Maine to take kids fishing
Consider these small lakes, ponds, creeks and urban fishing locations as places to take a kid fishing in the Pine Tree State.
Fletchers Landing
- Graham Lake
Jefferson
- Damariscotta Lake
Portland
- Auburn Lake
Top 3 tips for taking kids fishing in ME
1. Make sure that the goal is to have fun. Catching fish is a bonus.
2. Keep it simple. Simple tackle, techniques and locations.
3. Keep the focus on the kids. Be a hero by helping them enjoy the day.
Click here for more tips and details for a successful kids day fishing.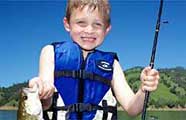 Kids, fishing and smiles naturally go together. Take a kid fishing and you just might change the course of their life. Then take pictures and send us one of them holding their prized catch. We will happily post it on our ME kids fishing photos page.
Kids fishing locations and information, by state.
Help us identify other youth fishing spots in ME.
If you are aware of a great place to take kids fishing in your area, please let us know. We can add it to our list. Every kid that catches a fish there will appreciate the fact that you made the effort.
Ideas and locations to take kids fishing in Maine.