Fishing At Lake Bemidji
AKA: Lake Bemidji State Park
What to fish for...
Guide to fishing for largemouth bass, black crappie, walleye, sauger, bluegill, hybrid sunfish, yellow perch, muskie and northern pike at Lake Bemidji in Minnesota.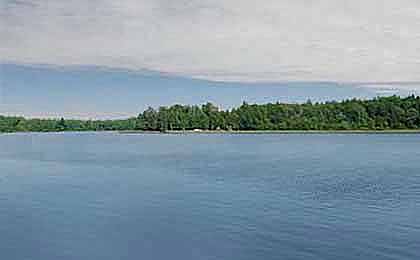 Excellent year-round fishing makes Lake Bemidji an ideal destination any time of year. Boating in the warm months and ice fishing in winter are very popular here. This 6,100-acre lake is located in the north-central part of Minnesota at Bemidji.
Located in northern Minnesota, Lake Bemidji offers fantastic fishing opportunities for anglers of all skill levels. This picturesque lake is known for its diverse fish species, making it a popular destination for both locals and visitors.
Walleye is one of the most sought-after fish species in Lake Bemidji. Anglers are drawn to its abundant walleye population and the chance to catch these delicious and highly-prized fish. The lake's structure, including weed beds, rock piles, and drop-offs, provides ideal habitats for walleye, offering anglers various techniques to target them.
Largemouth bass are another popular species in Lake Bemidji. Anglers can enjoy exciting bass fishing action while exploring the lake's weed edges, submerged vegetation, and shoreline structure. Largemouth bass in Lake Bemidji can reach impressive sizes, making it a great destination for trophy bass hunters.
Yellow perch are abundant in Lake Bemidji and are a favorite among anglers for their tasty fillets. Perch can be caught using small jigs tipped with bait or small minnows, and they often congregate in schools near the lake's weed beds and drop-offs. Anglers can enjoy a day of steady action and bring home a tasty meal of yellow perch.
Sauger, a close relative of the walleye, are also present in Lake Bemidji. These fish are known for their excellent table fare and can provide anglers with exciting fishing opportunities. Sauger can be caught using similar techniques as walleye, and they often inhabit similar areas of the lake.
Muskie, the apex predator of Lake Bemidji, offers a thrilling challenge for experienced anglers. Known for their aggressive strikes and powerful fights, muskie fishing on the lake can be an adrenaline-pumping experience. Anglers target muskie using large lures such as bucktails, jerkbaits, and topwater plugs, hoping to land a trophy-sized fish.
Lake Bemidji is also home to other popular fish species, including bluegill, hybrid sunfish, and black crappie. These panfish provide great opportunities for family fishing outings and for introducing young anglers to the joys of fishing.
In addition to the excellent fishing opportunities, Lake Bemidji offers a range of recreational activities. Boating is a popular pastime, with boat ramps and marinas available for easy access to the lake. Anglers can also enjoy camping along the shoreline, immersing themselves in the beauty of the surrounding nature.
With its abundance of popular fish species, scenic landscapes, and recreational amenities, Lake Bemidji is a prime destination for fishing enthusiasts and outdoor adventurers. Whether you're targeting walleye, bass, perch, or other species, this section of Minnesota offers a memorable fishing experience in a tranquil and picturesque setting.
The lake has fifteen miles of shoreline. Bank fishing is available at the state park and many of the resorts. This Mississippi River fishery offers walleye, bass, crappie, muskie, pike, sunfish and perch fishing to anglers of all skill levels. Boating access is via a boat launch ramp at Lake Bemidji Northwoods Public Water Access on the northeast corner of the lake, at Lake Bemidji Northwoods Public Water Access and Diamond Point Park on the east side of the lake, and Nymore Beach on the south shore of the main lake. Rental boats, bait, tackle, dining, lodging and camping are all available at the lake.

Primary fish species residing in Lake Bemidji
Click images for fishing tips and details about each species.
Lake Bemidji Amenities
Marina: YES
Boat Rental: YES
Boat Launch Ramp: YES
Campgrounds: YES
RV Hookups: YES
Lodging: YES
Convenience Store: YES
Bait & Tackle: YES
Restaurant: YES
Today's Weather & Forecast
Public Boat Launch Ramps & Landings
Cameron Park Boat Launch Ramp
Located mid lake, west side, off Birchmont Drive NE, this is a two-lane, concrete ramp with docks and paved parking.
Northwoods Public Boat Launch Ramp
Located in the northwest corner of the lake, off Bemidji Avenue N, this is a two-lane, concrete ramp with docks and paved parking.
Nymore Beach Public Boat Launch Ramp
Located mid lake, on the south side of the lake, off Paul Bunyon Trail, this is a two-lane, concrete ramp with docks and paved parking.
Click here for a Minnesota Fishing License.
Campgrounds & RV Parks Nearby
Lake Bemidji State Park Campground - 218 308-2300
Bemidji KOA Journey - 218 444-7562
Royal Oaks RV Park - 218 751-8357
Lake Bemidji MN Map - Fishing & Camping Areas
Lake Video
Contact Information
Lake Bemidji
Lake Bemidji State Park
3401 State Park Rd NE
Bemidji, MN 56601
218 308-2300
Fishing lakes in each state.
Lake Bemidji in MN
MINNESOTA


Fishing for muskie, walleye, bass and perch in north-central MN.
Lake Bemidji, in Minnesota.