Choose From The Best Fishing Guides In Minnesota
Hire a guide to take you fishing in MN.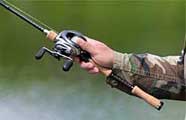 Hire a fishing guide to fish for largemouth bass, smallmouth bass, channel catfish, flathead catfish, blue catfish, black crappie, white crappie, walleye, rainbow trout, brook trout, brown trout, lake trout, bluegill, green sunfish, hybrid sunfish, pumpkinseed sunfish, rock bass, white bass, yellow perch, Atlantic salmon, coho salmon, bowfin, longnose gar, muskie, northern pike, sauger, sturgeon and tiger muskie in local lakes.

Minnesota Fishing Guides
Jim Peters Outdoors - 651 485-2767
Jim Peters  - [email protected]
Walleyes and bass. US Coast Guard Captain. We fish the Mississippi, the St. Croix as well as Mille Lacs and Minnetonka. Fish out of a 1975 Lund Pro V. 4 or 8 hour trips available. From one boat to as many as needed.
Other Local Guides
For the ultimate fishing experience, hire a professional guide. They know the MN fishery inside out and have determined the best techniques for catching fish at various times of the year.
Crank It Up Pro Guide Service - 763 300-8800
Nick Madison - [email protected]
I guide in the twin cities metro area and also alexandria and brainerd areas. I target bass but with my tactics we catch any predator fish willing to bite,I put on mini seminars through out the day and answer any question asked about fish catching.
Wildsmallie Guide Service - 763-783-8025
Chris Hansen - [email protected]
Focus Species: smallmouth bass, largemouth bass, muskies, pike. Smallmouth bass on the Upper Mississippi, largemouth bass and muskies in metro lakes. Specializing in fly, spin, and casting equipment
On The Fly Guide Service - 507.281.8873
Dave Anderson
Focus Species: brown, brook, rainbow trout. Fly fishing in southeast Minnesota's driftless terrain with one of the areas top fly fishing guides. All levels welcome.
Predator Guide Service - 320-230-0321
Steve Scepaniak - [email protected]
Focus Species: Walleye Muskie. Professional Muskie and walleye guide. Seminar speaker, TV and radio personality Outdoor writer for Muskie Inc. Fish And Game Finder, Outdoors Minnesota Inc. Esox Angler and many other magazines.
Moose Track Adventures - 218 365-4106
Jim Blauch - [email protected]
Focus Species: Smallmouth Bass, Walleye, Northern Pike & Musky. Guided fishing and fly fishing trips in Minnesota's famous Boundary Waters Canoe Area (BWCA) and Ely area lakes. Fly casting instructions and professional guide service.
Front 20 Outfitters - 218 385-3871
Doug Harthan - [email protected]
Focus Species: Trout. We bring you to some of the most scenic stream trout lakes in West Central Minnesota. Clearwater, Becker and Hubbard Counties provide a variety of trout fishing lakes for you to enjoy. We guide for beginners and experienced anglers. We offer Half and Full Day Trips, which can be fit into your schedule.
Jasper Creek Guide Service - 218 365-3239
Don Beans - [email protected]
Focus Species: Smallmouth bass and walleye. Superb smallmouth bass angling! Located in Ely, Minnesota "...the end of the road." Completely outfitted and guided fishing trips into the BWCA and Quetico Park Wilderness Day Trips with shore lunch, package trips and Autumn trip specials, home of the popular Gone FishINN' trip!
Family Fishing Guides - 218 390-9973
Doug Pirila - [email protected]
Focus Species: multi species. Focusing on family outings at affordable prices.
St. Croix guided fishing - 651 428-8183
Brian - [email protected]
Focus Species: Walleye, crappie, small mouth bass. Professionally guiding for 7 year's. Won 1st place on the St. Croix, Beannie's River Rat tournament for 2007. I am also on the Pro staff for Limit Creek rod company. Learn tips and tricks and have a lot of fun.
Minnesota Fishing Guide Services
In addition to catching fish, guides teach you techniques which you will use over a lifetime of fishing. Learn tips on rods, reels, line, knots, lures, hook types, techniques and much more...all by spending the day in a boat with a local guide.
Fishing guide information for other states.
MINNESOTA