Fishing On Lake Superior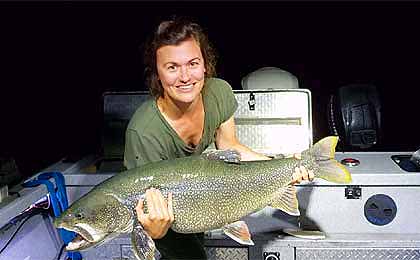 The largest of the Great Lakes, Lake Superior is also the largest freshwater lake in the world, by surface area. This massive body of water covers 31,700 square miles and has 2,726 miles of shoreline. These impressive numbers create a fishing paradise so big it's hard to comprehend. Experience and knowledge are the two most important tools when fishing this lake. Your safety and potential for success are increased tremendously when you hire a guide or charter service. Trout and salmon are the big draws, but the lake also offers good fishing for bass, walleye, sauger, muskie, sunfish, pike and perch.
Fish species* residing in Lake Superior
Click images for fishing tips and details about each species.
Click the images and links above for species details.
*Species covered in this website
Fishing for largemouth bass, smallmouth bass, channel catfish, walleye, sauger, rainbow trout, brook trout, brown trout, lake trout, steelhead, bluegill, green sunfish, pumpkinseed sunfish, rock bass, white bass, white perch, yellow perch, Atlantic salmon, chinook (king) salmon, coho salmon, pink salmon, muskie and northern pike in Lake Superior.
Fishing guides and charters are available out of Michigan, Minnesota and Wisconsin. Here are a few options.
Access from Michigan
Keweenaw Charter Fishing Co
Specializing in near shore and offshore sport fishing excursions for the best trout and salmon fishing to be found anywhere in the Great Lakes.
Houghton, MI 49931
715 869-6155
---
Hooked Up Charters - 906 370-4450
Keweenaw Charter Fishing - 715 869-6155
Kimars Charters - 906 892-8277
Access from Minnesota
Kingfisher Charters - 218 206-6514
Lake Superior Optimum Fishing Charters - 855 700-0013
Tofte Fishing Charters - 218 663-9932
Access from Wisconsin
Day Out Charters - 218 393-3742
D's Superior Fishing Charters - 715 373-2960
Apostle Islands Charter Fishing - 715 292-5622
Lake Superior Map
States with access to Lake Superior
Lake Superior Contact Information
Great Lakes Fishery Commission
2200 Commonwealth Blvd., Suite 100
Ann Arbor, MI, 48105
734 662-3209
Fishing lakes in each state.
Lake Superior
THE GREAT LAKES


Fishing for trout, salmon, walleye, bass, muskie, perch and other fish species in the Great Lakes
Lake Superior Fishing