Crappie Fishing In Minnesota
Guide to fishing for black and white crappie.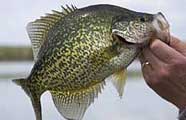 Crappie are actually a member of the sunfish family and can be found in many area lakes. Crappie are known by many different local names. Paper mouth, goggleye, bridge perch, slabs and speckled perch, are just a few. Ice fishing for crappie can be great fun for kids and adults.
Minnesota offers excellent crappie fishing opportunities, with both black crappie and white crappie being popular targets for anglers. These panfish species can be found in numerous lakes and rivers across the state, providing exciting angling experiences.
Black crappie, known for their distinct dark speckles and deeper bodies, are a prized catch for many anglers. They can be found in lakes and rivers with suitable habitat, such as submerged vegetation, fallen trees, or brush piles. Anglers often target black crappie by vertical jigging or casting with small jigs, soft plastics, or live minnows. Spring and early summer are particularly productive times for black crappie fishing, as they move into shallower waters to spawn.
White crappie, with their lighter coloration and longer bodies, are another popular crappie species in Minnesota. They inhabit similar habitats as black crappie, such as weed lines, submerged structures, or docks. Anglers can target white crappie using similar techniques to black crappie, with small jigs, soft plastics, or live minnows being effective baits. White crappie are also more active during the spring and early summer when they move closer to shore to spawn.
The best time to fish for crappie in Minnesota is typically during the spring and early summer when the water temperatures are rising, and the fish are actively feeding. This period coincides with the crappie spawning season when they move into shallow waters. However, crappie can be caught throughout the year, with different techniques and locations being effective during different seasons.
Minnesota's lakes and rivers provide abundant opportunities for crappie fishing. Whether it's the thrill of landing a stringer full of black crappie or the joy of catching a trophy-sized white crappie, anglers can enjoy the excitement of pursuing these popular panfish. With its picturesque landscapes and diverse waters, Minnesota is a top destination for crappie fishing adventures.

Crappie Waters In MN
Many small lakes, ponds and quiet rivers in Minnesota have populations of crappie. But if you want to catch a bunch of crappie your best bet is most likely in one of the larger lakes including Big Stone Lake, Cross Lake, Goose Lake, Kabetogama Lake, Lac Qui Parle Lake, Lake Bemidji, Lake Mille Lacs, Lake Minnetonka, Lake Minnewaska, Lake of the Woods, Lake Pepin, Lake Traverse, Lake Vermilion, Lake Winnibigoshish, Leech Lake, Lower Red Lake, Otter Tail Lake, Pelican Lake, Rainy Lake, Turtle Lake and Upper Red Lake.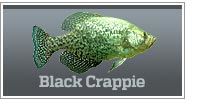 World record: 6 lbs 0 oz
State Record: 5 lbs 0 oz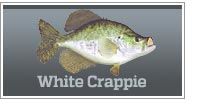 World record: 5 lbs 3 oz
State Record: 3 lbs 15 oz
Click the images and links above for species details.
Top 5 Crappie Fishing Lures For Minnesota
Crappie jigs work well in water from 2' to 40' deep, and are the most popular artificial lure for crappie ever. When crappie are shallow, spinners, small crankbaits and underspins are the often very productive. As they move deeper, spoons are among the top producers if the crappie are active. Review details for the best crappie rig options. Understanding the seasonal movements of crappie can enhance your chances of using these lures in the ideal locations.
Minnesota State Record Crappie
The state record black crappie was caught from the Vermillion River.
The state record white crappie came out of Constance Lake.
Crappie Fishing Basics Video
Check out crappie information, by state.
The life cycle of crappie.
The more you know about crappie, the easier it will be to locate and catch them in Minnesota lakes and rivers. Visit the crappie fishing page for details about their seasonal migrations.
MINNESOTA