Guide To The Best Bass Fishing Lakes In Oklahoma
Great Bass Fishing Lakes In Oklahoma
Fish for spotted, smallmouth and largemouth bass. Visit the Bass Knowledge Center for valuable information about bass and bass fishing.
Oklahoma is a fantastic destination for bass fishing enthusiasts, offering a variety of species to target, including largemouth, smallmouth, and spotted bass. With its numerous lakes, reservoirs, and rivers, the state provides excellent opportunities for anglers of all skill levels to pursue their passion.
Largemouth bass, known for their size and strength, are a prized catch among Oklahoma anglers. Many lakes and reservoirs in the state are home to healthy populations of largemouth bass, providing ample opportunities to reel in these impressive fish. Whether you prefer casting from the shore or navigating the waters on a boat, you can find numerous hotspots throughout the state that hold trophy-sized largemouth bass.
In addition to largemouth bass, Oklahoma also offers opportunities to target smallmouth bass. These feisty fish are known for their aggressive nature and acrobatic fights, making them a favorite among anglers seeking a thrilling fishing experience. The state's clear-water streams and rivers, such as the Illinois River and the lower Mountain Fork River, are popular destinations for smallmouth bass fishing. Anglers can test their skills by using a variety of techniques, including casting crankbaits, spinnerbaits, or soft plastic lures to entice these bronzebacks.
Another bass species found in Oklahoma is the spotted bass, which shares many characteristics with both largemouth and smallmouth bass. Spotted bass are known for their voracious appetite and their tendency to strike aggressively. They can be found in lakes and reservoirs across the state, particularly in the eastern region. While not as abundant as largemouth bass, spotted bass offer a unique fishing experience and can provide a pleasant surprise to anglers targeting other bass species.
When planning a bass fishing trip to Oklahoma, it's important to be aware of the state's fishing regulations and obtain the necessary licenses. The Oklahoma Department of Wildlife Conservation provides up-to-date information on fishing seasons, bag limits, and any special regulations that may apply to specific bodies of water. Respecting the environment and practicing catch-and-release whenever possible ensures the sustainability of bass populations and preserves the fishing experience for future generations.
Whether you're a seasoned angler or just starting out, Oklahoma's bass fishing opportunities are sure to captivate you. With its diverse bass species, scenic locations, and a passionate angling community, the state offers an unforgettable fishing adventure for anyone with a love for bass fishing. So grab your tackle box, hit the water, and get ready to reel in some trophy bass in the Sooner State.
Bass Fishing Lakes In Oklahoma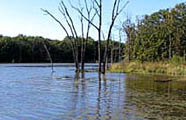 Bass is king in Oklahoma, and for good reason. All major lakes contain healthy populations of bass. These lakes include Broken Bow Reservoir, Canton Lake, Fort Cobb Reservoir, Fort Gibson Lake, Foss Lake, Grand Lake of the Cherokees, Great Salt Plains Lake, Hugo Lake, Hulah Lake, Kaw Lake, Keystone Lake, Lake Altus-Lugert, Lake Carl Blackwell, Lake Ellsworth, Lake Eucha, Lake Eufaula, Lake Hudson, Lake Konawa, Lake Lawtonka, Lake Murray, Lake Stanley Draper, Lake Texoma, Lake Thunderbird, Lake Wister, McGee Creek Reservoir, Oologah Lake, Pine Creek Lake, Robert S Kerr Reservoir, Sardis Lake, Skiatook Reservoir, Sooner Lake, Tenkiller Lake, Tom Steed Reservoir, Waurika Lake and Webber Falls Reservoir. And if that weren't enough bass inhabit a high percentage of the smaller lakes, rivers and ponds across the state.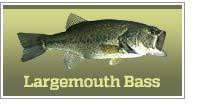 World record: 22 lbs 4 oz
State Record: 14 lbs 13.7 oz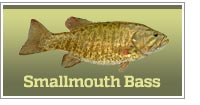 World record: 11 lbs 15 oz
State Record: 8 lbs 7 oz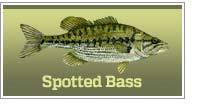 World record: 9 lbs 8 oz
State Record: 8 lbs 2 oz
Click the images and links above for species details.
Top 5 Bass Fishing Lures For Oklahoma
When bass are shallow, spinnerbaits, crankbaits and top water lures are the most productive. As they move deeper, worms and jigs are among the top producers.
Oklahoma Bass Records
The state record largemouth bass was caught in Cedar Lake.
The state record smallmouth bass was taken from Lake Lawtonka.
The state record spotted bass was caught out of a pond.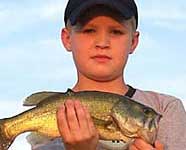 Bass are one of the most sought after of all the game fish. Its appeal spans cultures, age groups and genders to tap on the heart strings of anglers everywhere. Join us in our endeavor to offer information about bass fishing on your favorite bass lake in Oklahoma.
Bass fishing basics video.
Understanding the primary seasonal movements of smallmouth bass and largemouth bass is key to locating them on local lakes in the Sooner State.

Catch big bass!
Learn the secrets of the pros and apply them to your local bass fishing waters here in Oklahoma.
Bass fishing information by state.
The lifecycle of bass
The more you know about the seasonal migration of bass, the more likely you are to be looking in the right area next time you visit Oklahoma bass fishing lakes. Visit the bass fishing page for more in-depth information about bass activities.
OKLAHOMA