Taking Kids Fishing In Oklahoma
Ideas and locations to take kids fishing in OK.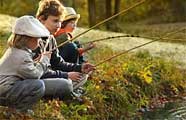 Fishing and the great outdoors offers kids an alternative to many influences they encounter in their busy lives today. A single fishing trip could be the turning point in a young life. We encourage you to invest the time in Oklahoma kids. The rewards are endless and it takes so little effort.
Oklahoma offers fantastic opportunities for kids to enjoy fishing and develop a lifelong love for the sport. With its abundance of fish species and accessible urban fishing locations, the state provides a perfect setting for young anglers to experience the thrill of catching fish.
One of the great aspects of fishing in Oklahoma for kids is the variety of fish species they can target. Many lakes and ponds in the state are stocked with fish such as rainbow trout, channel catfish, bluegill, and largemouth bass. These species are known for their willingness to bite and provide an exciting fishing experience for children. Rainbow trout, in particular, are often stocked in urban fishing locations during the cooler months, offering an excellent opportunity for kids to reel in their first trout.
Oklahoma's urban fishing locations are specifically designed to make fishing accessible and enjoyable for kids. These locations are often found in city parks, community ponds, and easily accessible areas. Examples of popular urban fishing locations include the Oklahoma City Zoo Lake, Veterans Park Pond in Jenks, and Crystal Lake in Woodward. These spots are usually well-maintained, have ample fishing opportunities, and often offer amenities such as fishing docks, picnic areas, and nearby playgrounds, making it a perfect outing for families.
In addition to urban fishing locations, Oklahoma's Wildlife Department often hosts kids fishing events throughout the year. These events provide children with an opportunity to learn fishing skills, receive instruction from experienced anglers, and participate in fun fishing activities. They are a great way to introduce kids to fishing in a supportive and educational environment, fostering a love for the sport from an early age.
When fishing with kids in Oklahoma, it's important to prioritize their safety and enjoyment. Ensuring they have appropriate fishing gear, such as a child-sized fishing rod, and using simple techniques like using bobbers and bait can increase their chances of success. Teaching them about catch-and-release practices and respecting fishing regulations instills an appreciation for conservation and sustainability.
Oklahoma's commitment to providing excellent fishing opportunities for kids through urban fishing locations and educational events makes it an ideal destination for families seeking outdoor experiences. Whether it's catching their first fish, enjoying quality time together, or developing a lifelong passion for fishing, Oklahoma offers a memorable and rewarding experience for young anglers. So gather the kids, pack some snacks, and head out to one of Oklahoma's kid-friendly fishing spots for a day of fun and adventure on the water.

Places in Oklahoma to take kids fishing
Take a kid fishing and bring your camera! These are a few of the places to take them fishing and get some great pictures. Consider these small lakes, ponds, creeks and urban fishing locations as places to take a kid fishing in the Sooner State.
Norman
- Stanley Draper Lake
- Sutton Wilderness Pond
Oklahoma City
- Dolese Youth Park Pond
- Eagle Lake
- Edwards Park Fishing Lake
- Hefner Lake
- Kids Lake at Wilshire
- Kids Lake on Grand Blvd
- Lake Overholser
- Mohawk Park
- South Lakes Park Ponds
Stillwater
- Lake Carl Blackwell
Tulsa
- Sand Springs Lake
- Yahola Lake
Youngsters with their prized catch
---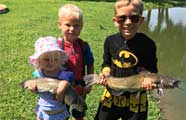 Bliss Wren 3, Cass Wren 5, Shi Wren 9 caught these catfish from a small pond in Kingston, Oklahoma. Their secret bait was chicken breast.
---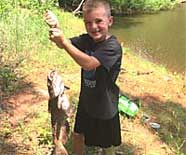 Zayne with a nice catfish...
6 year old Zayne Burke caught this catfish caught with a worm from a small pond near Blanchard Oklahoma. This was Zayne's first ever catfish!
---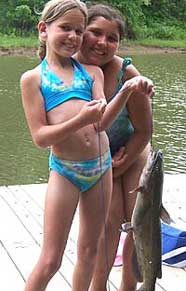 Shelby's Catfish...
9 year old Shelby Collins and her best friend Jordan after Shelby caught her first catfish in Catoosa
---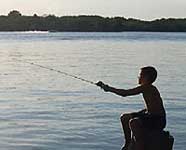 Shelb'ys 11 year old brother Gage relaxing while fishing at Ft. Gibson.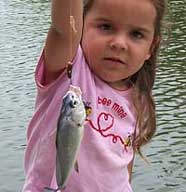 Jayla' Fish...
3 year old Jayla Lucas catching her monster drum in Catoosa, Oklahoma.
---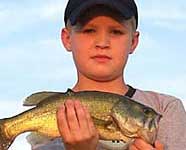 Cameron's Bass...
Cameron Mosteller age 9 with his biggest fish yet, caught on one of his almost daily fishing outings in front of OG&E in Muskogee.
---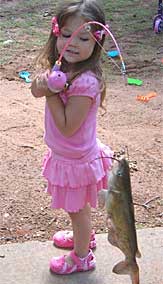 3 year old Christina Kaye Wornick shows off her very first catfish.
---
Oklahoma offers many opportunities for kids to fish and experience the thrill of the "tap-tap-tap". Watch the eyes of a youth light up no matter how big or small their catch may be. You have the opportunity to experience it with them and share their joy.
Top 3 tips for taking kids fishing in OK
1. Make sure that the goal is to have fun. Catching fish is a bonus.
2. Keep it simple. Simple tackle, techniques and locations.
3. Keep the focus on the kids. Be a hero by helping them enjoy the day.
Click here for additional tips to create a successful day of fishing for kids.
Kids Fishing Video
Kids, fishing and smiles naturally go together. Take a kid fishing and you just might change the course of their life. Then take pictures and send us one of them holding their prized catch. We will happily post it here.
Kids fishing locations and information, by state.
Help us identify other youth fishing spots in OK.
If you are aware of a great place to take kids fishing in your area, please let us know. We can add it to our list. Every kid that catches a fish will appreciate the fact that you made the effort.
OKLAHOMA