Fishing At Lake Hudson
AKA: Markham Ferry Reservoir
What to fish for...
Guide to fishing for largemouth bass, channel catfish, black crappie, white crappie, bluegill, green sunfish, redear sunfish, white bass, hybrid striped bass, paddlefish and saugeye at Lake Hudson in Oklahoma.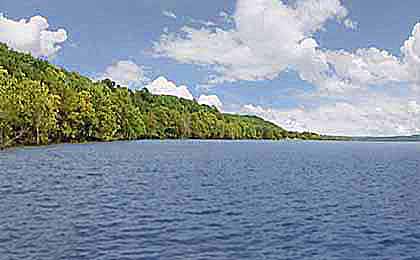 Weekend anglers and bass tournament trails consider Lake Hudson, AKA Markham Ferry Reservoir, a premiere bass fishing lake. Good catch rates and quality largemouth bass rank the lake among the top in the state. With over 200 miles of shoreline wrapped around this 12,000-acre lake, anglers can find plenty of water to fish from the bank or a boat.
The purpose of this page is to deliver an overview of this lake, the fishing options, and area amenities. Our goal is to provide info to first time visitors, as well as beginner and novice anglers. We gathered details from personal experience, numerous trusted websites, and videos of fishing activity on the lake. These websites include the Oklahoma Department of Wildlife Conservation, marinas at the lake, campgrounds, boat rental agencies and others. By consolidating this information to one page it allows visitors to see the entire picture, all in one place.
Lake Video
Lake Hudson, located in northeastern Oklahoma, is a hidden gem for outdoor enthusiasts seeking a serene and picturesque destination. Fishing at Lake Hudson is a popular activity, attracting anglers from near and far. The lake is home to a variety of fish species, including largemouth bass, catfish, crappie, white bass, and sunfish. Whether you're casting your line from the shoreline, trolling in a boat, or trying your luck from a kayak, Lake Hudson provides ample opportunities to reel in a satisfying catch. With its diverse fish population, the lake offers a rewarding experience for anglers of all skill levels.
Lake Hudson in Oklahoma is a true haven for outdoor enthusiasts, providing a combination of excellent fishing, boating adventures, and serene camping experiences. Whether you're casting your line for a prized catch, cruising on the lake's calm waters, or unwinding in a peaceful campsite, Lake Hudson promises unforgettable moments and a deep appreciation for the natural wonders of Oklahoma.
Markham Ferry Reservoir is located only a half hour from the Broken Arrow-Tulsa area, in the northeast part of the state. Boat docks and brushy shorelines are favorite hangouts of bass when they are shallow. In summer and during winter they move deeper around river channels, ledges and submerged islands and points. Crappie, catfish, sunfish, hybrid stripers, saugeye and paddlefish also reside here. Hudson Lake Marina and RV Park and several area campgrounds are available for all types of camping. Other lodging options are also available in the area. There are no rental boats here so bring your own pontoon, pleasure boat or fishing boat and use one of the eight boat launch ramps. Kayaks and canoes can be portaged from some of the same areas open to the public for fishing from the bank.

Primary fish species residing in Lake Hudson
Click images for fishing tips and details about each species.
Lake Hudson Amenities
Marina: YES
Boat Rental: NO
Boat Launch Ramp: YES
Campgrounds: YES
RV Hookups: YES
Lodging: YES
Convenience Store: YES
Bait & Tackle: YES
Restaurant: YES
Today's Weather & Forecast
Boating is another highlight of Lake Hudson, thanks to its calm waters and scenic surroundings. Boaters can explore the lake's expansive waters, take in the natural beauty, and enjoy various water-based activities. From sailing to water skiing, the possibilities for adventure on the water are endless. Whether you bring your own boat or rent one from the marina, Lake Hudson provides a tranquil setting for boating enthusiasts to indulge in their favorite water sports.
Public Boat Launch Ramps & Landings
Highway 82 Boat Ramp
Located mid lake, east side, off Highway 82, this is a three-lane, concrete ramp with paved parking.
Launch 1 Hudson Lake
Located mid lake, east side, off N Grace Street, this is a two-lane, concrete ramp with a dock and paved parking.
Snowdale Park Boat Ramp
Located mid lake, west side, off S 439 Road, this is a two-lane, concrete ramp with a dock and paved parking.
Click here for a Oklahoma Fishing License.
Camping at Lake Hudson is a cherished experience, allowing visitors to immerse themselves in the peaceful ambiance of the lake's surroundings. The lake features several campgrounds that offer a range of camping options, from primitive sites to those with modern amenities. Set up your tent or park your RV amidst the tranquil beauty of the area and enjoy a peaceful night under the stars. Campers can relax by the lakeside, go for hikes, or gather around a campfire, creating lasting memories and a sense of connection with nature.
Campgrounds & RV Parks Nearby
Lakeside Terrace RV Park - 918 434-5641
Horseshoe Inn & Campground - 918 809-3341
Camping at Hudson Lake Campground - 918 691-7362
Lake Hudson OK Map - Fishing & Camping Areas
Contact Information
Lake Hudson
Hudson Lake Marina & RV Park
33 Big Bluff Lane
Pryor, OK 74361
918 434-6099
Fishing lakes in each state.
Lake Hudson in Oklahoma.
OKLAHOMA


Information about fishing lakes in Oklahoma
Crappie, catfish, sunfish, hybrid stripers, saugeye and paddlefish fishing is available at Lake Hudson in northeast Oklahoma.
Fishing on Lake Hudson.