Panfish, Perch & Sunfish Fishing In Oklahoma
Guide to fishing for sunfish in OK lakes and ponds.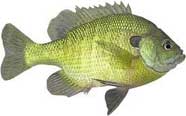 Throughout the state of Oklahoma you can find waters with populations of sunfish, including bluegill, green sunfish, hybrid sunfish, redear sunfish and white bass. The purpose of this page is to share basic information about panfish fishing and identify popular sunfish fishing waters in the state.
Oklahoma is a haven for panfish fishing, offering ample opportunities for anglers, especially youth, to enjoy the thrill of catching sunfish species. Sunfish, a popular group of panfish, includes various species such as bluegill, redear sunfish (shellcrackers), and green sunfish. These fish are known for their vibrant colors, willingness to bite, and accessible fishing locations, making them a perfect target for young anglers.
Bluegill Fishing Basics Video
The core principles shown in this video will work for most sunfish, perch and other panfish.
Bluegill, one of the most common sunfish species, can be found in abundance throughout Oklahoma's lakes, ponds, and rivers. These feisty fish are known for their aggressive strikes and scrappy fights, providing an exciting fishing experience for kids. Bluegill are often eager to bite a variety of baits, including worms, small jigs, and even tiny artificial lures. Their willingness to bite and their abundance in many fishing spots make them an excellent target for young anglers honing their fishing skills.
Redear sunfish, also known as shellcrackers, are another popular panfish species in Oklahoma. They are often found in larger lakes and reservoirs, particularly in areas with abundant aquatic vegetation. Redear sunfish have a reputation for their larger size and their fondness for feeding on snails and other bottom-dwelling organisms. Fishing for redear sunfish can be a rewarding experience for kids, as they require a slightly different approach, such as using live bait, small jigs, or soft plastic lures rigged to imitate snails or insects.
Green sunfish, although not as abundant as bluegill or redear sunfish, can still be found in many of Oklahoma's lakes, ponds, and slow-moving rivers. These aggressive little fish are known for their voracious appetites and their willingness to strike various baits. Green sunfish provide a fun and accessible option for young anglers to practice their fishing skills and enjoy the thrill of catching panfish.
Oklahoma's commitment to promoting youth fishing is evident through various programs and events designed to introduce children to the joy of angling. The Oklahoma Department of Wildlife Conservation often organizes youth fishing events, where kids can learn fishing techniques, receive instruction from experienced anglers, and have the opportunity to catch fish in a safe and supportive environment. These events not only provide a chance for kids to experience the excitement of fishing but also educate them about conservation and responsible fishing practices.
Oklahoma's abundant sunfish populations, accessible fishing locations, and dedication to youth fishing initiatives make it an excellent destination for families seeking panfish fishing adventures. Whether it's casting a line from the shoreline of a local pond or participating in a youth fishing event, young anglers in Oklahoma have plenty of opportunities to develop their fishing skills, create lasting memories, and cultivate a lifelong passion for the sport.
Panfish Lakes
You might be hard pressed to find fishing water in OK that does not have one or more species of panfish. All the major lakes including Broken Bow Reservoir, Canton Lake, Fort Cobb Reservoir, Fort Gibson Lake, Foss Lake, Grand Lake of the Cherokees, Great Salt Plains Lake, Hugo Lake, Hulah Lake, Kaw Lake, Keystone Lake, Lake Altus-Lugert, Lake Carl Blackwell, Lake Ellsworth, Lake Eufaula, Lake Hudson, Lake Murray, Lake Texoma, Lake Thunderbird, Lake Wister, McGee Creek Reservoir, Oologah Lake, Pine Creek Lake, Robert S Kerr Reservoir, Sardis Lake, Skiatook Reservoir, Sooner Lake, Tenkiller Lake, Tom Steed Reservoir, Waurika Lake and Webber Falls Reservoir have panfish.

Top Producing Panfish Lures & Bait
Check out the top producing lures and bait for bluegill, redear sunfish, rock bass and warmouth, as well as other smaller sunfish. Click here for the best lures for white bass, yellow bass, white perch and yellow perch.
In-state panfish and sunfish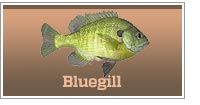 World record: 4 lbs 12 oz
State Record: 2 lbs 6.4 oz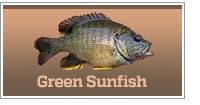 World record: 2.2 lbs
State Record: 2 lbs 7 oz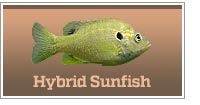 World record: N/A
State Record: 1 lbs 14 oz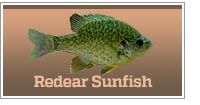 World record: 5.4 lbs
State Record: 2 lbs 1 oz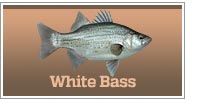 World record: 6.8 lbs
State Record: 5 lbs 1 oz
Click the images and links above for species details.
The state record bluegill came from a pond.
The state record green sunfish was caught out of a pond.
The state record hybrid sunfish was taken from a pond.
The state record redear sunfish was caught in a pond.
The state record white basscame from the Verdigris River.
The term "panfish" comprises many species, each called by a variety of names. The bluegill tops the list and is the most common. Most ponds, rivers, parks and small lakes also contain some panfish.
One or more species of sunfish populate virtually all warm water streams, ponds and lakes throughout Oklahoma, and around the world for that matter. They can survive in waters that provide their natural food source of minnows, insects, crustaceans and worms. Their competitive nature amongst themselves, for food, makes them relatively easy to catch.
Panfish are prolific spawners and repopulate the waters as fast as they are harvested. A common problem with panfish fishing is that the waters are under-fished causing panfish to overpopulate. As a result they tend to stay small in size due to lack of food source.
Sunfish information in other states.
Learn the lifecycle of a panfish
There is a host of panfish anglers can pursue. Visit the panfish fishing page for details on many of these sunfish you might encounter in Oklahoma fishing waters.
OKLAHOMA