Oklahoma Crappie Fishing
Crappie Waters In OK
All about fishing for white and black crappie.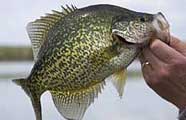 Broken Bow Reservoir, Fort Cobb Reservoir, Fort Gibson Lake, Foss Lake, Grand Lake of the Cherokees, Hugo Lake, Hulah Lake, Kaw Lake, Keystone Lake, Lake Carl Blackwell, Lake Ellsworth, Lake Eufaula, Lake Hudson, Lake Murray, Lake Texoma, Lake Thunderbird, Lake Wister, McGee Creek Reservoir, Oologah Lake, Pine Creek Lake, Robert S Kerr Reservoir, Sardis Lake, Skiatook Reservoir, Tenkiller Lake, Tom Steed Reservoir, Waurika Lake and Webber Falls Reservoir all have significant populations of crappie. Smaller lakes, ponds and rivers across the state are likely to have a crappie or two as well.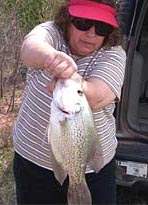 Joy Wells shows off a potential record crappie she caught from her farm pond.
Crappie are actually a member of the sunfish family and can be found in many Oklahoma lakes. Crappie are known by many different local names. Paper mouth, goggleye, bridge perch, slabs and speckled perch, are just a few.
Crappie Fishing Basics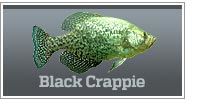 World record: 6 lbs 0 oz
State Record: 4 lbs 10 oz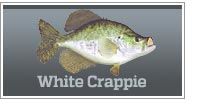 World record: 5 lbs 3 oz
State Record: 4 lbs 15 oz
Lake Eufaula was home to the state record white crappie and the state record black crappie was caught out of a private pond.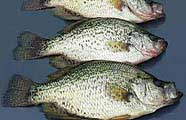 Small jigs, live minnows, small spinners and other small lures will catch crappie. Use light line (six pound or less) and work the baits slowly - especially in cold water.
Check out crappie information, by state.
The life cycle of crappie.
The more you know about crappie, the easier it will be to locate and catch them in Oklahoma lakes and rivers. Visit the crappie fishing page for details about their seasonal migrations.
OKLAHOMA