Guide To Popular Panfish Fishing Options In Colorado
All about fishing for panfish species in CO lakes.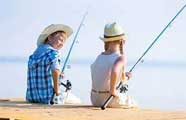 Throughout the state of Colorado you can find waters with populations of sunfish, including bluegill, green sunfish, rock bass, white bass and yellow perch. One or more species of sunfish populate virtually all warm water streams, ponds and lakes throughout Colorado, and around the world for that matter. They can survive in waters that provide their natural food source of minnows, insects, crustaceans and worms. Their competitive nature amongst themselves, for food, makes them relatively easy to catch.
Colorado offers exciting opportunities for panfish fishing, making it an ideal pursuit for anglers, particularly youth anglers, who are looking to have a fun and rewarding fishing experience. Panfish, which includes species like sunfish, bluegill, and perch, are abundant in various lakes, ponds, and reservoirs throughout the state.
Sunfish, such as the bluegill and pumpkinseed, are some of the most popular panfish species targeted by anglers in Colorado. These colorful and feisty fish can be found in both still waters and slow-moving rivers. Sunfish are known for their willingness to bite and provide an excellent opportunity for young anglers to develop their fishing skills. They can be caught using simple and accessible techniques like using worms, small jigs, or even bits of bread as bait.
Colorado's youth fishing programs and designated youth fishing areas make it even easier for kids to get involved in panfish fishing. These areas are specifically managed to ensure a positive fishing experience for young anglers, often stocked with panfish species and offering amenities such as fishing piers, picnic areas, and educational signage. Locations like St. Vrain State Park, Aurora Reservoir, and Prospect Ponds are popular choices for youth fishing outings, providing a safe and enjoyable environment for kids to learn and practice their angling skills.
Panfish fishing is an excellent way to introduce children to the joys of fishing, as it offers frequent action and a chance to experience the thrill of reeling in fish. It allows young anglers to develop their patience, focus, and appreciation for nature. Engaging kids in panfish fishing not only fosters their love for the outdoors but also promotes conservation awareness and responsible fishing practices, such as catch-and-release.
Whether casting lines from the shore or fishing off a dock, panfish fishing in Colorado provides a fantastic opportunity for youth anglers to immerse themselves in the world of fishing. It offers a gateway to a lifelong hobby and a deeper connection with Colorado's natural resources.

Panfish & Perch Lakes
Adobe Creek Reservoir, Aurora Reservoir, Blue Mesa Reservoir, Bonny Reservoir, Carter Lake, Chatfield Reservoir, Cherry Creek Reservoir, Echo Canyon Reservoir, Hollenbeck Reservoir, Horsetooth Reservoir, John Martin Reservoir, Lathrop State Park, McPhee Reservoir, Navajo Reservoir, North Delaney Lake, North Sterling Reservoir, Pueblo Reservoir, Quincy Reservoir, Ridgway Reservoir, Rifle Gap Reservoir, Ruedi Reservoir, Sloan Lake, Standley Lake and Williams Fork Reservoir all have a healthy population of panfish. The state record bluegill came from Hollenbeck Reservoir.
Top Producing Panfish Lures & Bait
Check out the top producing lures and bait for bluegill, redear sunfish, rock bass and warmouth, as well as other smaller sunfish. Click here for the best lures for white bass, yellow bass, white perch and yellow perch.
In-state panfish, sunfish and perch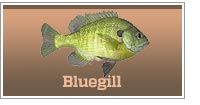 World record: 4 lbs 12 oz
State Record: 2 lbs 5 oz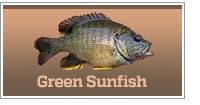 World record: 2.2 lbs
State Record: 1 lbs 5 oz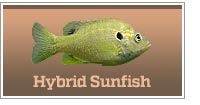 World record: N/A
State Record: 1 lbs 8.5 oz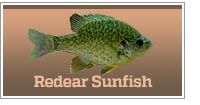 World record: 5.4 lbs
State Record: 15.2 oz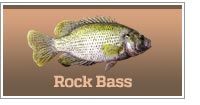 World record: 3.0 lbs
State Record: 1 lbs 1.25 oz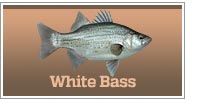 World record: 6.8 lbs
State Record: 4 lbs 7 oz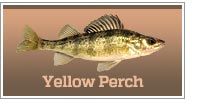 World record: 4 lbs 3 oz
State Record: 2 lbs 9 oz
Click the images and links above for species details.
The state record bluegill was taken from Comanche Power Plant.
The state record green sunfish (tie) - one was caught from Big Thompson Pond and the other from a gravel pit.
The state record hybrid sunfish came from a gravel pit.
The state record redear sunfish came from Stalker Lake.
Ramah Reservoir was home to the state record rock bass.
Blue Lake was home to the state record white bass.
Seaman Reservoir served up the state record yellow perch.
Panfish are prolific spawners and repopulate the waters as fast as they are harvested. A common problem with panfish fishing is that the waters are under-fished causing panfish to overpopulate. As a result they tend to stay small in size due to lack of food source.
The term "panfish" comprises many species, each called by a variety of names. The bluegill tops the list and is the most common.
Bluegill Fishing Basics Video
The core principles shown in this video will work for most sunfish, perch and other panfish.
Sunfish information in other states.
Learn the lifecycle of a panfish
There is a host of panfish anglers can pursue. Visit the panfish fishing page for details on many of these sunfish you might encounter in Colorado fishing waters.
COLORADO