Fishing At Lake Memphremagog
AKA: Memphremagog Lake
What to fish for...
Guide to fishing for largemouth bass, smallmouth bass, black crappie, walleye, rainbow trout, brown trout, lake trout, pumpkinseed sunfish, rock bass, yellow perch, landlocked salmon, chain pickerel and northern pike at Lake Memphremagog in Vermont.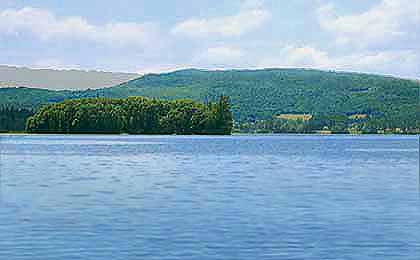 Crossing the Vermont border into Quebec, Canada is Lake Memphremagog, a 5,800-acre lake at Newport, VT. Only about 10 of the over 40 miles of shoreline are in VT, yet there is plenty to do within the US portion of the lake.
Lake Memphremagog is a stunning glacial lake that straddles the border between Vermont, USA, and Quebec, Canada. The southern part of the lake lies in Vermont, near the town of Newport. Known for its crystal-clear waters and picturesque surroundings, Lake Memphremagog is a popular destination for fishing enthusiasts and outdoor lovers alike.
The lake offers excellent fishing opportunities, with a variety of fish species inhabiting its waters. Smallmouth bass and largemouth bass are abundant and provide thrilling angling experiences for those seeking to catch these feisty and sought-after gamefish.
Anglers also target black crappie in Lake Memphremagog, which are known for their tasty white flesh and exciting fight. These panfish are particularly popular among families and younger anglers due to their abundance and cooperative nature.
For trout enthusiasts, Lake Memphremagog offers ample opportunities to catch a variety of trout species. Rainbow trout, brown trout, and lake trout can all be found in the lake's deeper and cooler waters. These trout species present a rewarding challenge for anglers, with the potential to hook impressive-sized fish.
One of the highlights of fishing in Lake Memphremagog is the presence of atlantic salmon. The lake is renowned for its atlantic salmon fishery, drawing anglers from far and wide to try their luck at landing one of these prized fish.
Chain pickerel and northern pike are also prevalent in the lake, providing additional excitement for those seeking predatory species. These aggressive fish put up a strong fight and offer a thrilling experience for anglers.
Yellow perch, a popular panfish, are found in good numbers in Lake Memphremagog. They offer a great option for family fishing and are particularly fun for kids to catch.
Beyond fishing, Lake Memphremagog provides ample opportunities for boating and camping. The lake's vast size and scenic beauty make it an ideal spot for boating enthusiasts to explore its waters. Additionally, camping along the lake's shoreline provides a perfect opportunity to immerse oneself in the natural beauty of the area.
Lake Memphremagog is a treasure trove for anglers seeking a diverse fishing experience. Whether you're interested in catching bass, trout, atlantic salmon, or exploring the lake's variety of fish species, this picturesque lake in Vermont offers something special for every fishing enthusiast.
Much of the shore within VT can be accessed for fishing from the bank, especially around Prouty Beach and throughout areas of Newport. The lake offers fishing for bass, crappie, walleye, trout, sunfish, perch, salmon and pike - conventionally during the warm months, and through the ice in winter. A concrete boat launch ramp for public use is located at Whipple Point Access Area, on the east side of the lake near the Canadian border. Kayaks, car-top boats and canoes can be portaged from several areas with parking throughout the southern part of the lake. For additional information about fishing on Lake Memphremagog, visit the VT Fish & Wildlife website.

Primary fish species residing in Lake Memphremagog
Click images for fishing tips and details about each species.
Lake Memphremagog Amenities
Marina: YES
Boat Rental: YES
Boat Launch Ramp: YES
Campgrounds: YES
RV Hookups: YES
Lodging: YES
Convenience Store: YES
Bait & Tackle: YES
Restaurant: YES
Today's Weather & Forecast
Public Boat Launch Ramps & Landings
Vermont Fish and Wildlife Boat Launch Ramp
Located in the southwest section of the lake, off Fishing Access Road, this is a two-lane, concrete ramp with a dock and gravel parking.
Click here for a Vermont Fishing License.
Campgrounds & RV Parks Nearby
Prouty Beach Campground - 802 334-7951
Lake Memphremagog VT Map - Fishing & Camping Areas
Lake Video
Contact Information
Lake Memphremagog
Prouty Beach Campground
386 Prouty Beach Rd
Newport, VT 05855
802 334-7951
Fishing lakes in each state.
Lake Memphremagog in Vermont.
VERMONT


Information about fishing lakes in Vermont
Fishing for bass, crappie, walleye, trout, sunfish, perch, salmon and pike at Lake Memphremagog in northern VT.
Fishing on Lake Memphremagog.