Guide To Fishing At O'Brien Lake
AKA: O'Brien Reservoir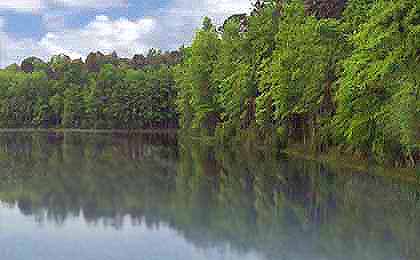 Bass are the big draw at O'Brien Lake, which is a 217-acre lake in western WV, 7 miles east of Ripley. About a dozen miles of shoreline wrap this fishery offering good fishing for bass, crappie and catfish.
O'Brien Lake, situated in the beautiful state of West Virginia, is a serene destination that offers anglers a peaceful fishing experience amidst stunning natural landscapes. With a surface area of approximately 80 acres, O'Brien Lake may be smaller in size but is abundant in fishing opportunities and natural beauty.
One of the most popular fish species found in O'Brien Lake is the rainbow trout. The lake is regularly stocked with rainbow trout, making it an ideal destination for trout fishing enthusiasts. Anglers can test their skills by casting lures, flies, or using bait to entice these vibrant and hard-fighting fish. The lake's clear waters and diverse underwater structure create an optimal environment for rainbow trout to thrive.
O'Brien Lake is also home to other fish species, including largemouth bass, bluegill, and channel catfish. Largemouth bass can be found near the lake's shoreline, submerged structures, and weed beds. Anglers can employ various techniques such as casting plastic worms, crankbaits, or topwater lures to target these popular game fish. Bluegill, known for their aggressive nature, can be caught using small jigs, flies, or live bait. Channel catfish offer thrilling battles for catfish enthusiasts and can be targeted using cut bait, stink baits, or live baits.
In addition to fishing, O'Brien Lake provides opportunities for boating and camping. Boaters can explore the calm waters of the lake, enjoying the peacefulness and scenic views. However, it's important to note that gasoline-powered boats are not permitted on the lake, ensuring a quieter and more environmentally friendly experience. Camping facilities, including campsites equipped with amenities such as picnic areas, restrooms, and hiking trails, are available nearby, allowing visitors to extend their stay and immerse themselves in the natural beauty of the surroundings.
Anglers planning to fish at O'Brien Lake should be aware of fishing regulations and obtain a valid fishing license. It's crucial to follow size and creel limits, as well as any special regulations in place to protect the fishery and maintain the natural balance of the lake's ecosystem.
In conclusion, O'Brien Lake in West Virginia provides a tranquil fishing experience with its popular fish species, including rainbow trout, largemouth bass, bluegill, and channel catfish. Whether you're a trout angler looking for a peaceful day on the water or seeking the thrill of catching largemouth bass or catfish, the lake offers a variety of fishing opportunities. Its boating and camping amenities further enhance the overall outdoor experience, making O'Brien Lake a cherished destination for anglers and nature enthusiasts seeking solace and connection with the beauty of West Virginia's landscapes.
Timber, brush and laydowns are popular cover for bass and crappie, while catfish tend to hang around deeper structure off shore around ledges, flats and points just off the river channel.

What to fish for...
Fishing for largemouth bass, channel catfish, black crappie, white crappie and bluegill at O'Brien Lake in West Virginia.
Primary fish species residing in O'Brien Lake
Click images for fishing tips and details about each species.
O'Brien Lake Amenities
Marina: NO
Boat Rental: NO
Boat Launch Ramp: YES
Campgrounds: YES
RV Hookups: YES
Lodging: YES
Convenience Store: NEARBY
Bait & Tackle: YES
Restaurant: NEARBY
Today's Weather & Forecast
Public Boat Launch Ramps & Landings
O'Brien Lake Boat Launch Ramp
Located mid lake, east side, at the south end of the Statts Mill Road Bridge, this is a one-lane, concrete ramp with paved parking.
Click here for a West Virginia Fishing License.
Campgrounds & RV Parks Nearby
Statts Mill Campground & Cabin - 304 373-0030
O'Brien Lake WV Map - Fishing & Camping Areas
Lake Video
Contact Information
O'Brien Lake
Statts Mill Campground & Cabins
5445 Statts Mills Rd
Ripley, WV 25271
304 373-0030
Fishing lakes in each state.
O'Brien Lake in WV
WEST VIRGINIA


Fishing for bass, crappie and catfish in western WV.
O'Brien Lake, in West Virginia.