Fishing At Jennings Randolph Lake
AKA: Jennings Randolph Reservoir
What to fish for...
Guide to fishing for largemouth bass, spotted bass, channel catfish, white crappie, walleye, saugeye, brown trout, bluegill and hybrid striped bass at Jennings Randolph Lake in West Virginia.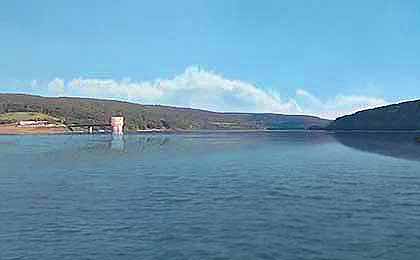 Splitting the northern border of the state, Jennings Randolph Lake is a 950-acre lake in northeast WV. More than half of the 15 miles of shoreline are in West Virginia with two boat ramps for launching.
Jennings Randolph Lake, located on the border of West Virginia and Maryland, is a scenic reservoir that offers a fantastic fishing experience for anglers. Spanning approximately 952 acres, the lake is renowned for its diverse fish population and serene surroundings.
One of the most popular fish species found in Jennings Randolph Lake is the smallmouth bass. The lake is considered a smallmouth bass paradise, attracting anglers with its abundant population of these hard-fighting game fish. Anglers can target smallmouth bass by casting crankbaits, jigs, or soft plastic lures near rocky structures, drop-offs, and points. The lake's clear waters and rocky shorelines provide ideal habitat for smallmouth bass to thrive, making it a haven for bass fishing enthusiasts.
Jennings Randolph Lake is also home to other popular fish species, including walleye, crappie, and catfish. Walleye fishing in the lake can be rewarding, particularly during the cooler months and early morning or late evening hours. Anglers can use techniques such as trolling with crankbaits, jigging, or casting with live bait to entice these elusive predators. Crappie can be found near submerged structures, such as fallen trees and brush piles, and can be caught using jigs or live minnows. The lake also offers opportunities for catfish angling, with both channel catfish and flathead catfish present in its waters.
Apart from fishing, Jennings Randolph Lake provides a range of recreational activities for outdoor enthusiasts. Boating is a popular pastime on the lake, with boaters enjoying the calm waters and picturesque surroundings. The lake features multiple boat ramps, allowing easy access for boating enthusiasts. Camping facilities, including campgrounds equipped with amenities such as picnic areas, restrooms, and hiking trails, are available nearby, providing opportunities for visitors to extend their stay and fully immerse themselves in the natural beauty of the area.
Anglers planning to fish at Jennings Randolph Lake should be aware of fishing regulations and obtain a valid fishing license. It's essential to adhere to size and creel limits, as well as any special regulations in place to protect the fishery and ensure its sustainability.
In conclusion, Jennings Randolph Lake in West Virginia offers a remarkable fishing experience with its diverse fish species, including smallmouth bass, walleye, crappie, and catfish. Whether you're targeting trophy-sized smallmouth bass or enjoying a relaxing day on the water catching crappie, the lake provides ample opportunities for anglers of all skill levels. Its boating and camping amenities further enhance the overall outdoor experience, making Jennings Randolph Lake a popular destination for fishing enthusiasts and nature lovers alike.
This water is shared with Maryland anglers in search of bass, catfish, hybrid stripers, walleye, saugeye, sunfish and trout. The bass fishing is good enough to attract numerous fishing tournaments annually.

Primary fish species residing in Jennings Randolph Lake
Click images for fishing tips and details about each species.
Jennings Randolph Lake Amenities
Marina: NO
Boat Rental: NO
Boat Launch Ramp: YES
Campgrounds: YES
RV Hookups: YES
Lodging: NEARBY
Convenience Store: YES
Bait & Tackle: YES
Restaurant: YES
Today's Weather & Forecast
Public Boat Launch Ramps & Landings
Howell Run, Jennings Randolph Lake Boat Launch Ramp
Located mid lake, east side, off Shaw Road, this is a two-lane, concrete ramp with a dock and paved parking.
Click here for a West Virginia Fishing License.
Campgrounds & RV Parks Nearby
Robert W Craig Campground - 304 355-2346
Abrams Creek Center Campground - 304 446-5332
Jennings Randolph Lake WV Map - Fishing & Camping Areas
Lake Video
Contact Information
Jennings Randolph Lake
Robert W Craig Campground
787 Robert Craig Ln
Keyser, WV 26726
304 355-2346
Fishing lakes in each state.
Jennings Randolph Lake in WV
WEST VIRGINIA


Fishing for spotted and largemouth bass in northeast WV.
Jennings Randolph Lake, in West Virginia.