Guide To The Best Bass Fishing Lakes In West Virginia
West Virginia offers excellent bass fishing opportunities, with its diverse waterways and thriving bass populations. Anglers can target three main species of bass in the state: largemouth bass, smallmouth bass, and spotted bass.
Largemouth bass can be found in various lakes, reservoirs, and rivers throughout West Virginia. These fish are known for their size and strength, making them a prized catch for many anglers. Some popular bass fishing destinations in the state include Sutton Lake, Tygart Lake, and Kanawha River. Largemouth bass are often found near submerged structures such as fallen trees, weed beds, and rock formations. Anglers typically use a variety of techniques, including casting with soft plastics, crankbaits, and topwater lures, to entice these aggressive predators.
Smallmouth bass, known for their acrobatic fights and strong fighting ability, are highly sought after by anglers in West Virginia. They can be found in rivers and streams such as the New River, Potomac River, and Shenandoah River. Smallmouth bass prefer clear, rocky habitats with swift currents. Anglers often use lures such as jigs, crankbaits, and tube baits to target smallmouth bass. Spring and fall are generally considered the best seasons to fish for smallmouth bass in West Virginia, as the fish are more active during these times.
Spotted bass, also known as Kentucky bass, are another popular bass species in West Virginia. They are typically found in rivers and lakes, including the Ohio River and Bluestone Lake. Spotted bass are similar in appearance to largemouth bass but have distinct markings, including rows of dark spots along their lower sides. Anglers can target spotted bass using similar techniques as largemouth and smallmouth bass, focusing on areas with cover and structure.
When bass fishing in West Virginia, it's important to follow state regulations regarding size limits, bag limits, and fishing seasons. Additionally, anglers should practice catch-and-release techniques to ensure the sustainability of bass populations and the long-term health of the fisheries. With its diverse bass species and beautiful fishing locations, West Virginia offers an exciting and rewarding bass fishing experience for anglers of all levels.
Top Bass Lakes In WV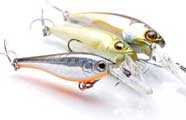 All about fishing for spotted, smallmouth and largemouth bass in West Virginia lakes. Visit the Bass Knowledge Center for valuable information about bass and bass fishing. Find water in the state and chances are you found bass. Small lakes, ponds, parks and rivers are good places to look. The states major lakes with bass include Beech Fork Lake, Bluestone Lake, Burnsville Lake, Cheat Lake, East Lynn Lake, Jennings Randolph Lake, Moncove Lake, Mount Storm Lake, O'Brien Lake, Stonewall Jackson Lake, Summersville Lake and Tygart Lake.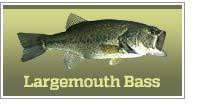 World record: 22 lbs 4 oz
State Record: 12.28 lbs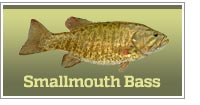 World record: 11 lbs 15 oz
State Record: 9.75 lbs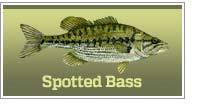 World record: 9 lbs 8 oz
State Record: 4.77 lbs
Click the images and links above for species details.
Top 5 Bass Fishing Lures For West Virginia
When bass are shallow, spinnerbaits, crankbaits and top water lures are the most productive. As they move deeper, worms and jigs are among the top producers.
West Virginia State Record Bass
The state record largemouth bass was caught from a private pond.
The state record smallmouth bass came from South Branch.
The state record spotted bass was caught out of R. D. Bailey Lake.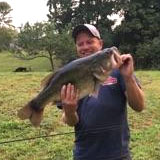 This largemouth bass, over ten pounds, was caught by Josh Tingler of Mineral Wells. The lunker was taken on a live bluegill, using 8 pound line. You just never know when you might catch a bass of a lifetime...in West Virginia.
---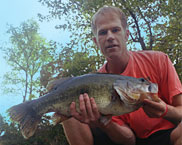 Erik Tingler caught this 10-pound bass on a live bluegill in Wood County West Virginia. After catching his dream fish, he quickly weighed and measured it, then returned it to the water to fight another day.
---
Bass are one of the most sought after of all the game fish. Its appeal spans cultures, age groups and genders to tap on the heart strings of anglers everywhere. Join us in our endeavor to offer information about bass fishing on your favorite bass lake in West Virginia.
Bass fishing basics video.
Understanding the primary seasonal movements of smallmouth bass and largemouth bass is key to locating them on local lakes in the Mountain State.

Catch big bass!
Bass fishing information by state.
The lifecycle of bass
The more you know about the seasonal migration of bass, the more likely you are to be looking in the right area next time you visit West Virginia bass fishing lakes. Visit the bass fishing page for more in-depth information about bass activities.
WEST VIRGINIA