West Virginia Bass Fishing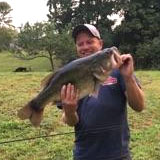 This largemouth bass, over ten pounds, was caught by Josh Tingler of Mineral Wells. The lunker was taken on a live bluegill, using 8 pound line. You just never know when you might catch a bass of a lifetime...in West Virginia.
All about fishing for spotted, smallmouth and largemouth bass in West Virginia lakes.
Bass Fishing Lakes In West Virginia
Find water in West Virginia and chances are you found bass. Small lakes, ponds, parks and rivers are good places to look. The states major lakes with bass include Beech Fork Lake, Bluestone Lake, Burnsville Lake, Cheat Lake, East Lynn Lake, Jennings Randolph Lake, Moncove Lake, Mount Storm Lake, O'Brien Lake, Stonewall Jackson Lake, Summersville Lake and Tygart Lake.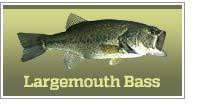 World record: 22 lbs 4 oz
WV State Record: 9 lbs 10 oz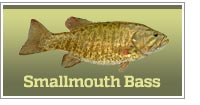 World record: 11 lbs 15 oz
WV State Record: 9 lbs 12 oz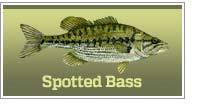 World record: 9 lbs 8 oz
WV State Record: 4 lbs 12 oz
By clicking on the images and links above, you will be taken to a page offering more information about the selected species.
---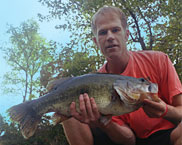 Erik Tingler caught this 10-pound bass on a live bluegill in Wood County West Virginia. After catching his dream fish, he quickly weighed and measured it, then returned it to the water to fight another day.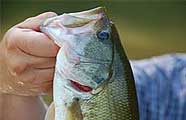 Bass are one of the most sought after of all the game fish. Its appeal spans cultures, age groups and genders to tap on the heart strings of anglers everywhere. Join us in our endeavor to offer information about bass fishing on your favorite bass lake in West Virginia.
Understanding the primary seasonal movements of smallmouth bass and largemouth bass is key to locating them on local lakes in the Mountain State.

Catch big bass!
The West Virginia state record largemouth bass came out of Dog Run Lake and South Branch produced the WV state record smallmouth bass.
Bass fishing information, by state.
The lifecycle of bass
The more you know about the seasonal migration of bass, the more likely you are to be looking in the right area next time you visit West Virginia bass fishing lakes. Visit the bass fishing page for more in-depth information about bass activities.
Best bass fishing lakes in West Virginia!