Fishing At Burnsville Lake
AKA: Burnsville Reservoir
What to fish for...
Guide to fishing for largemouth bass, smallmouth bass, spotted bass, channel catfish, flathead catfish, black crappie, white crappie, walleye, bluegill, muskie, sauger and saugeye at Burnsville Lake in West Virginia.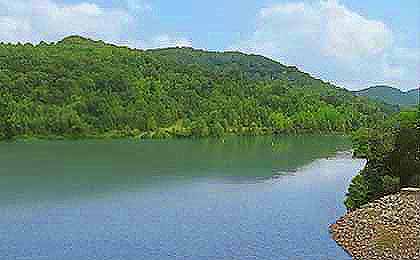 Three boat launch ramps provide boat access to Burnsville Lake for boating, sightseeing and fishing. This 1,900-acre lake in central West Virginia, at Burnsville has 30 miles of shoreline. There are plenty of places to wet a line.
The purpose of this page is to deliver an overview of this lake, the fishing options, and area amenities. Our goal is to provide info to first time visitors, as well as beginner and novice anglers. We gathered details from personal experience, numerous trusted websites that each offer select bits of information, and videos of fishing activity on the lake. These websites include the West Virginia Division of Natural Resources, marinas at the lake, campgrounds, boat rental agencies and others. By consolidating this information to one page it allows visitors to see the entire picture, all in one place.
Lake Video
Burnsville Lake, in West Virginia, is a popular destination for anglers seeking a diverse range of fish species and tranquil outdoor experiences. Spanning approximately 968 acres, Burnsville Lake offers ample opportunities for fishing, boating, and camping.
One of the primary fish species that attracts anglers to Burnsville Lake is the largemouth bass. The lake has a healthy population of largemouth bass, providing anglers with exciting fishing opportunities. Largemouth bass can be found near the lake's shoreline, submerged structures, and weed beds. Anglers can employ a variety of techniques, such as casting soft plastic baits, topwater lures, or crankbaits, to entice these prized game fish.
Burnsville Lake is also known for its thriving crappie population. Anglers can target both black crappie and white crappie throughout the year. Spring and fall are particularly productive seasons for crappie fishing, as they move closer to the shorelines to spawn and feed. Fishing near submerged structures, such as fallen trees and brush piles, can increase the chances of landing a successful catch. Anglers often use live minnows, jigs, or small plastic baits to entice these delicious panfish.
Additionally, Burnsville Lake offers opportunities for anglers to target other popular fish species, including bluegill, redear sunfish, and channel catfish. Bluegill and redear sunfish, commonly known as panfish, provide enjoyable fishing experiences for anglers of all ages. These fish can be found near weed beds, submerged vegetation, and along the shoreline. Channel catfish are abundant in the lake and offer thrilling battles for catfish enthusiasts.
In conclusion, Burnsville Lake in West Virginia offers a rewarding fishing experience with its diverse fish species, including largemouth bass, crappie, bluegill, redear sunfish, and catfish. Whether you're an experienced angler or a beginner, the lake provides ample opportunities for success. Boating and camping amenities further enhance the overall experience, making Burnsville Lake a popular destination for anglers and outdoor enthusiasts seeking a serene and enjoyable outdoor getaway.
Grab yout tackle and fish for bass, walleye, sauger, saugeye, crappie, catfish, sunfish and muskie dwelling here. Access for fishing from shore is limited, but there are areas at both ends of the lake for this. Fishing from a boat, canoe, kayak or pontoon is a more productive way to attack this scenic fishery. A marina and three campgrounds enhance boating and camping during your stay. These waters receive little fishing pressure which results in quality fishing for those who do fish here. Bass are abundant, with many in the "big fish" category, over five pounds.

Primary fish species residing in Burnsville Lake
Click images for fishing tips and details about each species.
Burnsville Lake Amenities
Marina: YES
Boat Rental: NO
Boat Launch Ramp: YES
Campgrounds: YES
RV Hookups: YES
Lodging: NEARBY
Convenience Store: NEARBY
Bait & Tackle: NO
Restaurant: NEARBY
Today's Weather & Forecast
Aside from fishing, Burnsville Lake provides a range of recreational activities for outdoor enthusiasts. Boating is a popular pastime, with boaters enjoying the calm waters and scenic views. The lake features multiple boat ramps, allowing easy access for boating enthusiasts.
Public Boat Launch Ramps & Landings
Bulltown Boat Launch Ramp
Located in the southeast section of the lake, off Millstone Run Road, this is a one-lane, concrete ramp with paved parking.
Bulltown South Boat Launch Ramp
Located in the southeast section of the lake, south side, off Gauley Turnpike, this is a two-lane, concrete ramp with paved parking.
Rifle Run Boat Launch Ramp
Located in the northwest section of the lake, east side, off S Main Street, this is a three-lane, concrete ramp with paved parking.
Marinas
Burnsville Docks
2746 S Main St
Burnsville, WV 26335
304 853-2822
Click here for a West Virginia Fishing License.
Camping facilities, including campsites equipped with amenities such as picnic tables, fire pits, and restroom facilities, provide opportunities for visitors to extend their stay and enjoy the natural beauty of the surrounding area.
Campgrounds & RV Parks Nearby
Riffle Run Campground Campground - 304 853-2371
Bulltown Campground - 304 452-8006
Burnsville Lake WV Map - Fishing & Camping Areas
Contact Information
Burnsville Lake
Riffle Run Campground
R9QR+WG
Burnsville, Northern, WV
304 853-2371
Fishing lakes in each state.
Burnsville Lake in West Virginia.
WEST VIRGINIA


Information about fishing lakes in West Virginia
Fishing in central WV, for walleye, sauger, saugeye, crappie, catfish, sunfish and muskie.
Fishing on Burnsville Lake.