Taking Kids Fishing At Top Spots In Washington DC
Ideas and locations to take kids fishing in DC.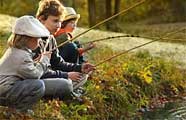 Fishing and the great outdoors offers kids an alternative to many influences they encounter in their busy lives today. A single fishing trip could be the turning point in a young life. We encourage you to invest the time in Washington DC kids. The rewards are endless and it takes so little effort.
Washington DC offers a few optionsfor kids to enjoy fishing. Taking kids fishing is not only a fun and educational activity but also a chance to bond with family and friends. The city's urban fishing locations provide accessible and safe environments for young anglers to cast their lines and try their luck.
Some popular fish species that kids can catch in Washington DC include bluegill, sunfish, perch, and catfish. These fish are abundant in many of the city's ponds, lakes, and rivers, making it easier for kids to experience the excitement of catching fish.
One of the most family-friendly fishing spots is the Tidal Basin, which surrounds the iconic Jefferson Memorial. Here, children can fish for bluegill and sunfish while enjoying the picturesque views of the monuments. The Constitution Gardens Pond near the National Mall is another excellent spot for young anglers to try their luck.
Fletcher's Cove, located on the Potomac River, is a popular location for families to enjoy fishing and picnicking. It offers a peaceful setting and opportunities to catch catfish and bass. Additionally, the Kingman and Heritage Islands Park provides a unique urban fishing experience in the Anacostia River, where kids can catch various fish species.
Before heading out, it's essential to check local fishing regulations, obtain any required permits, and ensure you have the right gear and bait for kids to have a successful and enjoyable fishing experience in the heart of Washington DC. Remember, fishing can create lasting memories and instill a love for the outdoors in children, making it a valuable and rewarding activity for families.

Places in Washington DC to take kids fishing
Consider these small lakes, ponds, creeks and urban fishing locations as places to take a kid fishing in District Of Columbia.
Washington DC
- Anacostia Park
- Fletcher's Cove
- Potomac River
- Rock Creek Park
Washington DC offers a few opportunities for kids to fish and experience the thrill of the "tap-tap-tap". Watch the eyes of a youth light up no matter how big or small their catch may be. You have the opportunity to experience it with them and share their joy.
Top 3 tips for taking kids fishing in DC
1. Make sure that the goal is to have fun. Catching fish is a bonus.
2. Keep it simple. Simple tackle, techniques and locations.
3. Keep the focus on the kids. Be a hero by helping them enjoy the day.
Click here for additional tips to create a successful day of fishing for kids.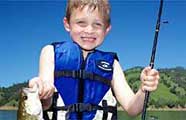 Kids, fishing and smiles naturally go together. Take a kid fishing and you just might change the course of their life. Then take pictures and send us one of them holding their prized catch. We will happily post it here.
Kids fishing locations and information, by state.
Help us identify other youth fishing spots in DC.
If you are aware of a great place to take kids fishing in your area, please let us know. We can add it to our list. Every kid that catches a fish will appreciate the fact that you made the effort.
WASHINGTON DC