Washington DC Fishing Guides
Hire a guide to take you fishing in DC.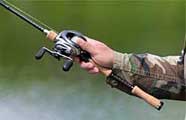 Hire a fishing guide to fish for largemouth bass, smallmouth bass and bluegill in local lakes.

Washington DC Fishing Guides
Other Local Guides
For the ultimate fishing experience, hire a professional guide. They know the DC fishery inside out and have determined the best techniques for catching fish at various times of the year.
National Bass Guide Service - 703-360-3472
Steve Chaconas - [email protected]
Focus species: Bass. Fish the country's top largemouth bass fishery, the historic and scenic Potomac River. View the Nation's Capital from the water. Full or half day trips. Excellent for client outings. All equipment and licenses included.
Washington DC Fishing Guide Services
In addition to catching fish, guides teach you techniques which you will use over a lifetime of fishing. Learn tips on rods, reels, line, knots, lures, hook types, techniques and much more...all by spending the day in a boat with a local guide.
Fishing guide information for other states.
WASHINGTON DC