Fishing At Chain O' Lakes
AKA: Fox Chain O' Lake, Grass Lake, Nippersink Lake, Pistakee Lake
What to fish for...
Guide to fishing for largemouth bass, smallmouth bass, channel catfish, flathead catfish, black crappie, white crappie, walleye, bluegill, green sunfish, warmouth, muskie and northern pike at Fox Chain O' Lakes in Illinois.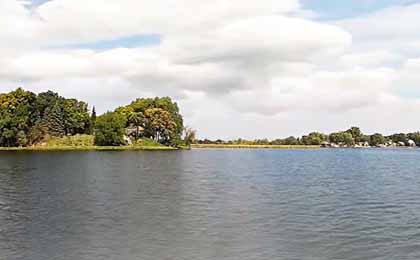 Touting 488 miles of shoreline, Fox Chain O' Lakes comprises fifteen lakes covering 7,100 surface acres. The primary lakes composing the chain include Bluff Lake, Channel Lake, Fox Lake, Grass Lake, Lake Catherine, Lake Marie, Nippersink Lake, Petite Lake and Pistakee Lake.
The purpose of this page is to deliver an overview of this lake, the fishing options, and area amenities. Our goal is to provide info to first time visitors, as well as beginner and novice anglers. We gathered details from personal experience, numerous trusted websites that each offer select bits of information, and videos of fishing activity on the lake. These websites include the Illinois Department of Natural Resources, marinas at the lake, campgrounds, boat rental agencies and others. By consolidating this information to one page it allows visitors to see the entire picture, all in one place.
Lake Video
The Fox Chain O' Lakes in Illinois is a renowned destination for fishing enthusiasts and outdoor adventurers. Located in Lake and McHenry counties, this extensive network of lakes offers incredible fishing opportunities and stunning natural beauty. The Fox Chain O' Lakes is home to a variety of popular fish species, making it a sought-after spot for anglers of all skill levels.
Walleye fishing is a major attraction on the Fox Chain O' Lakes. Anglers are drawn to the challenge of catching these elusive and highly prized game fish. The lakes provide a variety of walleye fishing opportunities, from trolling along deep channels to targeting them near weed beds and structures. The thrill of reeling in a walleye from the Fox Chain O' Lakes is an experience that keeps anglers coming back for more.
Bass fishing is another highlight of the Fox Chain O' Lakes. Both largemouth and smallmouth bass can be found in these waters, offering anglers plenty of opportunities to test their skills. The chain's diverse habitats, including weed beds, submerged structures, and shallow bays, provide ideal conditions for bass to thrive. Anglers can experience the excitement of battling these powerful fish while enjoying the picturesque scenery of the interconnected lakes.
Muskie and northern pike are two more popular game fish species in the Fox Chain O' Lakes. Known for their aggression and impressive size, muskie and northern pike provide thrilling angling experiences. Catching one of these toothy predators is a badge of honor for any angler, and the Fox Chain O' Lakes offers ample opportunities to pursue these formidable fish.
The chain is also home to various panfish species, including bluegill, crappie, and sunfish. These smaller fish offer great fishing experiences for families and beginners. Bluegill and sunfish, in particular, are abundant in the lakes and provide an opportunity to introduce young anglers to the joys of fishing. Crappie, with their tasty fillets and challenging nature, are a favorite target for anglers looking for a rewarding catch.
There are plenty of boat docks and aquatic vegetation to support healthy populations of fish. These lakes are home to catfish, bass, bluegill, northern pike, crappie, walleye and muskie. Boat ramps provide easy access for boating and fishing vessels. Plenty of shoreline is easily accessible for those who wish to fish from the bank or cover more area while fishing from a boat. In some areas of these lakes, ice fishing during winter can be productive. Check with local officials for authorization and Illinois DNR for regulations before attempting to fish through the ice on any lake. Multiple boat ramps make easy work of launching fishing boats, pontoons and pleasure boats. Kayaks and canoes are an ideal watercraft for traversing this twisting and turning waterway.

Primary fish species residing in Chain O' Lakes
Click images for fishing tips and details about each species.
Fox Chain O' Lakes Amenities
Marina: YES
Boat Rental: YES
Boat Launch Ramp: YES
Campgrounds: YES
RV Hookups: YES
Lodging: YES
Convenience Store: YES
Bait & Tackle: YES
Restaurant: YES
Today's Weather & Forecast
Besides fishing, the Fox Chain O' Lakes is a haven for boating enthusiasts. With its interconnected lakes and navigable channels, the chain provides endless opportunities for boating adventures. Whether you prefer pontoon boating, water skiing, or cruising along the scenic shorelines, the Fox Chain O' Lakes offers a vast playground for water sports and leisurely rides.
Fishing Boat Rentals
Chain O'Lakes Boat Rentals
Rentals: Pontoon boats
224 277-5231
Public Boat Launch Ramps & Landings
Ben Watts Marina Boat Launch Ramp
Located mid lake, east side of Pistakee Lake, off US Highway 12, this is a four-lane, concrete ramp with docks and gravel parking.
Highway 173 Boat Launch Ramp
Located mid lake, on the south side of Channel Lake, off Highway 173, this is a one-lane, concrete ramp with docks and paved parking.
Maple Grove Boat Launch Ramp
Located mid lake, west side of Grassy Lake, off Fox Chain-O-Lakes State Park Road, this is a four-lane, concrete ramp with docks and massive, paved parking.
Marinas
Ben Watts Marina
116 S US-12
Fox Lake, IL 60020
847 587-0211
Bob's Marina
25584 IL-173
Antioch, IL 60002
847 395-1173
Chain O Lakes Marina
500 E Grand Ave
Fox Lake, IL 60020
847 587-6222
Grass Lake Marina
26250 W Heart O Lakes Blvd
Antioch, IL 60002
773 550-7666
Inland Harbor Marina
38816 N Broadway Ave
Antioch, IL 60002
847 395-8070
Nauti-Port Marina
514 Park Ave
Fox lake IL 60020
708 603-5940
Porthole Marina
39922 N Lakeview Rd
Antioch, IL 60002
815 861-9997
Rustic Harbor Marina
28970 Broadway Terrace
McHenry, IL 60050
815 690-1226
Click here for a Illinois Fishing License.
For those looking to extend their stay, the Fox Chain O' Lakes offers numerous camping options. There are several campgrounds located near the lakes, providing a convenient base for outdoor enthusiasts. Camping allows visitors to fully immerse themselves in the beauty of the area, with opportunities to fish from the shore, explore the lakes, and enjoy peaceful evenings under the starry skies.
Campgrounds & RV Parks Nearby
Grass Lake Marina & RV Park - 847 395-6214
Chain O' Lakes State Park Campground - 847 587-5512
Fox River Recreation Campground - 847 395-6090
Fox Chain O' Lakes IL Map - Fishing & Camping Areas
Contact Information
Fox Chain O' Lakes
Chain O Lakes Marina
500 E Grand Ave
Fox Lake, IL 60020
847 587-6222
Chain O Lakes State Park 847 587-5512
IDNR Fisheries Biologist 815 675-2319
Fox Waterway Agency 847 587-8540
Fishing lakes in each state.
Chain O' Lakes in Illinois.
ILLINOIS


Information about fishing lakes in Illinois
Fox Chain O' Lakes offers catfish, crappie, walleye and muskie fishing in northeast Illinois.
Fishing on Chain O' Lakes, in Illinois.