Fishing At Kinkaid Lake
AKA: Lake Kinkaid
What to fish for...
Guide to fishing for largemouth bass, smallmouth bass, channel catfish, flathead catfish, black crappie, white crappie, walleye, bluegill, redear sunfish and muskie at Kinkaid Lake in Illinois.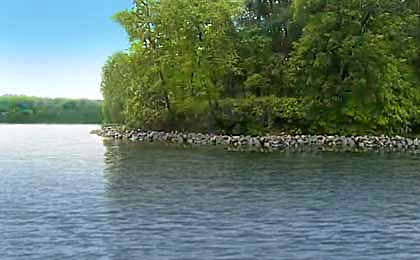 Located in the southern part of the state, Kinkaid Lake covers 2,700 acres offering excellent fishing, boating and other water sport options. If you enjoy fishing from shore, there are over 70 miles of shoreline to explore in search of your favorite fish.
Kinkaid Lake, nestled in Illinois, is a paradise for fishing enthusiasts and outdoor adventurers. Located in Jackson County, this stunning reservoir offers exceptional fishing opportunities and a picturesque natural setting. Kinkaid Lake is renowned for its diverse fish population, attracting anglers from far and wide.
One of the most sought-after fish species in Kinkaid Lake is walleye. Anglers are drawn to the lake for the chance to catch these elusive and prized fish. With their unique feeding habits and preference for low-light conditions, walleye fishing in Kinkaid Lake requires skill and patience. The lake also boasts excellent populations of bass, including largemouth and smallmouth bass, which provide exciting angling experiences for both novice and seasoned fishermen.
Another highlight of Kinkaid Lake is the muskie, also known as the muskellunge. These large, predatory fish are known for their impressive fighting ability and are a thrill to catch. The lake also offers opportunities to target other popular fish species such as bluegill, crappie, and sunfish. These panfish provide enjoyable fishing experiences for families and beginners, offering a chance to relax and unwind while casting a line.
Aside from fishing, Kinkaid Lake is a popular destination for boating enthusiasts. The lake's expansive waters and calm currents make it ideal for various water activities. Whether you prefer cruising on a pontoon boat, water skiing, or jet skiing, Kinkaid Lake provides a serene and picturesque setting for boating adventures and water sports.
For those who wish to extend their stay, Kinkaid Lake offers camping facilities. Surrounding the lake are well-maintained campgrounds that provide a peaceful and scenic setting for outdoor enthusiasts. Camping at Kinkaid Lake allows visitors to fully immerse themselves in the beauty of nature, with opportunities for early morning fishing excursions, breathtaking sunsets, and the chance to observe the local wildlife in their natural habitat.
In summary, Kinkaid Lake in Illinois is a fishing paradise that offers a wide range of angling experiences. From challenging game fish like walleye, bass, and muskie to family-friendly panfish species like bluegill, crappie, and sunfish, the lake caters to anglers of all skill levels. With its boating opportunities and camping facilities, Kinkaid Lake provides a well-rounded outdoor experience for those seeking adventure or relaxation in a beautiful natural setting.
The lake is home to several bass tournaments each year with better than average catches - including bass over 8 pounds. The lake is also home to crappie, catfish, walleye, sunfish and muskie. Boat ramps, a marina, bait and tackle, fishing docks and restaurants are all easily accessible. Bring a pleasure or fishing boat and enjoy water sports and sight seeing on this placid waterway. For fishing, canoes and kayaks can be portaged to water from various locations.

Primary fish species residing in Kinkaid Lake
Click images for fishing tips and details about each species.
Kinkaid Lake Amenities
Marina: YES
Boat Rental: YES
Boat Launch Ramp: YES
Campgrounds: YES
RV Hookups: YES
Lodging: YES
Convenience Store: NEARBY
Bait & Tackle: NEARBY
Restaurant: YES
Today's Weather & Forecast
Fishing Boat Rentals
Kinkaid Marina
Rentals: Jon boats and pontoon boats
618 687-5624
Public Boat Launch Ramps & Landings
Johnson Creek Boat Launch Ramp
Located in the northwest section of the lake, off Johnson Creek Road, this is a two-lane, concrete ramp with a dock and gravel parking.
Lake Kinkaid Boat Launch Ramp
Located in the southeast section of the lake, off Marina Road, this is a six-lane, concrete ramp with docks and paved parking.
Paul Ice Recreation Area Boat Ramp
Located in the northeast section of the lake, off Paul Ice Road, this is a four-lane, concrete ramp with docks and paved parking.
Marinas
Kinkaid Marina
2063 Marina Rd
Murphysboro, IL 62966
618 687-4914
Click here for a Illinois Fishing License.
Campgrounds & RV Parks Nearby
Johnson Creek Recreation Area Campground - 618 833-8576
Sharp Rock Falls Campground - 618 763-5511
Dry Lake Campground - 618 684-8486
Mudline Lodging Campground - 618 967-2678
Kinkaid Lake IL Map - Fishing & Camping Areas
Lake Video
Contact Information
Kinkaid Lake
Johnson Creek Recreation Area
Johnson Creek Rd
Ava, IL 62907
618 833-8576
Kinkaid Lake Fish & Wildlife Area 618 684-2867
IDNR Fish Biologist 618 687-4546
Fishing lakes in each state.
Kinkaid Lake in Illinois.
ILLINOIS


Information about fishing lakes in Illinois
Kinkaid Lake offers excellent, crappie, catfish and muskie fishing in southern Illinois.
Fishing on Kinkaid Lake, in IL.