Crappie Fishing In Illinois
Guide to fishing for black and white crappie.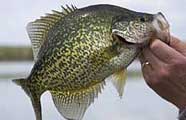 Crappie are actually a member of the sunfish family and can be found in many Illinois lakes. Crappie are known by many different local names. Paper mouth, goggleye, bridge perch, slabs and speckled perch, are just a few. Kids love to ice fish for crappie.
Many Illinois lakes are premier destinations for crappie fishing, offering anglers the chance to target two main species: black crappie (Pomoxis nigromaculatus) and white crappie (Pomoxis annularis). Crappie are highly sought after for their delicious, flaky white meat and the thrill of catching these panfish.
Black crappie can be found in lakes, reservoirs, and rivers throughout Illinois. They are known for their distinctive dark coloration and the arrangement of black spots on their sides. Black crappie prefer areas with submerged vegetation, fallen trees, and other structures where they can ambush prey. Anglers targeting black crappie often use jigs, live minnows, or small artificial lures to entice these fish. Black crappie provide exciting angling opportunities, and their willingness to bite makes them a favorite among anglers of all skill levels.
White crappie, as their name suggests, have a lighter coloration compared to black crappie. They are typically found in similar habitats as black crappie, such as lakes, reservoirs, and rivers with vegetation and submerged structures. White crappie are known for their vertical stripes, and their behavior and feeding patterns can differ slightly from their black crappie counterparts. Anglers targeting white crappie often employ similar tactics, using jigs, minnows, or small lures to entice bites. White crappie provide exciting fishing opportunities and are highly valued for their size and flavor.
Illinois offers a multitude of crappie fishing hotspots, including popular lakes, reservoirs, and rivers across the state. Anglers can enjoy productive fishing throughout the year, with peak seasons typically occurring during spring and fall when crappie move to shallow waters to spawn or feed. The state's diverse waterways and well-managed fisheries make Illinois a haven for crappie anglers of all skill levels, from beginners to seasoned pros.
Whether targeting black crappie or white crappie, Illinois provides ample opportunities to reel in these prized panfish. Anglers can enjoy the peacefulness of a serene lake or the excitement of fishing in a river current, all while pursuing these scrappy fighters. With its abundant crappie populations and a reputation for producing trophy-sized fish, Illinois is a crappie angler's paradise.
Crappie Fishing Lakes in Illinois
Without a doubt, there are hundreds of places to fish for crappie in IL. The bigger schools tend to thrive in larger lakes and impoundments like Anderson Lake, Carlyle Lake, Cedar Lake, Clinton Lake, Crab Orchard Lake, East Fork Lake, East Fork Lake, Evergreen Lake, Fox Chain O' Lakes, Governor Bond Lake, Heidecke Lake, Kinkaid Lake, Lake Carroll, Lake Decatur, Lake Lou Yeager, Lake Mattoon, Lake Of Egypt, Lake Shelbyville, Lake Springfield, Lake Taylorville, Little Grassy Lake, Newton Lake, Pistakee Lake, Rend Lake and Sangchris Lake.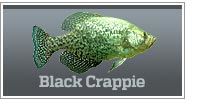 World record: 6 lbs 0 oz
State Record: 4 lbs 8 oz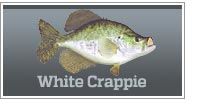 World record: 5 lbs 3 oz
State Record: 4 lbs 7 oz
Click the images and links above for species details.
Top 5 Crappie Fishing Lures For Illinois
Crappie jigs work well in water from 2' to 40' deep, and are the most popular artificial lure for crappie ever. When crappie are shallow, spinners, small crankbaits and underspins are the often very productive. As they move deeper, spoons are among the top producers if the crappie are active. Review details for the best crappie rig options. Understanding the seasonal movements of crappie can enhance your chances of using these lures in the ideal locations.
Illinois State Record Crappie
The state record black crappie was caught from Rend Lake.
The state record white crappie came out of a private pond.
Crappie Fishing Basics Video
Check out crappie information, by state.
The life cycle of crappie.
The more you know about crappie, the easier it will be to locate and catch them in Illinois lakes and rivers. Visit the crappie fishing page for details about their seasonal migrations.
ILLINOIS