Fishing At Lake Verret
AKA: Verret Reservoir
What to fish for...
Guide to fishing for largemouth bass, channel catfish, black crappie, white crappie, bluegill and redear sunfish at Lake Verret in Louisiana.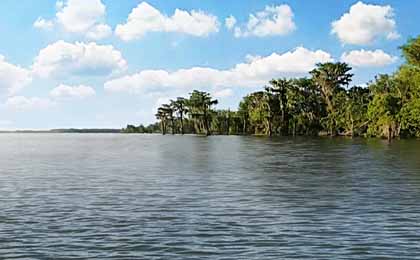 Big bass and loads of nice crappie (sac-a-lait) draw fishing enthusiasts to Lake Verret, a 14,500-acre lake, at Pierre Part, LA. Sunfish and channel cats also keep anglers busy here.
Lake Verret is a beautiful and expansive lake located in southeastern Louisiana, in the Atchafalaya Basin region. This renowned fishing spot attracts anglers from all over the state and beyond due to its diverse fish population and scenic surroundings.
Largemouth bass fishing in Lake Verret is a favorite pastime for many anglers. The lake's structure, including submerged vegetation and cypress trees, provides an ideal habitat for these bass to thrive. Anglers can expect to catch both numbers and trophy-sized bass throughout the year, making it an exciting destination for bass fishing enthusiasts.
Another popular species found in Lake Verret is channel catfish. These hard-fighting fish can be found in good numbers, and anglers can target them using a variety of baits and techniques. Catching channel catfish can be a rewarding experience for both seasoned anglers and those new to fishing.
Lake Verret is also home to black crappie and white crappie, offering excellent panfishing opportunities. These species can be found around submerged structures and are known for their delicious taste, making them a sought-after catch for anglers looking to reel in some tasty fish.
For those who enjoy catching sunfish, Lake Verret boasts abundant populations of bluegill and redear sunfish. These feisty fish can be caught using simple and traditional methods, making them perfect for families and beginners looking to have a fun and successful fishing outing.
Boating is a popular activity on Lake Verret, providing anglers easy access to different fishing spots and areas of the lake. Whether it's a small fishing boat or a spacious pontoon, boaters can explore the lake's scenic beauty and enjoy the peaceful ambiance of this serene fishing spot.
Camping opportunities are available near Lake Verret, allowing visitors to extend their fishing trips and fully immerse themselves in the natural beauty of the Atchafalaya Basin. Camping under the stars and waking up to the sounds of nature enhances the overall experience and makes Lake Verret a top choice for a fishing and camping getaway.
In conclusion, Lake Verret in southeastern Louisiana offers a diverse and exciting fishing experience for anglers of all skill levels. From largemouth bass to channel catfish, black crappie to redear sunfish, the lake provides an array of popular fish species to target. Combined with its beautiful scenery and excellent boating and camping opportunities, Lake Verret stands out as one of the best places to fish in Louisiana.
This big body of water has nearly 60 miles of shoreline, much lined with trees, brush and grass. There is a public boat launch amp on the northwest shore off Shell Beach Road, one at the northern tip off Highway 70, and another at Attakapas Landing on the southeast shore. Because of the great bass fishing, there are significant numbers of bass tournaments held here each year.

Primary fish species residing in Lake Verret
Click images for fishing tips and details about each species.
Lake Verret Amenities
Marina: NO
Boat Rental: NO
Boat Launch Ramp: YES
Campgrounds: NO
RV Hookups: YES
Lodging: YES
Convenience Store: YES
Bait & Tackle: YES
Restaurant: YES
Today's Weather & Forecast
Public Boat Launch Ramps & Landings
Attakapass Landing Boat Launch Ramp
located in the southeast section of the lake, off State Route 401, this is a two-lane, concrete ramp with a dock and gravel parking.
Shell Beach Road Boat Launch Ramp
Located mid lake, west side, off Shell Beach Road, this is a one-lane, concrete ramp with a dock and gravel parking.
St Vincent Boat Launch Ramp
Located in the northeast section of the lake, off State Route 402, this is a two-lane, concrete ramp with a dock and limited, gravel parking.
Click here for a Louisiana Fishing License.
Campgrounds & RV Parks Nearby
Lazydayrvpark - 225 505-1468
Lake Verret LA Map - Fishing & Camping Areas
Lake Video
Contact Information
Lake Verret
Elm Hall, Louisiana Department of Wildlife and Fisheries
337 262-2080
Fishing lakes in each state.
Lake Verret in LA
LOUISIANA


Fishing for giant crappie and lunker bass in southeast LA.
Lake Verret, in Louisiana.