Guide To The Best Bass Fishing Lakes In Louisiana
All about fishing for spotted and largemouth bass in LA lakes.
Louisiana is a premier destination for bass fishing, offering anglers ample opportunities to target both largemouth and smallmouth bass. Among these, largemouth bass reigns supreme and is the most sought-after species in the state. With its numerous lakes, rivers, and bayous, Louisiana provides a diverse range of habitats where largemouth bass thrive. Anglers can find them in various freshwater bodies, from expansive reservoirs to secluded marshes, making bass fishing a popular activity across the state.
Largemouth bass fishing is particularly exciting in Louisiana due to the sheer size and ferocity of these fish. They are known for their aggressive strikes and acrobatic jumps, making every catch a thrilling experience. Many areas in the state boast impressive largemouth bass populations, offering anglers the chance to reel in trophy-sized specimens.
While largemouth bass takes the spotlight, spotted bass also holds its own in certain areas of Louisiana. Although not as prevalent as their largemouth cousins, spotted bass can be found in many of the same waters.
The best time to go bass fishing in Louisiana depends on the region and the water temperature. Typically, spring and fall are considered prime seasons for bass fishing, as the fish are more active and readily feeding during these times. During spring, as the water warms up, largemouth bass become more active and move to shallower waters for spawning. In the fall, as the water cools down, bass are once again active and feed voraciously in preparation for winter.
Whether you're fishing for largemouth bass or spotted bass in the vast array of lakes, Louisiana offers an abundance of opportunities for bass anglers. With its diverse waterways and year-round fishing potential, the state stands as a top-notch destination for bass fishing enthusiasts seeking a memorable and rewarding experience on the water.
Bass Fishing Lakes in Louisiana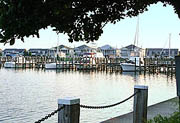 Louisiana is covered with more places to catch bass than one can imagine. Visit the Bass Knowledge Center for valuable information about bass and bass fishing. There are more ponds, small lakes, rivers, creek and backwaters and the cast majority contain bass. The most consistent stringers continue to come from the major lakes including Anacoco Lake, Atchafalaya Basin, Black Bayou Lake, Caddo Lake, Caney Creek Reservoir, Cheniere Brake Lake, Cocodrie Lake, Cross Lake, Cypress Bayou Reservoir, Grand Lake, Lac des Allemands, Lake Bistineau, Lake Bruin, Lake Cataouatche, Lake Claiborne, Lake D'Arbonne, Lake Iatt, Lake Maurepas, Lake Palourde, Lake Rodemacher, Lake Salvador, Lake Verret, Saline Lake, Sibley Lake, Toledo Bend Reservoir, Turkey Creek Lake, Vernon Lake and Wallace Lake.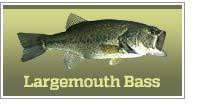 World record: 22 lbs 4 oz
State Record: 15.97 lbs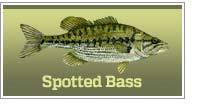 World record: 9 lbs 8 oz
State Record: 4.88 lbs
Click the images and links above for species details.
Top 5 Bass Fishing Lures For Louisiana
When bass are shallow, spinnerbaits, crankbaits and top water lures are the most productive. As they move deeper, worms and jigs are among the top producers.
Louisiana State Record Bass
The state record largemouth bass was caught from Caney Lake.
The state record spotted bass was caught out of the Tickfaw River.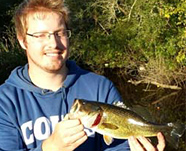 This is Brandon Waltz with a bass he caught, on a spinnerbait, in small stream leading to lake near Cypremort Pointe, LA.
Bass are one of the most sought after of all the game fish. Its appeal spans cultures, age groups and genders to tap on the heart strings of anglers everywhere. Join us in our endeavor to offer information about bass fishing on your favorite bass lake in Louisiana. Understanding the primary seasonal movements of largemouth bass is key to locating them on local lakes in the Pelican State.
Bass fishing basics video.

Catch big bass!
Bass fishing information by state.
The lifecycle of bass
The more you know about the seasonal migration of bass, the more likely you are to be looking in the right area next time you visit Louisiana bass fishing lakes. Visit the bass fishing page for more in-depth information about bass activities.
LOUISIANA