Guide To Fishing At Brownlee Reservoir
AKA: Brownlee Lake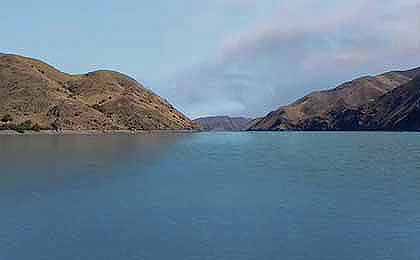 A warm-water fishery, Brownlee Reservoir offers choice fishing for bass, catfish, crappie, trout, sunfish and perch. This is an 11,000-acre impoundment on the eastern border of the state, spanning over 50 miles of the Snake River.
Situated on the Snake River in Eastern Oregon, Brownlee Reservoir is a premier fishing destination that attracts anglers from near and far. The reservoir is renowned for its diverse fish populations and picturesque surroundings, offering a memorable fishing experience for all who visit.
One of the main draws of Brownlee Reservoir is its exceptional smallmouth bass fishery. The reservoir is home to a healthy population of smallmouth bass, which thrive in the rocky structures and submerged ledges. Anglers can enjoy the thrill of casting lures or flies near rocky shorelines or drop-offs, enticing these feisty fish to strike. Smallmouth bass in Brownlee Reservoir are known for their aggressive nature and acrobatic fights, providing an exciting angling experience.
In addition to smallmouth bass, Brownlee Reservoir also offers opportunities to target other popular fish species such as largemouth bass, crappie, and catfish. Largemouth bass can be found in the reservoir's warmer and shallower areas, often near vegetation and submerged structures. Crappie fishing can be excellent, particularly in the spring when these panfish move into shallow areas to spawn. Catfish, including both channel catfish and bullhead catfish, provide an alternative angling option, with anglers targeting them using a variety of baits and techniques.
Boating is a popular activity on Brownlee Reservoir, as it allows anglers to explore the vast expanse of water and access different fishing locations. Whether you have a motorboat, kayak, or canoe, the reservoir provides ample opportunities to venture out and find your ideal fishing spot. Anglers should be aware of any boating regulations and ensure they have the necessary safety equipment before heading out on the water.
Camping facilities can be found along the shores of Brownlee Reservoir, offering anglers the chance to extend their fishing trips and immerse themselves in the natural beauty of the area. Campgrounds provide convenient access to the water, allowing anglers to enjoy peaceful evenings under the stars after a day of exciting fishing.
Before embarking on a fishing trip to Brownlee Reservoir, it's important to familiarize yourself with the local fishing regulations, including size and bag limits, as well as any specific rules or restrictions. Respecting these regulations helps maintain the health and sustainability of the fishery for future generations of anglers.
Brownlee Reservoir in Oregon offers a remarkable fishing experience, with its diverse fish species and scenic surroundings. Whether you're targeting smallmouth bass, largemouth bass, crappie, or catfish, the reservoir provides anglers with a chance to connect with nature and enjoy the thrill of reeling in some impressive catches.
Much of the 190 miles of shoreline is not accessible via land due to steep terrain or lack of roads. Richmond and Huntington are the primary access points from the Oregon side. Camping, boat ramps and other amenities are available in both areas. The lake sits at an elevation of just over 2,000 feet above sea level, offering a wide variety of both warm-water and cold-water fish species. Bass, crappie, catfish, trout and sunfish all reside here and flourish during different seasons. This waterway is a great destination for pleasure boats, kayaks, canoes and all types of fishing boats.

What to fish for...
Fishing for smallmouth bass, channel catfish, black crappie, rainbow trout, bluegill and yellow perch at Brownlee Reservoir in Oregon.
Primary fish species residing in Brownlee Reservoir
Click images for fishing tips and details about each species.
Brownlee Reservoir Amenities
Marina: NO
Boat Rental: NEARBY
Boat Launch Ramp: YES
Campgrounds: YES
RV Hookups: YES
Lodging: NEARBY
Convenience Store: NO
Bait & Tackle: NO
Restaurant: NEARBY
Today's Weather & Forecast
Public Boat Launch Ramps & Landings
Immigrant Gulch Boat Launch Ramp
Located in the northwest section of the lake, off Hewitt Drive, this is a two-lane, concrete ramp with a dock and paved parking.
Morgan Creek Boat Launch Ramp
Located mid lake, west side, off Snake River Road, this is a one-lane, natural ramp with gravel parking.
Swedes Landing Boat Launch Ramp
Located mid lake, west side, off Snake River Road, this is a one-lane, natural ramp with gravel parking.
Click here for a Oregon Fishing License.
Campgrounds & RV Parks Nearby
Swedes Landing Campground - 541 473-3144
East Valley RV Park - 541 893-6161
Brownlee Reservoir OR Map - Fishing & Camping Areas
Lake Video
Contact Information
Brownlee Reservoir
Hewitt Park
41132 Robinette Rd
Richland, OR 97870
541 893-6147
Fishing lakes in each state.
Brownlee Reservoir in Oregon.
OREGON


Information about fishing lakes in OR
Bass, catfish, crappie, trout and perch fishing in eastern OR.
Fishing on Brownlee Reservoir.