Fishing At Prineville Reservoir
AKA: Prineville Reservoir State Park
What to fish for...
Guide to fishing for largemouth bass, smallmouth bass, black crappie and rainbow trout at Prineville Reservoir in Oregon.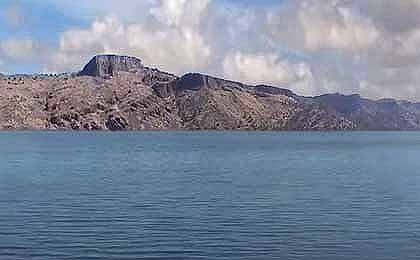 Boating, camping, hiking and fishing top the lengthy list of outdoor recreation choices at Prineville Reservoir, a 3,000-acre lake in the central part of the state, 10 miles south of Prineville.
The purpose of this page is to deliver an overview of this lake, the fishing options, and area amenities. Our goal is to provide info to first time visitors, as well as beginner and novice anglers. We gathered details from personal experience, numerous trusted websites, and videos of fishing activity on the lake. These websites include the Oregon Department of Fish and Wildlife, marinas at the lake, campgrounds, boat rental agencies and others. By consolidating this information to one page it allows visitors to see the entire picture, all in one place.
Lake Video
Prineville Reservoir, located in Central Oregon, is a popular fishing destination known for its diverse fish populations and breathtaking scenery. The reservoir offers anglers a rewarding fishing experience and ample opportunities to catch a variety of fish species.
One of the most sought-after fish species in Prineville Reservoir is the smallmouth bass. The reservoir is renowned for its excellent smallmouth bass fishery, attracting anglers from far and wide. Smallmouth bass can be found near rocky shorelines, submerged structures, and drop-offs. Anglers can target these feisty fish using a variety of techniques, including casting with crankbaits, jigs, or soft plastics. Smallmouth bass provide an exciting fight and are highly regarded for their aggressive strikes.
Prineville Reservoir is also home to other popular fish species, including rainbow trout, brown trout, and crappie. Rainbow trout are regularly stocked in the reservoir, providing anglers with an opportunity to catch these prized fish. Brown trout, known for their size and wily behavior, can be found near deeper sections and offer an exciting challenge for anglers. Crappie, with their delicious white meat, are a favorite among anglers and can be targeted using small jigs or live bait.
Before embarking on a fishing trip to Prineville Reservoir, it is crucial to check the local fishing regulations, including size and bag limits, and obtain any necessary permits or licenses. Respecting these regulations helps maintain the health and sustainability of the fishery for future generations.
Prineville Reservoir in Oregon offers anglers a combination of excellent smallmouth bass fishing, diverse fish species, and stunning landscapes. Whether you're targeting smallmouth bass, rainbow trout, brown trout, or crappie, Prineville Reservoir provides a memorable fishing experience in the heart of Central Oregon's natural wonders.
This high-desert fishery has 43 miles of sloping, rocky shoreline and a nice mixture of fish species. Bass, crappie and trout share this deep-water gem, and draw anglers from across the state for the quality fishing opportunities. There are beaches for swimming, areas for fishing from the bank and three main boat access areas. Prineville Reservoir State Park and Jasper Point State Park, both mid lake on the north side, have launch ramps. Powder House Cove Boat Ramp near the dam also has a boat ramp. All three are excellent boat launch ramps with plenty of parking.

Primary fish species residing in Prineville Reservoir
Click images for fishing tips and details about each species.
Prineville Reservoir Amenities
Marina: NO
Boat Rental: NO
Boat Launch Ramp: YES
Campgrounds: YES
RV Hookups: YES
Lodging: YES
Convenience Store: NEARBY
Bait & Tackle: NEARBY
Restaurant: NEARBY
Today's Weather & Forecast
Boating is a popular activity on Prineville Reservoir, allowing anglers to explore the expansive waters and access different fishing spots. Motorboats, kayaks, and canoes are all permitted on the reservoir, providing anglers with various options to navigate the lake's waters. It is important to follow boating regulations, such as speed limits and safety requirements, to ensure a safe and enjoyable experience on the water.
Public Boat Launch Ramps & Landings
Jasper Point Boat Launch Ramp
Located in the northeast section of the lake, north side, off S Jasper Road, this is a two-lane, concrete ramp with a dock and paved parking.
Powder House Cove Boat Launch Ramp
Located in the southwest corner of the lake, south side, off State Route 27, this is a two-lane, concrete ramp with a dock and paved parking.
Prineville Reservoir State Park Boat Launch Ramp
Located mid lake, on the north side of the lake, off SE Parkland Drive, this is a two-lane, concrete ramp with a dock and paved parking.
Click here for a Oregon Fishing License.
Camping facilities are available near Prineville Reservoir, allowing anglers to extend their fishing trips and fully immerse themselves in the natural beauty of the area. Campgrounds provide convenient access to the reservoir, allowing anglers to make the most of their time on the water and enjoy peaceful evenings under the starry sky.
Campgrounds & RV Parks Nearby
Prineville Reservoir State Park Campground - 800 551-6949
Sun Rocks RV Park - 541 447-6540
Jasper Point Campground - 800 551-6949
Big Bend Campground - 541 416-6700
Prineville Reservoir OR Map - Fishing & Camping Areas
Contact Information
Prineville Reservoir
Prineville Reservoir State Park
Prineville, OR 97754
800 551-6949
Fishing lakes in each state.
Prineville Reservoir in OR
OREGON


Fishing for bass, trout and crappie in central OR.
Prineville Reservoir, in Oregon.