Oregon Crappie Fishing
All about fishing for white and black crappie in OR.
Crappie Fishing Waters In Oregon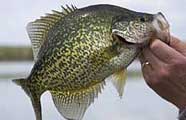 Brownlee Reservoir, Crump Lake, Drews Reservoir, Fern Ridge Reservoir, Hart Lake, Lake Owyhee, Phillips Lake, Prineville Reservoir, Siltcoos Lake, Tahkenitch Lake and Tenmile Lakes are the larger lakes in Oregon with a healthy population of crappie. Many other small lakes and ponds in the warmer sections of OR contain crappie as well.
Crappie are actually a member of the sunfish family and can be found in many Oregon lakes. Crappie are known by many different local names. Paper mouth, goggleye, bridge perch, slabs and speckled perch, are just a few.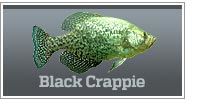 World record: 6 lbs 0 oz
OR State Record: 4 lbs 0 oz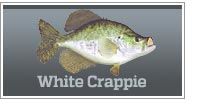 World record: 5 lbs 3 oz
OR State Record: 4 lbs 12 oz
Corvallis Pond produced the Oregon state record black crappie and the Oregon state record white crappie came out of Gerber Reservoir.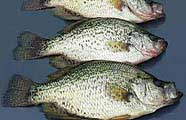 Small jigs, live minnows, small spinners and other small lures will catch crappie. Use light line (six pound or less) and work the baits slowly - especially in cold water.
Check out crappie fishing information, by state.
The life cycle of crappie.
The more you know about crappie, the easier it will be to locate and catch them in Oregon lakes and rivers. Visit the crappie fishing page for details about their seasonal migrations.
Best crappie fishing lakes in Oregon!