Guide To Fishing At Wickiup Reservoir
AKA: Wickiup Lake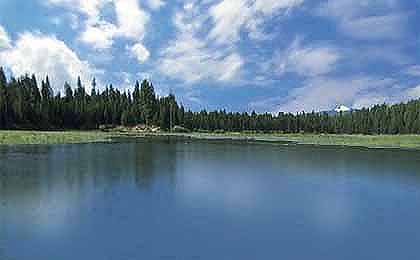 The second-largest reservoir in Oregon, Wickiup Reservoir is an 11,000-acre lake in the west-central part of the state. This bass, trout and salmon fishery has 60 miles of shoreline to explore.
Wickiup Reservoir, located in Central Oregon, is a renowned fishing destination known for its abundance of fish species and scenic beauty. The reservoir offers anglers a diverse range of fishing opportunities and the chance to catch some impressive fish.
One of the primary attractions of Wickiup Reservoir is its excellent fishing for brown trout. The reservoir is home to a thriving population of brown trout, providing anglers with exciting angling opportunities. These trout can grow to impressive sizes, offering a thrilling challenge for anglers. Fly fishing with streamers or nymphs, as well as trolling or casting with lures and bait, can be productive when targeting brown trout in Wickiup Reservoir.
Wickiup Reservoir is also known for its kokanee salmon fishery. These landlocked sockeye salmon provide anglers with thrilling fights and delicious flesh. Trolling with downriggers and using lures such as hoochies or small spoons can be effective when targeting kokanee. The reservoir's deep waters and ample forage make it an ideal habitat for these sought-after salmon.
In addition to brown trout and kokanee salmon, Wickiup Reservoir is home to other popular fish species such as rainbow trout and largemouth bass. Rainbow trout are regularly stocked in the reservoir, providing anglers with additional fishing opportunities. Largemouth bass can be found in the reservoir's submerged vegetation and offer exciting angling experiences for bass enthusiasts. Casting with plastic worms, crankbaits, or topwater lures can entice strikes from these predatory fish.
Boating is a popular activity on Wickiup Reservoir, allowing anglers to explore its vast waters and access different fishing spots. Motorboats, kayaks, and canoes are all permitted on the reservoir, providing anglers with various options to navigate the water. It is important to follow boating regulations and practice proper safety measures to ensure a safe and enjoyable experience on the lake.
Camping facilities are available near Wickiup Reservoir, offering anglers the opportunity to extend their fishing trips and immerse themselves in the natural beauty of the area. Campgrounds provide convenient access to the reservoir, allowing anglers to make the most of their time on the water and enjoy peaceful evenings under the stars.
Before embarking on a fishing trip to Wickiup Reservoir, it is crucial to check the local fishing regulations, including size and bag limits, and obtain any necessary permits or licenses. Respecting these regulations helps maintain the health and sustainability of the fishery for future generations.
Wickiup Reservoir in Oregon offers anglers a picturesque setting and a variety of fish species to pursue. Whether you're targeting brown trout, kokanee salmon, rainbow trout, or largemouth bass, Wickiup Reservoir provides a memorable fishing adventure in the heart of Central Oregon's natural wonders.
Fishing from the bank is available around much of this shoreline, especially at the recreation sites or along the earthen dam. The lake is well known for big brown trout. Several boat launch ramps provide easy access for canoes, kayaks, pleasure boats, pontoons and fishing boats. Close by are campgrounds, lodging, restaurants and stores.

What to fish for...
Fishing for largemouth bass, rainbow trout, brown trout and kokanee salmon at Wickiup Reservoir in Oregon.
Primary fish species residing in Wickiup Reservoir
Click images for fishing tips and details about each species.
Wickiup Reservoir Amenities
Marina: NO
Boat Rental: YES
Boat Launch Ramp: YES
Campgrounds: YES
RV Hookups: YES
Lodging: YES
Convenience Store: YES
Bait & Tackle: YES
Restaurant: YES
Today's Weather & Forecast
Fishing Boat Rentals
Twin Lakes Resort
Rentals: Kayaks
541 382-6432
Public Boat Launch Ramps & Landings
Gull Point Boat Launch Ramp
Located mid lake, on the north side of the lake, off Twin Lakes Road, this is a one-lane, concrete ramp with paved parking.
North Wickiup Boat Launch Ramp
Located mid lake, on the north side of the lake, off Twin Lakes Road, this is a three-lane, concrete ramp with paved parking.
Sheep Bridge Boat Launch Ramp
Located in the northwest section of the lake, east side, off 4260-070 Road, this is a two-lane, concrete ramp with gravel parking.
Wickiup Butte Boat Launch Ramp
Located mid lake, east side, off Wickiup Road, this is a one-lane, concrete ramp with gravel parking.
Click here for a Oregon Fishing License.
Campgrounds & RV Parks Nearby
Gull Point Campground - 606 515-6777
West South Twin Campground - 541 383-5300
Wickiup Reservoir OR Map - Fishing & Camping Areas
Lake Video
Contact Information
Wickiup Reservoir
Gull Point Campground
4260-200
La Pine, OR 97739
606 515-6777
Fishing lakes in each state.
Wickiup Reservoir in Oregon.
OREGON


Information about fishing lakes in OR
Bass, trout and salmon fishing in west-central Oregon.
Fishing on Wickiup Reservoir.