Choose From The Best Fishing Guides In Oregon
Hire a guide to take you fishing in OR.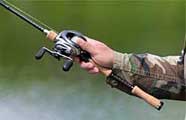 Hire a fishing guide to fish for largemouth bass, smallmouth bass, channel catfish, flathead catfish, white catfish, black crappie, white crappie, walleye, steelhead, rainbow trout, cutthroat trout, brook trout, brown trout, golden trout, lake trout (mackinaw), bluegill, green sunfish, redear sunfish, warmouth, yellow perch, coho salmon, chum salmon, chinook salmon, kokanee salmon, stripers and sturgeon in local lakes.

Oregon Fishing Guides
Other Local Guides
For the ultimate fishing experience, hire a professional guide. They know the OR fishery inside out and have determined the best techniques for catching fish at various times of the year.
Oregon Fishing Guides
[email protected]
The world's greatest fishing guides are forged in Oregon, home to the mightiest salmon runs on the west coast. Featuring top Oregon fishing guides who'll show you the best Oregon fishing has to offer.
5 Rivers Guide Service - 541 731-9649
Dean Finnerty - [email protected]
Focus Species: Salmon, trout, steelhead, smallmouth bass, sturgeon. Provides year around guided fishing trips throughout Oregon. We provide Jet boat, drift boat and "walk-in/wade" trips. North Umpqua steelhead fly fishing year around. Umpqua River smallmouth bass, steelhead, salmon and sturgeon. Drift boat trips on the McKenzie and Willamette rivers for steelhead and trout.
Ken Cunningham Guide Service
[email protected]
Providing quality guided fishing for trophy salmon, steelhead, trout and other freshwater fish in Northern California's and Southwestern Oregon Rivers. No group to large or small. All bait and tackle is provided. Beginners are welcome. We are excellent teachers.
MegaBites Fishing Guide Service - 888 688-4386
Pete Grace - [email protected]
Focus Species: Salmon, Steelhead, Sturgeon, Walleye. We offer the finest fishing trips in the Northwest. Visit our web site for more details.
Oregon Walleye Fishing Guide - 503 720-9033
Rick Martin - [email protected]
Focus Species: Walleye
Fishing with Top Oregon Walleye Guides. All tackle and bait provided. Columbia River from Umitilla to Astoria. Confirmation with map and driving directions provided. Also available, information on lodging, fish processing, taxidermy, best dates to fish, etc.
Creekside Flyfishing Outfitters - 503 588-1768
[email protected]
Focus Species: Steelhead, salmon and trout. Full service fly shop and guide service. We fish the McKenzie River, Nestucca River and North Santiam Rivers for steelhead, trout and salmon.
Walleye Willies Guide Service - 541 993-7335
Willlie Ross - [email protected]
Focus species: Walleye, salmon, steelhead and bass. Fishing the Columbia River from The Dalles Dam To Mcnary Dam In a fully equipped Lund Tyee Coast Guard. Captain Willie Ross shows you how to fish and all the hotspots to land that lunker fish.
Oregon Fishing Guide Services
In addition to catching fish, guides teach you techniques which you will use over a lifetime of fishing. Learn tips on rods, reels, line, knots, lures, hook types, techniques and much more...all by spending the day in a boat with a local guide.
Fishing guide information for other states.
OREGON