Tennessee Crappie Fishing
All about fishing for white and black crappie in TN.
Crappie Fishing Waters In Tennessee
Tennessee fishing waters and crappie go hand in hand. Major lakes with plentiful, quality crappie fishing include Boone Lake, Calderwood Reservoir, Center Hill Lake, Cheatham Lake, Cherokee Lake, Chickamauga Lake, Chilhowee Lake, Cordell Hull Lake, Dale Hollow Reservoir, Douglas Lake, Fort Loudoun Lake, Fort Patrick Henry Reservoir, Great Falls Lake, J Percy Priest Lake, John Sevier Reservoir, Kentucky Lake, Lake Barkley, Melton Hill Lake, Nickajack Lake, Normandy Lake, Norris Lake, Ocoee Lake, Old Hickory Lake, Parksville Reservoir, Percy Priest Lake, Pickwick Lake, Reelfoot Lake, South Holston Lake, Tellico Reservoir, Tims Ford Lake, Watauga Lake, Watts Bar Lake and Woods Reservoir. Many other small lakes, rivers and ponds also contain excellent schools of crappie.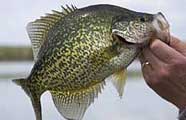 Crappie are actually a member of the sunfish family and can be found in many Tennessee lakes. Crappie are known by many different local names. Paper mouth, goggleye, bridge perch, slabs and speckled perch, are just a few.
Browns Creek Lake turned out the Tennessee state record black crappie and the TN state record white crappie was pulled out of a pond.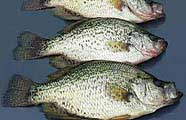 Big slab crappie are not only fun to catch, but are a fish-fry favorite!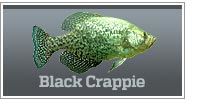 World record: 6 lbs 0 oz
TN State Record: 4 lbs 4 oz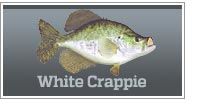 World record: 5 lbs 3 oz
TN State Record: 5 lbs 1 oz
By clicking on the images and links above, you will be taken to a page offering more information about the selected species.
Check out crappie fishing information, by state.
The life cycle of crappie.
The more you know about crappie, the easier it will be to locate and catch them in Tennessee lakes and rivers. Visit the crappie fishing page for details about their seasonal migrations.
Best crappie fishing lakes in Tennessee!