Fishing At Reelfoot Lake
AKA: Reelfoot Reservoir
What to fish for...
Guide to fishing for largemouth bass, smallmouth bass, spotted bass, channel catfish, flathead catfish, blue catfish, black crappie, white crappie, bluegill, redear sunfish, warmouth, yellow bass, striped bass, hybrid striped bass and paddlefish at Reelfoot Lake in Tennessee.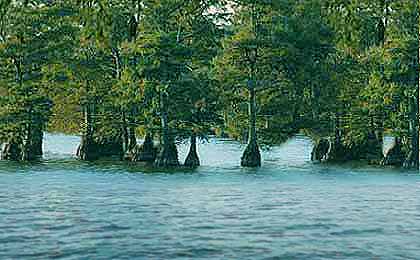 Known for quality crappie fishing, Reelfoot Lake is also home to numerous other fresh water fish species. This is a 15,400-acre reservoir in the extreme northwest corner of the state and offers quality fishing for bass, catfish, striped bass, bluegill, sunfish and other species. Several boat launch ramps are available to the public. Much of the lake is surrounded by residential homes or forest However, there are places to fish from shore - like the two campground areas.
The purpose of this page is to deliver an overview of this lake, the fishing options, and area amenities. Our goal is to provide info to first time visitors, as well as beginner and novice anglers. We gathered details from personal experience, numerous trusted websites that each offer select bits of information, and videos of fishing activity on the lake. These websites include the Tennessee Wildlife Resources Agency, marinas at the lake, campgrounds, boat rental agencies and others. By consolidating this information to one page it allows visitors to see the entire picture, all in one place.
Lake Video
Reelfoot Lake, located in northwestern Tennessee, is a unique and captivating fishing destination that offers anglers a one-of-a-kind experience. This 15,000-acre natural lake, formed by a series of earthquakes in the early 1800s, provides excellent fishing opportunities for a variety of popular fish species.
Reelfoot Lake is widely known for its exceptional crappie fishing. Both black crappie and white crappie thrive in the lake's shallow waters, making it a haven for crappie anglers. Anglers can find success by targeting the lake's submerged cypress trees and shallow brush piles where crappie tend to congregate. Various techniques such as vertical jigging and using live minnows or jigs can yield excellent results. Reelfoot Lake's reputation as a crappie fishing paradise attracts anglers from across the country.
In addition to crappie, Reelfoot Lake supports other popular fish species. The lake is home to abundant populations of largemouth bass, bluegill, and catfish. Largemouth bass can be found near the lake's numerous shallow grass beds and can be targeted with topwater lures, spinnerbaits, or plastic worms. Bluegill, a favorite among panfish anglers, can be caught using small jigs or live bait near the lake's shoreline. Catfish, including channel catfish and blue catfish, can be targeted using various baits and techniques such as bottom fishing with stink bait or cut bait.
Reelfoot Lake's combination of excellent crappie fishing, unique scenery, and camping facilities make it a beloved destination for anglers and nature enthusiasts in Tennessee. Whether you're targeting crappie, bass, or catfish, exploring the lake's hidden coves by boat, or camping under the starry sky, Reelfoot Lake offers an unforgettable experience that celebrates the beauty and diversity of Tennessee's natural landscape.

Primary fish species residing in Reelfoot Lake
Click images for fishing tips and details about each species.
Reelfoot Lake Amenities
Marina: NO
Boat Rental: YES
Boat Launch Ramp: YES
Campgrounds: YES
RV Hookups: YES
Lodging: YES
Convenience Store: YES
Bait & Tackle: YES
Restaurant: YES
Today's Weather & Forecast
Boating is a favored activity on Reelfoot Lake, thanks to its shallow depths and calm waters. Anglers and boating enthusiasts can explore the lake's intricate network of channels, bays, and cypress forests. Boaters can enjoy leisurely cruises, engage in waterfowl hunting, or simply soak in the unique beauty of the lake's submerged cypress trees that rise above the water's surface.
Fishing Boat Rentals
Southshore Resort Boat Rentals
Rentals: Jon boats and pontoons
731 538-2467
Public Boat Launch Ramps & Landings
Reelfoot Lake Public Access
This is a two-lane, concrete ramp with gravel parking. It is located on the west side of the Upper Blue Basin.
Sunkist Beach Boat Launch Ramp
Located in the southwest corner of the lake, this is a one-lane, concrete ramp with paved parking.
Click here for a Tennessee Fishing License.
Camping facilities near Reelfoot Lake provide visitors with the opportunity to fully immerse themselves in the lake's natural surroundings. Campgrounds offer amenities such as campsites, picnic areas, and restroom facilities. Camping near Reelfoot Lake allows anglers and outdoor enthusiasts to enjoy the tranquil ambiance of the lake, observe its diverse wildlife, and experience the true essence of this remarkable natural treasure.
Campgrounds & RV Parks Nearby
Reelfoot Lake State Park Campground - 731 253-9652
Reelfoot Lake Campgrounds Campground - 731 253-9652
Reelfoot Lake, TN Map - Fishing & Camping Areas
Contact Information
Reelfoot Lake
Reelfoot Lake State Park
2595 Hwy 21 E
Tiptonville, Tennessee 38079
731 253-9652
Fishing lakes in each state.
Reelfoot Lake in Tennessee.
TENNESSEE


Exceptionally good crappie fishing in northwest TN.
Fishing at Reelfoot Lake, in Tennessee.