Choose From The Best Fishing Guides In Tennessee
Hire a guide to take you fishing in TN.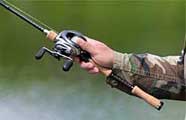 Hire a fishing guide to fish for largemouth bass, smallmouth bass, spotted bass, redeye bass, channel catfish, flathead catfish, blue catfish, black crappie, white crappie, walleye, rainbow trout, cutthroat trout, brook trout, brown trout, lake trout, bluegill, flier sunfish, green sunfish, longear sunfish, pumpkinseed sunfish, redbreast sunfish, redear sunfish, rock bass, spotted sunfish, warmouth, white bass, yellow bass, yellow perch, stripers, bowfin, chain pickerel, longnose gar, muskie, northern pike, paddlefish, sauger, saugeye and spotted gar in local lakes.

Tennessee Fishing Guides
Croy's Cabins - 423 272-2895
James or Janel Croy - [email protected]
Stripers, Striper Hybrids, Bass, Catfish. Croy's Cabins offers year round guided hunting and fishing trips in Tennessee. Check out our website for more details including pictures, pricing, etc.
Other Local Guides
For the ultimate fishing experience, hire a professional guide. They know the TN fishery inside out and have determined the best techniques for catching fish at various times of the year.
Tennessee Striper Guide - 615 331-8837
Capt Don Schleicher - [email protected]
Focus Species: Striper. Striper fishing 24/7 12 months a year in Middle TN. Percy Priest Lake, Tim's Ford Lake, Old Hickory, The Cumberland River. 2005 NSBA Tennessee State Champion, Featuring Ranger boats...Striper fishing controls our brains. US Coast Guard licensed.
Tennessee Trophy Stripers - 423 571-2461
Mike Coley - [email protected]
Focus Species: Striped bass. Full time hunting and fishing guide since 1987.Boone lake, Watts Bar, Melton Hill and Fort Loudon. Fantastic topwater and live bait fishing.
Scenic City Fishing Charters - 423 894-3684
Richard Simms - Richard@ScenicCity Fishing.com
Focus Species: Catfish, Crappie, Stripers, Bluegill, Smallmouth. Comments: We provide a discounts for Kids 16 years old and under, Boat, All equipment (bring your own if you wish) and all bait.
Smokies Angling Adv Guide Ser - 865 933-3140
David Berry - [email protected]
Focus Species: Largemouth, Smallmouth, Crappie, Bluegill, and Trout. Trips year round with Professional USCG Licensed guides with over 20 years experience on Douglas, Cherokee, & Norris Lake. Bass boat trips, Pontoon Trips, Night trips, stream smallmouth fishing, and stream spin or fly fishing for trout.
High Country Angler, Inc. - 704 641-6815
Evan Dowdy - [email protected]
Focus Species: Trout. Premier fly fishing guide service that offers float and/or wade trips in the North Carolina and Tennessee mountains.
Brian Carper's Guide Service - 615 278-6311
Brian Carper - [email protected]
Focus Species: Bass, crappie, catfish, stripers fall and winter.
Dixie Angler Guides - 865 494-7692
Rick Passmore - [email protected]
Focus Species: crappie, walleye, smallmouth, striper and trout. Over 25 years experience on Douglas, Cherokee, Norris and Tellico. Boat and all equipment provided (bring your own if you wish).
TrophyFishingTN - 615 895-8675
Mike Anderson - [email protected]
Focus Species: Striper, Hybrid, Brown and Rainbow Trout, Musky, Smallmouth, Carp. Specializing in Fly Fishing to Trophy fish in some of the harder to get to locations in the middle TN area. My jet boat allows me to take you to places that most fishermen can only wish they could fish.
Wetland Outfitters - 615 904-2556
John Marshall - [email protected]
Focus Species: Bass and crappie. Full time guide and tackle dealer.
Tennessee Bass Guides - 615 765-7303
Rick Mcferrin - [email protected]
Focus Species: Bass, crappie, trout, walleye, muskie and rock bass. Guide Mr. Mike Dial: Middle Tennessee has some of the best small river and stream fishing in the entire state. Miles of streams to provide the angler that likes to wade with a unique opportunity at some bragging size bass and assorted pan fish.
Randy H. Smith Guide Service - 615-941-5221
Randy H. Smith - [email protected]
Focus Species: Rainbow, brown, brook trout. Fly Casting Instruction and wade trips are offered on Caney Fork & Elk Rivers. I offer full & half day trips. Lunch provided on full days. All flies are provided. Chest waders and rods are available for minimal charge. My goal is that you will never forget this trip.
Yellowcreek Outfitters - 615 308-3065
Jerry Crawford - [email protected]
Smallmouth bass,largemouth bass, red eye bass & bream. Fishing package includes overnight lodging in Yellow Creek Lodge, canoes and accessories, breakfast and a box lunch. Drop off and pick up provided. Family discounts available - day and weekly rates. See web. Lodge will accommodate 6-8 people. Great retreat.
Tennessee Fishing Guide Services
In addition to catching fish, guides teach you techniques which you will use over a lifetime of fishing. Learn tips on rods, reels, line, knots, lures, hook types, techniques and much more...all by spending the day in a boat with a local guide.
Fishing guide information for other states.
TENNESSEE