Fishing At Douglas Lake
AKA: Douglas Reservoir
What to fish for...
Guide to fishing for largemouth bass, smallmouth bass, spotted bass, channel catfish, flathead catfish, black crappie, white crappie, walleye, bluegill, redear sunfish, rock bass, warmouth, white bass, striped bass, hybrid striped bass and muskie at Douglas Lake in Tennessee.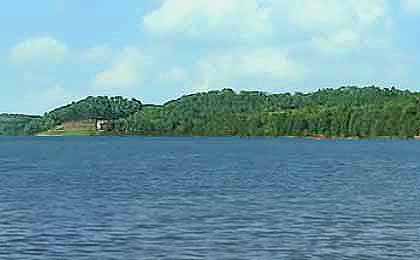 Tennessee's top crappie lake, Douglas Lake has everything it needs to be a great fishery. Fertile water, cover, structure, vegetation and forage fish all exist here in mass. This a 30,000-acre impoundment in the northeast part of the state, at Dandridge, TN. With 550 miles of shoreline, there's plenty of room for anglers, boaters, water skiers, swimmers and sailing vessels. Bring anything from a kayak or canoe, to a bass boat or pontoon boat and wet a line. Bass, walleye, crappie, catfish, sunfish, striped bass, muskie and other species roam these waters in impressive numbers. The lake is also known for lunkers. Most any time of year something is biting. In spring and fall concentrate on shallow water for bass and crappie. In summer and fall migrate with the fish to deeper holding areas around points, creek channels, ledges and submerged islands for schooling fish. Walleye, stripers and muskie spend significant time in deeper water but move shallow to feed any time the food source moves shallow.
Douglas Lake, located in eastern Tennessee, is a premier fishing destination renowned for its abundant fish populations, scenic beauty, and recreational opportunities. This 30,000-acre reservoir, formed by the French Broad River, offers anglers a diverse range of fish species, as well as ample space for boating and camping adventures.
Douglas Lake is known for its excellent fishing, particularly for bass. Largemouth bass and smallmouth bass are the primary targets for many anglers, and the lake's structure, including submerged trees, brush piles, and rocky areas, provides ideal habitats for these species. Anglers can employ various techniques such as flipping, pitching, and topwater fishing to entice the bass. The lake's healthy bass population ensures plenty of action for anglers seeking these prized game fish.
In addition to bass, Douglas Lake supports populations of other popular fish species. Crappie fishing is excellent, with both black and white crappie providing exciting angling opportunities throughout the year. The lake's numerous brush piles, docks, and submerged structures are prime spots to target crappie. Catfish enthusiasts can find success targeting channel catfish and blue catfish, which can be caught using a variety of baits and techniques. Other species found in the lake include sauger, walleye, sunfish, and striped bass, offering anglers a diverse range of fishing options.
Boating is a favorite activity on Douglas Lake, thanks to its expansive water surface and multiple access points. Anglers and boating enthusiasts can launch their boats from the lake's public ramps and explore the picturesque shoreline and coves. Boaters can enjoy leisurely cruises, water skiing, or engage in other water sports activities while taking in the scenic beauty of the surrounding mountains and forests.
Camping facilities near Douglas Lake provide opportunities for visitors to fully immerse themselves in the natural surroundings. Campgrounds offer amenities such as campsites, picnic areas, and restroom facilities. Camping near Douglas Lake allows anglers and outdoor enthusiasts to extend their stay, making the most of their fishing adventures and enjoying the peaceful ambiance of the lake.
Douglas Lake's combination of excellent fishing, boating opportunities, and camping facilities make it a sought-after destination for outdoor enthusiasts in Tennessee. Whether you're casting a line for bass, crappie, or catfish, cruising the calm waters on a boat, or camping by the lakeside, Douglas Lake offers a serene and enjoyable environment for all who visit.

Primary fish species residing in Douglas Lake
Click images for fishing tips and details about each species.
Douglas Lake Amenities
Marina: YES
Boat Rental: YES
Boat Launch Ramp: YES
Campgrounds: YES
RV Hookups: YES
Lodging: YES
Convenience Store: YES
Bait & Tackle: YES
Restaurant: YES
Today's Weather & Forecast
Fishing Boat Rentals
Douglas Lake Marina
Rentals: Canoes, kayaks and pontoons
877 379-1313
Mountain Cove Marina
Rentals: Pontoon boats
865 453-3506
Smoky Mountain Lake Adventures
Rentals: Kayaks and pontoon boats
800 635-6803
Swann's Marina
Rentals: Jon Boat fishing boats and pontoons
865 397-2182
Marinas
Douglas Lake Marina
1199 TN-139
Dandridge, TN 37725
877 379-1313
Indian Creek Dock Marina
2321 Norman Way
Dandridge, TN 37725
865 397-7286
Lighthouse Pointe Marina
1209 TN-139
Dandridge, TN 37725
865 397-7997
Mountain Cove Marina
1590 Dyke Rd
Sevierville, TN 37876
865 453-3506
Public Boat Launch Ramps & Landings
Douglas Headwater Campground Boat Ramp
Located in the southwest corner of the lake, just south of the dam, this is a four-lane, concrete ramp with a dock and paved parking.
Douglas Lake TVA Boat Access
This is a one-lane, gravel ramp with gravel parking. It is located mid lake, north side off Flat Woods Road.
Indian Creek Dock
This includes two, one-lane ramps with a dock and limited, gravel parking. It is located in the south-central portion of the lake, south side, off Norman Way.
Tva Boat Ramp, Newport TN
Located in the far northeast corner of the lake, south side, this is a two-lane, concrete ramp with a dock and paved parking.
TVA Free Launch For Fishermen & Recreational Watercraft
This is a one-lane, gravel ramp with gravel parking. It is located in the northeast sector of the lake, off Oak Grove Road.
TVA Public Boat Ramp
Located mid lake, on the south side of the lake, at the north end of the Highway 92 bridge, it is a one-lane, gravel ramp with gravel parking.
TWRA Flat Creek Access
This is a one-lane, gravel ramp with gravel parking. It is located in the southwest corner of the lake, off Providence Roar
Shady Grove Boat Launch
Located in the northwest section of the lake, north side, off Flora Road, this is a one-lane, gravel ramp with gravel parking.
Click here for a Tennessee Fishing License.
Campgrounds & RV Parks Nearby
Douglas Dam Campground - 865 361-1379
Douglas Lake Campground - 865 397-2998
Fancher's Campground & Cabin Rentals - 865 397-3510
Anchor Down RV Resort - 877 784-4446
Douglas Lake, TN Map - Fishing & Camping Areas
Lake Video
Contact Information
Douglas Lake
Tennessee Valley Authority
400 West Summit Hill Dr
Knoxville TN 37902
865 632-2101
Fishing lakes in each state.
Douglas Lake in Tennessee.
TENNESSEE


Big bass, striper and catfish fishing in northeast TN.
Fishing at Douglas Lake, in Tennessee.