Guide To Fishing At Blue Mountain Lake
AKA: Blue Mountain Reservoir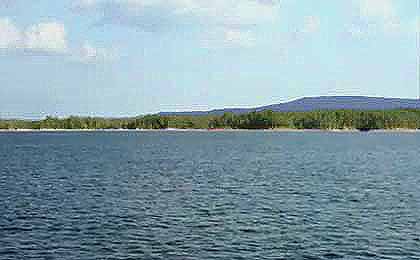 A delightful place to spend a few days camping, boating, water-skiing and fishing, Blue Mountain Lake has it all. This is a 2,900-acre reservoir in northwest AR, at Waveland, with about 50 miles of shoreline, a boat ramp and a fish cleaning station.
Blue Mountain Lake, located in the Ouachita Mountains of western Arkansas, is a picturesque reservoir known for its excellent fishing opportunities. Anglers are drawn to this serene lake for its diverse fish populations and tranquil surroundings.
One of the most popular fish species in Blue Mountain Lake is largemouth bass. The lake has a healthy population of largemouth bass, making it a haven for bass anglers. Spring and early summer are prime seasons for bass fishing, as the fish become more active in preparation for spawning. Anglers can target largemouth bass using various techniques such as topwater lures, spinnerbaits, or plastic worms.
Crappie is another sought-after species in Blue Mountain Lake. The lake provides ample structure, including submerged timber and brush piles, which attract crappie throughout the year. Spring and fall are particularly productive seasons for crappie fishing, when the fish move into shallower water to spawn or feed. Anglers can use jigs, minnows, or small crankbaits to entice these tasty panfish.
Blue Mountain Lake also offers opportunities to catch catfish, including channel catfish and blue catfish. Catfish are abundant in the lake and can be caught using a variety of baits such as chicken liver, cut bait, or stink baits. Anglers can target catfish year-round, with summer and early fall being especially productive.
Boating is a popular activity on Blue Mountain Lake, with boat ramps available for easy access. Anglers can explore the lake's coves, points, and creek channels while enjoying the scenic beauty of the surrounding mountains. Fishing from a boat allows anglers to access remote areas and find the best fishing spots.
Camping facilities are also available near Blue Mountain Lake, providing an opportunity for anglers to extend their fishing trips and immerse themselves in nature. The lake features campgrounds with amenities such as RV hookups, tent sites, and picnic areas, allowing anglers to relax and enjoy the peacefulness of the lake and its surroundings.
Blue Mountain Lake offers a tranquil and rewarding fishing experience in the heart of the Ouachita Mountains. With its abundance of largemouth bass, crappie, catfish, and other species, coupled with boating and camping opportunities, Blue Mountain Lake is a top destination for anglers and outdoor enthusiasts seeking a serene fishing getaway in Arkansas.
The public boat launch ramp is located in the Waveland Park Recreation Area in the northwest corner of the lake. Anglers can try their luck fishing for largemouth bass, crappie, bream, catfish and white bass from a boat or fishing from the bank. There is no marina or boat rentals, but the good fishing makes this a desired destination.

What to fish for...
Fishing for largemouth bass, channel catfish, flathead catfish, black crappie, white crappie, bluegill, redear sunfish and white bass at Blue Mountain Lake in Arkansas.
Primary fish species residing in Blue Mountain Lake
Click images for fishing tips and details about each species.
Blue Mountain Lake Amenities
Marina: NO
Boat Rental: NO
Boat Launch Ramp: YES
Campgrounds: YES
RV Hookups: YES
Lodging: NO
Convenience Store: YES
Bait & Tackle: YES
Restaurant: NO
Today's Weather & Forecast
Public Boat Launch Ramps & Landings
Ashley Creek Boat Launch Ramp
Located mid lake, on the north side of the lake, off Richie Road, this is a one-lane, concrete ramp with paved parking.
Lick Creek Boat Launch Ramp
Located mid lake, on the south side of the lake, off County Road 711, this is a one-lane, concrete ramp with limited, paved parking.
Waveland Park Boat Launch Ramp
Located in the northeast section of the lake, off County Road 32, this is a one-lane, concrete ramp with paved parking.
Click here for a Arkansas Fishing License.
Campgrounds & RV Parks Nearby
Outlet Recreation Area Campground - 877 444-6777
Waveland Park Recreation Area Campground - 479 947-2102
Blue Mountain Lake AR Map - Fishing & Camping Areas
Lake Video
Contact Information
Blue Mountain Lake
Outlet Recreation Area
Co Rd 540
Havana, AR 72842
877 444-6777
Fishing lakes in each state.
Blue Mountain Lake in AR
ARKANSAS


Fishing for bass, crappie, bream and catfish in northwest AR.
Blue Mountain Lake, in Arkansas.