Arkansas Crappie Fishing
All about fishing for white and black crappie in AR.
Crappie Fishing Waters In Arkansas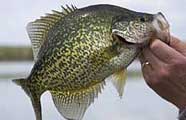 Most waters in Arkansas have a population of crappie. Larger impoundments tend to have some of the better schools because the crappie get less pressure on big lakes than on small lakes. Some of the primary lakes for crappie include Beaver Lake, Blue Mountain Lake, Bull Shoals Lake, DeGray Lake, Greers Ferry Lake, Lake Chicot, Lake Conway, Lake Dardanelle, Lake Greeson, Lake Hamilton, Lake Jack Lee, Lake Maumelle, Lake Millwood, Lake Ouachita, Nimrod Lake, Norfork Lake and White Oak Lake.
Crappie are actually a member of the sunfish family and can be found in many Arkansas lakes. Crappie are known by many different local names. Paper mouth, goggleye, bridge perch, slabs and speckled perch, are just a few.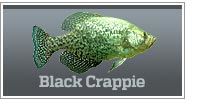 World record: 6 lbs 0 oz
AR State Record: 5 lbs 0 oz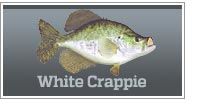 World record: 5 lbs 3 oz
AR State Record: 4 lbs 7 oz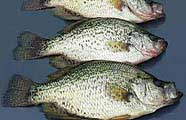 AR Record Crappie
Oladale Lake produced the Arkansas state record black crappie and the state record white crappie came out of Big Mingo Creek.
Check out crappie fishing information, by state.

The life cycle of crappie.
The more you know about crappie, the easier it will be to locate and catch them in Arkansas lakes and rivers. Visit the crappie fishing page for details about their seasonal migrations.
Best crappie fishing lakes in Arkansas!