Choose From The Best Fishing Guides In Arkansas
Hire a guide to take you fishing in AR.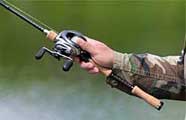 Hire a fishing guide to fish for largemouth bass, smallmouth bass, spotted bass, channel catfish, flathead catfish, blue catfish, black crappie, white crappie, walleye, rainbow trout, cutthroat trout, brook trout, brown trout, lake trout, bluegill, flier sunfish, green sunfish, longear sunfish, redear sunfish, rock bass, tilapia, warmouth, white bass, yellow bass, yellow perch, stripers, alligator gar, bowfin, chain pickerel, longnose gar, northern pike, paddlefish, sauger, saugeye, spotted gar and tiger muskie in local lakes.

Featured Arkansas Fishing Guide
Arkansas Fly Fishing Guides
Join our professional fly-fishing guides for a guided fishing trip with your family and friends. We arrange fly fishing trips in famous Arkansas trout rivers as well as to destinations in Alaska, Montana, South America, and Australia. Visit our website for more details about our fly-fishing guide services.
501 225-6504
Other Local Guides
For the ultimate fishing experience, hire a professional guide. They know the AR fishery inside out and have determined the best techniques for catching fish at various times of the year.
Arkansas Striped Bass Guide Services
501-262-2610 Fish with the Top Professional Striped Bass Guides for monster Striped bass on Lake Ouachita, Hamilton, Greeson or Norfork. Catch a Memory of a lifetime.
Berry Brothers Guide Service - 870 435-2169
John Berry - [email protected]
Focus Species: Brown, Rainbow, Cutthroat, & Brook Trout. Guided fly fishing wade and float trips on Arkansas' White, Norfork, Spring, and Little Red Rivers. We offer a high level of service to a discriminating clientele.
Cotter Trout Dock - 870-435-6525
Ron or Debbie - [email protected]
Focus Species: rainbow trout,brown trout, bass on Buffalo River. Come on over and see why most of are customers are families or groups that come to Cotter Trout Dock every year to enjoy the best trout fishing in America.
Bad Boys Guide Service - 479-927-3123
Scott Wedel - [email protected]
Focus Species: Striped Bass fishing on beaver lake in northwest Arkansas
J.T. Crappie Guide Services - 479 640-3980
Jason Piper. Focus Species: Crappie, white bass and bass. Specializing in crappie fishing on beautiful Beaver Lake in NW Arkansas. Also fishing for white bass. Night trips available. Fishing year round. Winter fishing for trophy largemouth on the hot water Lake Swepco. Everything you need to fish included.
Bear's Guide & Lake Services - 501-691-9315
Bear - [email protected]
Focus Species: Hybrid striper, smallmouth, largemouth, and spots, walleye and other. I offer one hour boat rides to full day guided fishing trips, bait fishing, lure fishing and even Flyfishing on the lake for bass, hybrid, and panfish. I can teach you or do everything for you.
Yarborough's White River Flyguide - 870 688-1755
Ron Yarborough - [email protected]
Focus Species: Rainbow trout, brown trout, cutthroat trout, brook trout and smallmouth bass. We offer an informational web site and fly fishing guide service for the White River and the Norfork River located in the Ozark Mountains of northern Arkansas.
Arkansas Fishing Guide Services
In addition to catching fish, guides teach you techniques which you will use over a lifetime of fishing. Learn tips on rods, reels, line, knots, lures, hook types, techniques and much more...all by spending the day in a boat with a local guide.
Fishing guide information for other states.

ARKANSAS