Fishing At Lake Hamilton
AKA: Hamilton lake
What to fish for...
Guide to fishing for largemouth bass, spotted bass, channel catfish, blue catfish, black crappie, white crappie, walleye, rainbow trout, bluegill, redear sunfish, white bass, yellow bass, striped bass and hybrid striped bass at Lake Hamilton in Arkansas.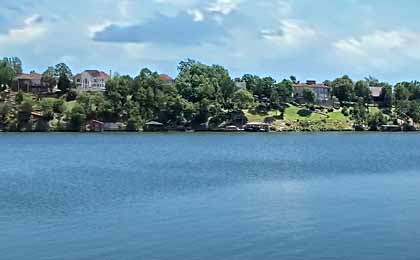 Well over 100 miles of shoreline outline Lake Hamilton, a 7,200-acre lake located mid-state, immediately south of Hot Springs. Areas of the lake are developed with residential and commercial properties, while many other areas are natural settings with greenery and rolling hills.
The purpose of this page is to deliver an overview of this lake, the fishing options, and area amenities. Our goal is to provide info to first time visitors, as well as beginner and novice anglers. We gathered details from personal experience, numerous trusted websites that each offer select bits of information, and videos of fishing activity on the lake. These websites include the Arkansas Game and Fish Commission, marinas at the lake, campgrounds, boat rental agencies and others. By consolidating this information to one page it allows visitors to see the entire picture, all in one place.
Lake Video
Lake Hamilton, located near Hot Springs in central Arkansas, is a popular fishing destination known for its scenic beauty and excellent angling opportunities. This 7,200-acre reservoir offers a variety of fish species and a range of recreational activities for visitors.
One of the most popular fish species in Lake Hamilton is largemouth bass. The lake is renowned for its bass fishing, attracting anglers with the potential to catch trophy-sized fish. Largemouth bass can be found around the lake's submerged structure, boat docks, and shoreline cover. Spring and early summer are prime seasons for bass fishing, as the fish are more active and feeding aggressively. Anglers can use techniques such as flipping jigs, casting soft plastics, or working topwater lures to entice these hard-hitting gamefish.
Crappie fishing is also popular in Lake Hamilton. The lake is home to both black crappie and white crappie, providing anglers with opportunities to catch these sought-after panfish. Spring and fall are productive seasons for crappie fishing, as the fish move into shallower water to spawn or feed. Anglers can target crappie around submerged timber, brush piles, and bridge pilings using jigs, minnows, or small crankbaits.
Lake Hamilton is also known for its catfish populations. Channel catfish and blue catfish can be caught using a variety of baits such as cut bait, chicken liver, or stink baits. Anglers can target catfish year-round, with summer and early fall being particularly productive seasons.
Lake Hamilton in Arkansas offers a delightful fishing experience, with its diverse fish populations, bass and crappie fisheries, and opportunities for catfish angling. Combined with its boating amenities and camping facilities, Lake Hamilton is an ideal destination for anglers and outdoor enthusiasts seeking a memorable fishing getaway in central Arkansas.
Boat ramps, marinas, rental boats and handicapped-accessible fishing piers are open to the public. Over a dozen popular fish species reside in this fertile fishery. These waters have more fish per acre than any lake in the state. Bass, stripers and wipers get a great deal of attention here, but there is also good fishing for crappie, catfish, trout, walleye, bream and sunfish.

Primary fish species residing in Lake Hamilton
Click images for fishing tips and details about each species.
Lake Hamilton Amenities
Marina: YES
Boat Rental: YES
Boat Launch Ramp: YES
Campgrounds: NEARBY
RV Hookups: YES
Lodging: YES
Convenience Store: YES
Bait & Tackle: YES
Restaurant: YES
Today's Weather & Forecast
Boating is a popular activity on Lake Hamilton, with several boat ramps and marinas available for easy access. Anglers can explore the lake's various coves, islands, and open waters, enjoying the scenic views and tranquility of the area.
Fishing Boat Rentals
Salty Dog Boat Rental
Rentals: Pontoon boats
501 525-6400
Public Boat Launch Ramps & Landings
Energy Park Boat Launch Ramp
Located in the northeast corner of the lake, off Lakepark Drive, this is a two-lane, concrete ramp with paved parking.
Hill Wheatley Boat Launch Ramp
Located in the northwest section of the lake, south side, off Hill Wheatley Park Lane, this is a three-lane, concrete ramp with a dock and paved parking.
Lake Hamilton Public Boat Launch Ramp
Located in the southeast corner of the lake, off Fish Hatchery Road, this is a four-lane, concrete ramp with docks and paved parking.
Treasure Isle Boat Launch Ramp
Located in the northwest section of the lake, north side, off Treasure Isle Road, this is a two-lane, concrete ramp with gravel parking.
Marinas
Hot Springs Marina
301 Lakeland Dr
Hot Springs, Arkansas 71913
501 525-7776
Click here for a Arkansas Fishing License.
Camping facilities are available near Lake Hamilton, allowing anglers to extend their fishing trips and fully immerse themselves in the outdoor experience. Campgrounds with amenities such as RV hookups, tent sites, picnic areas, and restrooms can be found in the vicinity, providing a perfect setting for anglers to relax and enjoy the beauty of the lake and its surroundings.
Campgrounds & RV Parks Nearby
Lake Hamilton RV Resort - 501 767-4400
Young's Lakeshore RV Resort - 800 470-7875
Treasure Isle RV Park - 501 767-6852
Mill Pond RV Village - 501 525-3959
Leisure Landing RV Park - 501 525-3289
Gulpha Gorge Trail Campground - 501 620-6715
Timbercrest RV & Mobile Home - 501 525-8361
Lake Hamilton AR Map - Fishing & Camping Areas
Contact Information
Lake Hamilton
Hot Springs Marina
301 Lakeland Dr
Hot Springs National Park, AR 71913
501 525-7776
Fishing lakes in each state.
Lake Hamilton in AR
ARKANSAS


Fishing for bass, stripers and wipers in central AR.
Lake Hamilton, in Arkansas.