Kids Fishing In Arkansas
Ideas and locations to take kids fishing in AR.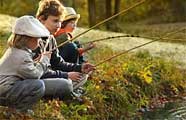 Fishing and the great outdoors offers kids an alternative to many influences they encounter in their busy lives today. A single fishing trip could be the turning point in a young life. We encourage you to invest the time in Arkansas kids. The rewards are endless and it takes so little effort.
Places in Arkansas to take kids fishing
Consider these small lakes, ponds, creeks and urban fishing locations as places to take a kid fishing in the Natural State.
Conway
- Woolly Hollow State Park
- Lake Conway
Dequeen
- Dequeen Lake
Dierks
- Dierks Lake
- Gillham Lake
Eudora
- Lake Chicot State Park
- Lake Village Pond
Fayetteville
- Gulley Park
- Lake Atalanta
- Lake Fayetteville
- Leatherwood Park
- Murphy Lake
- Sweetbriar Park
Forrest City
- Village Creek State Park
Heber Springs
- Brock Creek Lakes
- Greers Ferry Lake
Hot Springs
- Ashley Creek
- Blue Mountain Lake
- Cove Lake
- Degray Lake
- Lake Hamilton
- Ouachita State Park
Jonesboro
- Craighead Forest Lake
- Poinsett State Park
Little Rock
- Brodie Creek Park
- Cherrywood Lake
- Crump Park
- Kiwanis Park Pond
- Lake Conway
- Lake Valencia
- MacArthur Park Pond
- Otter Creek Park
- Rock Creek
- Sherwood Community Pond
- Willow Beach Pond
Marianna
- Bear Creek Lake
Nashville
- Millwood State Park
Russellville
- Dardanelle State Park
- Pleasant View Park Pond
Van Buren
- Lake Fort Smith
Warren
- White Oak Park
West Memphis
- Horseshoe Lake
- Tilden Rogers Park
Arkansas offers many opportunities for kids to fish and experience the thrill of the "tap-tap-tap". Watch the eyes of a youth light up no matter how big or small their catch may be. You have the opportunity to experience it with them and share their joy.
Top 3 tips for taking kids fishing in AR
1. Make sure that the goal is to have fun. Catching fish is a bonus.
2. Keep it simple. Simple tackle, techniques and locations.
3. Keep the focus on the kids. Be a hero by helping them enjoy the day.
Click here for more tips and details for a successful kids day fishing.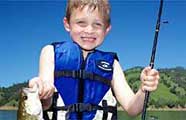 Kids, fishing and smiles naturally go together. Take a kid fishing and you just might change the course of their life. Then take pictures and send us one of them holding their prized catch. We will happily post it on our AR kids fishing photos page.
Kids fishing locations and information, by state.

Help us identify other youth fishing spots in AR.
If you are aware of a great place to take kids fishing in your area, please let us know. We can add it to our list. Every kid that catches a fish there will appreciate the fact that you made the effort.
Ideas and locations to take kids fishing in Arkansas.