Fishing At Prettyboy Reservoir
AKA: Prettyboy Lake
What to fish for...
Guide to fishing for largemouth bass, smallmouth bass, channel catfish, white crappie, bluegill and yellow perch at Prettyboy Reservoir in Maryland.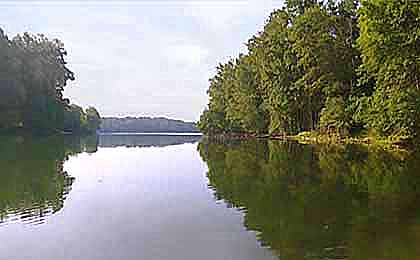 Located in the north-central part of the state, Prettyboy Reservoir is a 1,500-acre lake with 46 miles of shoreline (at high water). A boat launch ramp is located off Spooks Hill Road on the north-east side of the lake.
Prettyboy Reservoir, in Maryland, is a beloved destination for fishing enthusiasts seeking a peaceful and rewarding angling experience. The reservoir boasts a thriving fish population, making it a haven for various popular fish species. Anglers can target a range of fish, including largemouth bass, smallmouth bass, crappie, catfish, and yellow perch. Prettyboy Reservoir's scenic beauty, clear waters, and diverse underwater structures create an ideal habitat for these species, providing ample opportunities for anglers to test their skills and reel in impressive catches.
Fishing enthusiasts cruise these waters in search of bass, catfish, crappie, walleye, sunfish and perch. Anglers fishing from the bank can fish nearby the boat ramp area, as well as other access points around the lake. Portage of canoes, kayaks and car-top boats is possible from numerous spots around the lake. Amenities at the lake are slim, so come prepared.
While motorized boats are not allowed on Prettyboy Reservoir, non-motorized watercraft such as kayaks, canoes, and paddleboards are permitted. This allows visitors to explore the reservoir's calm waters and navigate to prime fishing spots. Boaters can enjoy the tranquility of the surroundings, immerse themselves in nature, and appreciate the pristine beauty of Prettyboy Reservoir.
Camping is not available directly at Prettyboy Reservoir; however, there are nearby camping options that allow visitors to extend their outdoor adventure. Gunpowder Falls State Park and Prettyboy Watershed, which encompass the reservoir, offer camping facilities and scenic campsites. Camping at these locations provides an opportunity to combine fishing at Prettyboy Reservoir with a peaceful camping experience, allowing visitors to fully embrace the natural beauty and serenity of the area.
Prettyboy Reservoir offers a serene and captivating environment for fishing, boating, and outdoor recreation in Maryland. With its diverse fish species, tranquil boating opportunities, and nearby camping options, the reservoir provides a well-rounded outdoor experience for enthusiasts. Whether you're casting a line for bass, gliding along the calm waters in a kayak, or enjoying a camping retreat surrounded by nature, Prettyboy Reservoir offers a picturesque setting and ample recreational opportunities for visitors to relax and connect with the outdoors.

Primary fish species residing in Prettyboy Reservoir
Click images for fishing tips and details about each species.
Prettyboy Reservoir Amenities
Marina: NO
Boat Rental: NO
Boat Launch Ramp: YES
Campgrounds: NO
RV Hookups: NO
Lodging: NO
Convenience Store: NEARBY
Bait & Tackle: NEARBY
Restaurant: NEARBY
Today's Weather & Forecast
Public Boat Launch Ramps & Landings
Prettyboy Reservoir Boat Launch Ramp
Located mid lake, on the north side of the lake, off Spook Hill Road, this is a two-lane, concrete ramp with gravel parking.
Click here for a Maryland Fishing License.
Campgrounds & RV Parks Nearby
No campgrounds or RV parks.
Prettyboy Reservoir MD Map - Fishing & Camping Areas
Lake Video
Contact Information
Prettyboy Reservoir
Prettyboy Reservoir Park
Hampstead, MD 21074
877 620-8367
Fishing lakes in each state.
Prettyboy Reservoir in Maryland.
MARYLAND


Information about fishing lakes in Maryland
Prettyboy Reservoir offers bass, catfish, crappie, walleye, sunfish and perch fishing in north-central MD.
Fishing on Prettyboy Reservoir.