Guide To Taking Kids Fishing In Maryland
Ideas and locations to take kids fishing in MD.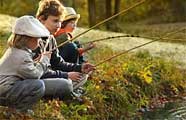 Fishing and the great outdoors offers kids an alternative to many influences they encounter in their busy lives today. A single fishing trip could be the turning point in a young life. We encourage you to invest the time in Maryland kids. The rewards are endless and it takes so little effort.
Maryland offers excellent opportunities for kids to enjoy fishing and develop a love for the sport. With its diverse fish species and accessible urban fishing locations, young anglers can have memorable experiences while learning about the wonders of nature and conservation.
Several fish species in Maryland's waters make for great targets for kids. Sunfish, such as bluegill and pumpkinseed, are abundant and can often be found near the shoreline. These colorful and feisty fish are eager biters, making them ideal for young anglers to practice their skills. Additionally, yellow perch and catfish are commonly found in many of Maryland's lakes and ponds, providing further opportunities for kids to reel in their catches.
Maryland's urban fishing locations are well-suited for families and kids looking to cast a line without venturing too far from the city. The Baltimore Harbor, for example, offers urban fishing opportunities where young anglers can catch a variety of species, including striped bass, white perch, and catfish. Additionally, several stocked ponds in parks across the state, such as Centennial Lake in Ellicott City or Wheaton Regional Park Pond in Wheaton, are perfect for families to spend quality time together while fishing.
When introducing kids to fishing, it's important to focus on their enjoyment and safety. Providing child-friendly fishing gear, such as small rods and reels, can make the experience more manageable and enjoyable for young anglers. Teaching them basic fishing techniques, such as casting and reeling in, will help them build confidence and develop their skills. Encouraging catch-and-release practices instills a sense of environmental stewardship and helps maintain healthy fish populations.
Maryland's kid-friendly fishing opportunities and urban fishing locations make it an ideal destination for families looking to bond over outdoor activities. Whether it's casting a line in the heart of the city or exploring peaceful suburban ponds, kids can create lasting memories while experiencing the thrill of fishing in Maryland's diverse waters.

Places in Maryland to take kids fishing
Consider these small lakes, ponds, creeks and urban fishing locations as places to take a kid fishing in the Old Line State.
Annapolis
- Sandy Point State Park
Baltimore
- Broening Park
- Fort Armistead Park
- Fort Smallwood Park
- Herring Run Park
- Loch Raven Reservoir
- Reedbird Park
- Turner Station Park
Bel Air
- Rocks State Park
- Susquehanna State Park
Boyds
- Little Seneca Lake
Callaway
- St. Mary's Lake
Columbia
- Centennial Lake
- Patapsco Valley Park
Frederick
- Bladensburg Waterfront Park
- Lake Artemesia
- Piscataway Park
Germantown
- Seneca Creek State Park
- Little Seneca Lake
- Monocacy River
Leonardtown
- Saint Marys Lake
Salisbury
- Johnsons Pond
- Leonards Mill Park
Westminster
- Landon C. Burns Park
- Liberty Reservoir
- Patapsco River Fishing
- Piney Run Reservoir
- Westminster Comm. Pond
White Plains
- Gilbert Run Park
Maryland offers many opportunities for kids to fish and experience the thrill of the "tap-tap-tap". Watch the eyes of a youth light up no matter how big or small their catch may be. You have the opportunity to experience it with them and share their joy.
Top 3 tips for taking kids fishing in MD
1. Make sure that the goal is to have fun. Catching fish is a bonus.
2. Keep it simple. Simple tackle, techniques and locations.
3. Keep the focus on the kids. Be a hero by helping them enjoy the day.
Click here for additional tips to create a successful day of fishing for kids.
Kids Fishing Video
Youngsters with their prized catch
---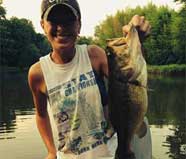 Callie Crouse shows off a real nice bass she caught at Chesapeake City
---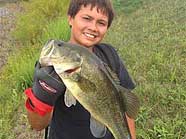 Chris Baker, 15 years old with a largemouth bass 7 1/2 pounds from a secret farm pond.
---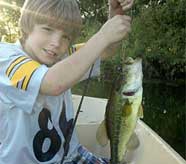 Sam Nitz with a nice Maryland bass.
---
Take a kid fishing and bring your camera! These are a few of the places to take them fishing and get some great pictures.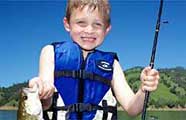 Kids, fishing and smiles naturally go together. Take a kid fishing and you just might change the course of their life. Then take pictures and send us one of them holding their prized catch. We will happily post it here.
Kids fishing locations and information, by state.
Help us identify other youth fishing spots in MD.
If you are aware of a great place to take kids fishing in your area, please let us know. We can add it to our list. Every kid that catches a fish will appreciate the fact that you made the effort.
MARYLAND